Wasn't feeling well at all Wednesday, and had a couple of cases that were more challenging than they should have been... ugh. I wound up going home early. After calling in sick on Tuesday (so no Tuesday post). This awful pic was taken late, after a nap:
Hubby graciously pointed out that the placement of the scarf gives me a double chin… and suggested this wasn't a good look for me "right now". My response? "Since this is what I look like now, I guess (the scarf) just isn't a good look, period." He is right… I only put it on because my neck was chilly, and I didn't have time to change into a different top before I left for work.
I did pull out a cute pin from the bagful of goodies I was gifted last weekend. It's seed pearls, and is pretty old… you can tell from the yellowing of the face:
Brown earrings because I decided to keep the color focus on the jacket:
OK... my Photobucket kept closing out before I could find the pic. Oh well.
Boring shoes: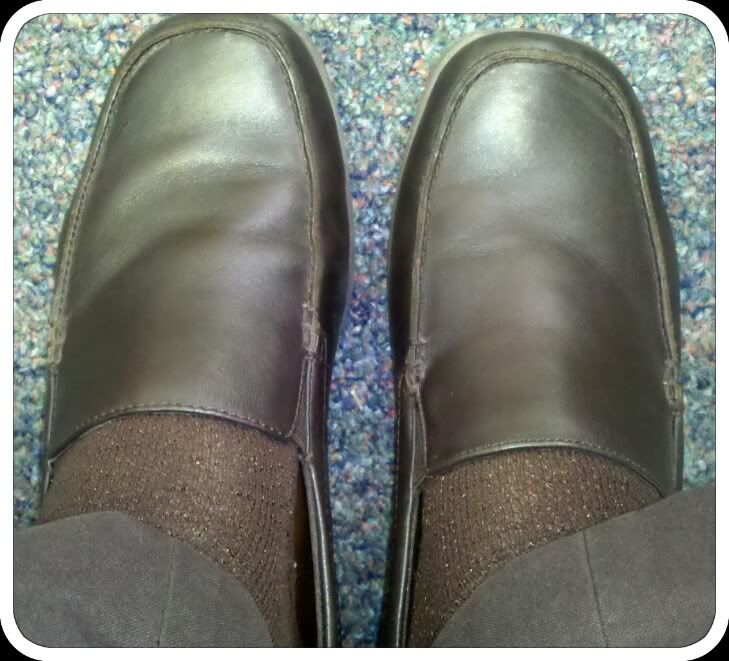 Top: via Stein Mart
Jacket: VanHeusen outlet
Pants: Lane Bryant
Scarf: via yard sale
Earrings: via JC Penney
Pin: family heirloom gift for M-I-L