Since I've been home from dealing with my mother's illness and hospitalizations, I've gotten very serious about shedding some of these extra pounds. I actually gained a bunch of weight while I was in the Mitten for a month-- I guess thirty days of daily gluten-free pizza, accompanied by daily pint(s) of ice cream will do that to a girl!
But Mom's health problems, along with my Mother-in-Law's, are (at a minimum) exacerbated by their obesity. My Mom has lost a lot of weight, but the damage is done. Hubby has been very concerned about my future health, and has been urging me to get serious about weight loss. And unlike *some* (ex-) boyfriends, I am absolutely certain that Hubby truly means that his concern is about my health-- and it's not about appearance. He's just that kind of guy, which is part of why I married him and not one of those other guys!
So far, so good! I got home late on Sept 30., and on November 1 calculated that I lost just over twelve pounds. Yay me! Although I suspect that my weight loss for November isn't so impressive, particularly as I've gone off the low-carb wagon for the last week while at my M-I-L's....
So I edited out my "too big" clothes... which always feels better than editing out my "too small" ones. And I thought it would be fun to post my old blog photos of clothes that *hopefully* won't see the light of day again!
STORED AWAY:
My brown nubby pants are finally too big!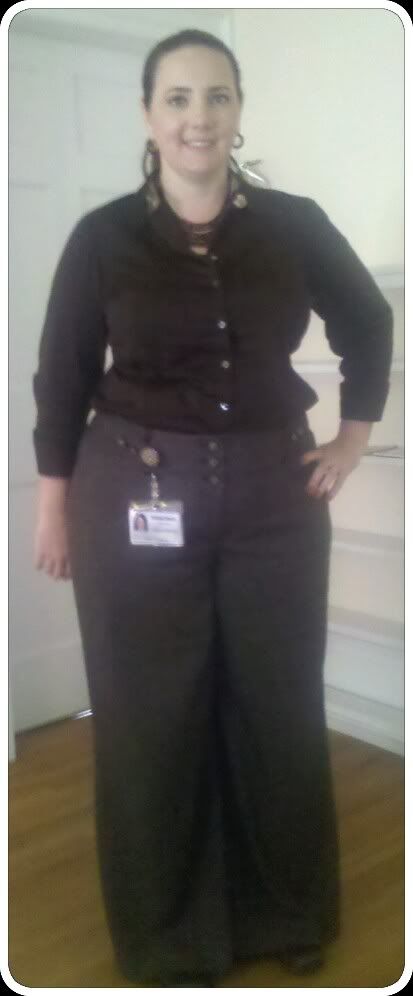 Hubby thinks this jacket still fits, but it just seems a bit big now to me. Plus, it's really not in season:
It's funny, I bought three of these shirts--same size-- at the same time. But this one had to be tailored differently than the other two. And it's too big while the other two will still work for the time being:
Sending my "Mom Jeans" to the storage box-- they are way too big now: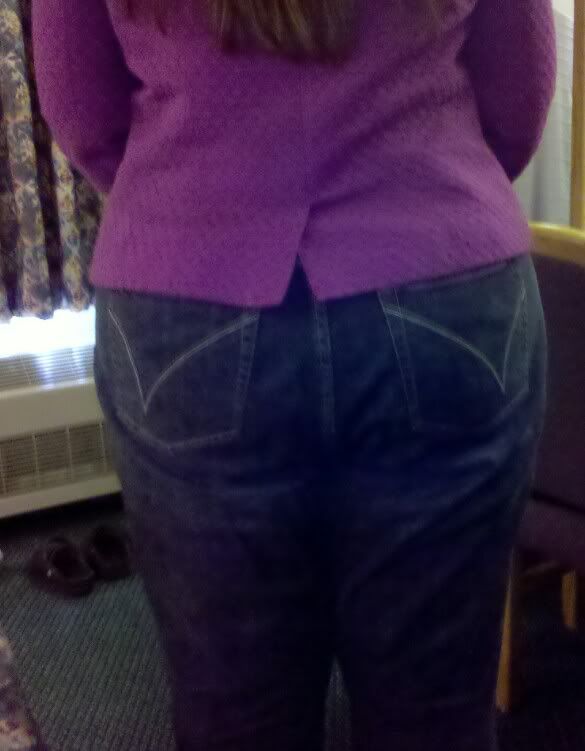 I'm being very strict about what I will keep in the "too big" bin. Only garments that are still in decent condition, fit well when I am that size (I'm getting rid of my "too short" pants), nothing likely to be quickly outdated (not much of a problem for me, I tend to go pretty "classic"), will make it into this box. Things that if, Heaven forbid, I regain weight... I will not be embarrassed to wear.
Because even if I'm fat-- and it's OK to use the word "fat" when it's true-- it's no excuse for dressing in ill-fitting or shabby garments like I have been for the last couple of years... coinciding with onslaught of Hubby's and Mom's medical problems.