Yesterday was a pretty busy Thursday for me-- I didn't even have time to dig up an old photo for "Throwback Thursday" on Facebook! Squeaky woke me up with a phone call... we had planned to go to a town about an hour away from me to help her shop at this fantastic dent/scratch/discontinued furniture store. We planned it for Monday, but I woke up with a hideous cold then cancelled. By Thursday, I felt human again. Let's go!
I just had a haircut the day before, so I thought it was a good time to test out "scrunched with mousse and wax, air dry". I was feeling pretty good in the store:

Well, I'm still showing a few unflattering lumps and bumps, but I'm making progress... right?
At least Squeaky made out like a bandit... she bought a sofa, loveseat, and chaise. And a bunch of throw cushions were tossed (Dad pun alert!!!) into the deal. I believe the grand total was less than a thousand bucks!
Lately I'd been... I almost want to use the word
craving
... teal clothing. I have always loved the color, and it seems to be big this season. The sweater wasn't the best "teal"of the ones I tried on, but it was the best-fitting.
These earrings set it off beautifully: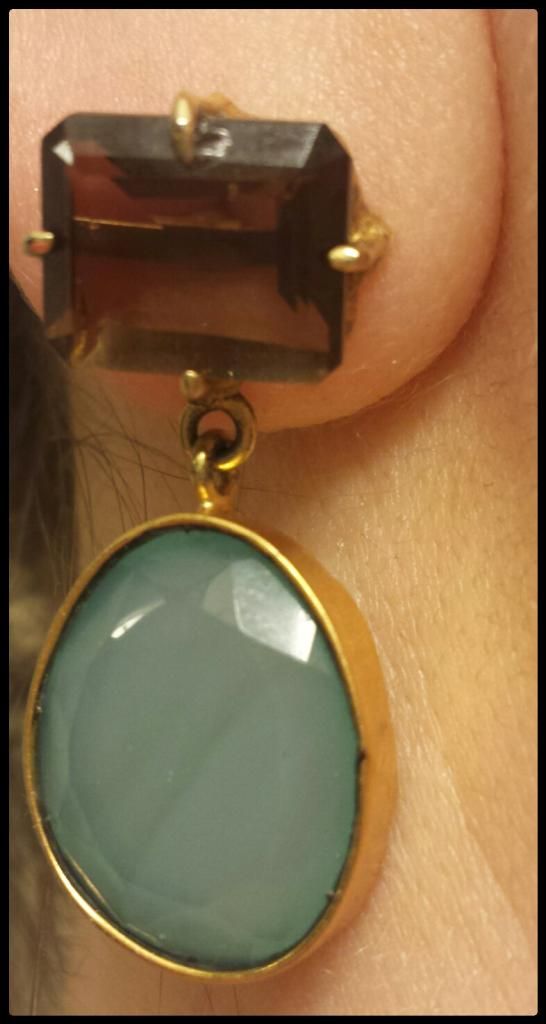 I felt like I really wanted a little interest at the neckline, but most of my "gold" necklaces would not suit one way or another. I finally settled on this flea-market find: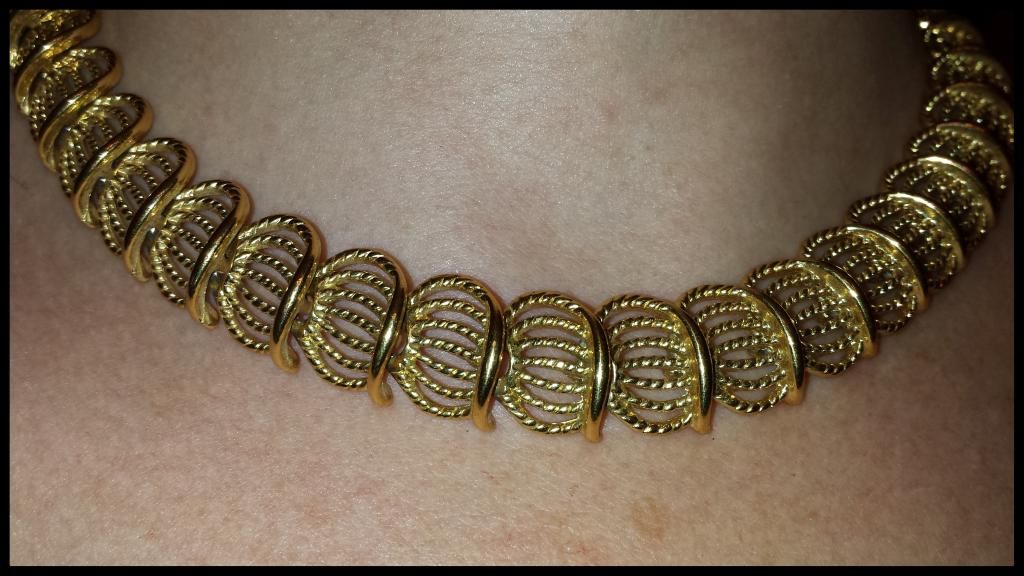 Was it a nice touch, or "too much"? And when did I get those weird "freckles"?
I was an amateur and professional radio DJ and producer for the bulk of the Nineties. When my Bestie and I went to karaoke night later that evening... I had a bug in the back of my brain: I wanted to sing a certain song that had me dancing around the On-Air studio in my oversized college sweatshirt and sweats during my late-night shifts. Every. Time.
I was unbelievably impressed that the DJ at this hotel bar in Boonieland actually had this for karaoke-- I rocked the H-E-Double-Hockey-Sticks out of it:
I was in my twenties in my (pathetically-paid but freaking awesome) first career path once more. Flailing around the studio. In my head. Then I went to the ladies' room:
Wow, I look much worse today than I thought I did. Talk about having one's illusions shattered! Ok, scrunched with product and air-dried isn't the way to style this cut. It's winter... I should be blow-drying anyway.
Hubby said something about not liking these jeans a couple of weeks ago. And he doesn't like a close-fitting jeans style anyway, at least not on me. But I've lost a few pounds over the last couple weeks. They should be fine... or not:
Yikes! No wonder Hubby prefers trouser-cut jeans on me! I hate it when we disagree-- and he's right. Argh!
For $70 jeans with "Tighter Tummy Technology", these seem to be wanting. Or are they actually doing a magnificent job? I may need to put them away for a few pounds... but I'm going to try something first. Tune in next episode!
I wore sneakers throughout the day and night because I knew I would be walking quite a bit in the store. And because I am wearing compression socks, which did not fit into the brown loafer-type shoes I intended for the outfit. Such glamour:
But they were heavenly for all the walking. The socks kept my cankles from swelling to the size of Alaska. But my toes felt like they were there! Compression garments are a new thing for me, and I'm still experimenting. Apparently, they do not hold body heat at all.
I bought a couple pair of open-toe ones to try out, and so far I love them. These white ones are the full-foot type that my Mother-In-Law ordered, then discovered were too small, then gave to me. Yay! The foot part in the white ones is actually a bit big, I could probably wear cotton footies underneath next time I wear these sneakers.
My Bestie thawed out my frozen metatarsals by nailing all of her karaoke songs:
She has such an awesome voice, and I really love her color combination from last night. We were trying to explain what a "blog" is to her husband last night, but I finally had to show him this little project (aka lawyer doll blog) so he would get the gist.
Sweater: Jeannine Pierre via Bon Ton
Jeans: Lane Bryant
Shoes: Saucony via one of those Facebook "garage sale" groups. Just like new and $20!
Earrings: Cost Plus World Market
Necklace: via flea market