I've been having some tummy trouble, and needed something plenty roomy around the waist on Wednesday. I thought of just the thing....
I love this top, but it tends to sit pretty low on my bustline... making it terribly entertaining to wear to work. Between the size of my jugs (bigger than one would think, really) and the elastic in the black criss-cross detail, a girl can feel a bit exposed at the office.
But I finally figured out how to keep my workday from turning into a free show... safety-pinning under the black strips directly onto my bra cups! I'm not showing the details of that little trick, but here's the result:
When it comes to my daily makeup look... I'm pretty lazy. I do the same thing, or just about, every day. And only rarely make changes. It's kind of a "uniform". Which is how I used to approach my clothes. I came up with an "outfit", then wore it the same way every time. I started blogging because I was bored and wanted to mix things up a bit, wardrobe-wise.
I'm starting to feel the same way about my makeup. But Hubby's not working, we don't have a ton of spare cash for me to play makeup with... what is a girl to do?
About a hundred years ago, I sold Mary Kay cosmetics. I fell for the "can't sell from an empty wagon" line, and got
frontloaded
. Long story short... I still have a bunch of stuff hanging around. Lipsticks and eyeshadows, mostly. Keeping in tune with my "shop your closet" ethos, I'm going to be experimenting with cosmetics for the first time in a very long time. Here's today's: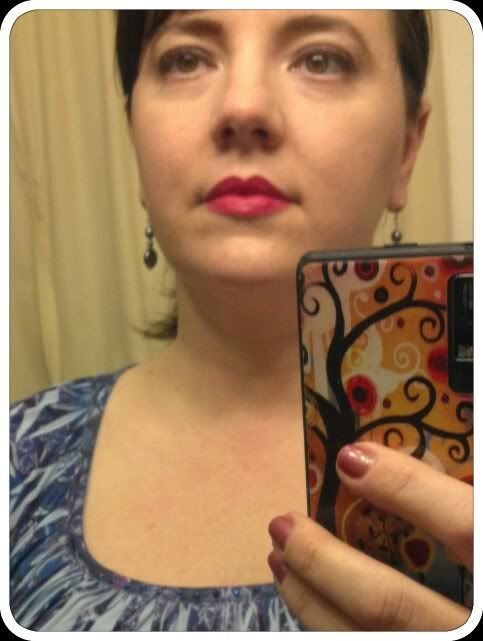 Eyes: Lavender Haze, Cheeks: Lilac, Lips: Cherries Jubilee
Is the lipstick too bright?
Anyhoo... I wore black pearl earrings: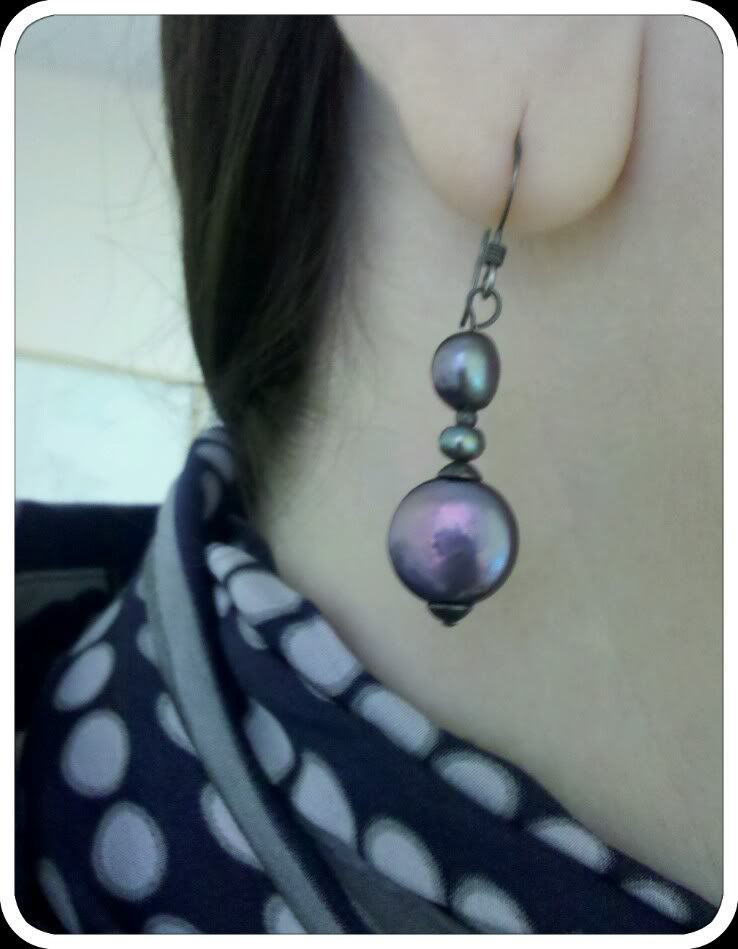 And grabbed one of my black pearl necklaces to go with it. I quickly realized that the short necklace with the lower neckline was a bit too "Renaissance Faire" for the office, so I wore it as a bracelet: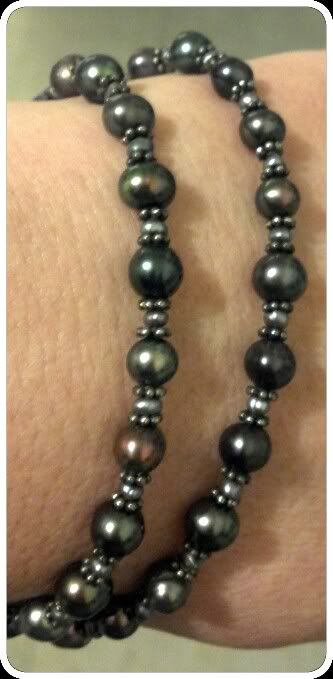 Not perfect, though. First, it's a little long for two wrap-arounds, and way too short for a third wrap. And the claw-catch isn't terribly attractive. When I have money again, I'm changing catches on a lot of my necklaces so they can better double as bracelets. Lastly... my other necklace (the one I couldn't find this morning) is a better color-match for the earrings.
I do so love the colors in the necklace-as-bracelet from today, though. Rich and varied... I actually had an older photo of this in my Photobucket, but decided to use the one I took today because it better shows the colors.
For an extra pick-me-up, I wore my awesome beaded velvet slippers rather than proper shoes: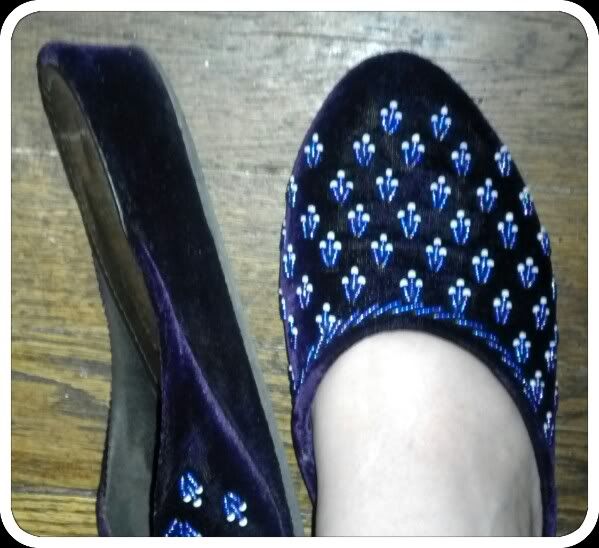 Which I didn't realize I didn't already have a photo of their awesomeness until writing this post, so this is a 1:30 a.m. "blogging emergency" shot.
Once again, I didn't have time to do my hair before heading into the cruel world, so I scraped it back into this beauty... which I've been wearing a lot lately:
More medical appointments for Hubby, and hanging out with (alleged) criminals the rest of the day. We should find out tomorrow whether Hubby is going to have another surgery... we're virtually certain that will be the case. He still can't really do anything. I just hope it takes away his pain... then he can hang out with the unsavory elements of our beaucolic little community as well!
Top: via Stein Mart
Jewelry: from Jasper's Den, Spring Grove, OH
Pants: Lane Bryant
Slippers: random store in Melbourne, Australia
Barrette: gift from Mom