I was goofing off on Pinterest, and saw that Rebecca pinned a little something from a blogger I'm not familiar with. OK... let's take a look-see, shall we?
February 1st just so happened to be Friday. Theme: "Arm Candy". Well, that usually means dressing up for a date... but I had to work. Not to mention, Hubby is in no condition for "date night"-- and would get offended if I had one with someone else. Men are so touchy like that.... *wink*
He only leaves the house to go to the doctor now. *sigh*
So I decided that "Arm Candy" is going to mean my beautiful Swarovski crystal bracelet that my friend Lovely made for me:
And I grabbed my pretties that Hubby gifted me to coordinate:
Then I rushed out the door to head to the office. Fully intending to apply makeup when I got there, using my MK hoarded cosmetics that I'm finally experimenting with.
Then my day got crazy (and I in my office working on stuff all day, not in a courtroom) and I just forgot! Oh, and I had a hairstyling failure to compound the non-Fabruary 1st.
Yeah. Looks fine if the head is Photoshopped out.
Sweater: VanHeusen outlet
Pants: Lane Bryant
Bracelet: gift from a friend
Earrings: Premier Designs gift from Hubby
Shoes: I forgot which ones I wore....
Saturday theme: "Think Pink".
I thought I was going to strike out, because my pink sweater is a bit snug now. But I recalled that I had a bag of stuff from the Fashion Bug close-out sale sitting next to my dresser. Voila!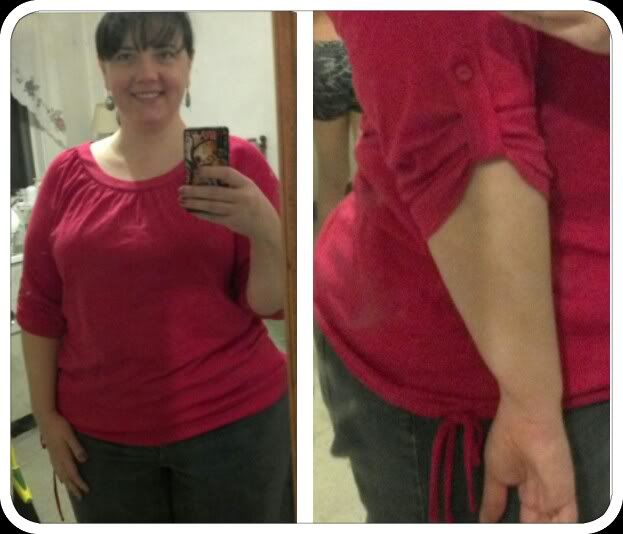 I love the sleeve detail... covers the bingo-wings quite well! It was another no-makeup day, since the only outing was to take Hubby to the doctor. Wearing real clothes was enough for one day, but I went one step further....
Stinky, out of the blue, said that my earrings are pretty, but he thinks they should have a stone in the middle: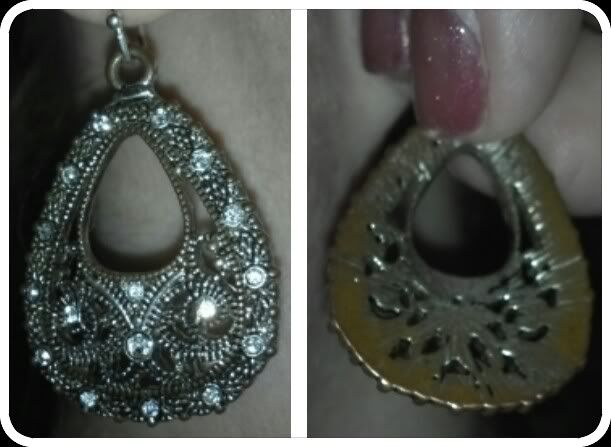 When I received these, I wasn't accustomed to costume jewelry. SO I wore them in the shower a few times, and the silver-color started darkening and rubbing off. I decided that I like the effect!
Top: Fashion Bug
Jeans: Lane Bryant
Earrings: Premier Designs gift from M-I-L
Shoes: I think I wore my usual Ariats... not bothering to post them this time.
Sunday theme: "Denim with Style"
How about "Pajamas with Sloppiness". Didn't leave my house.