They are getting a bit "anime-spiky", they get into my eyes, but the worst... they no longer cover my forehead wrinkles. But will I find the time to go in for my freebie trim?
Busy day on Thursday, so I only got to get one mirror-pic, showing off more experimentation with my impressive collection of "vintage" Mary Kay cosmetics:
Lips: Praline, Cheeks: Cashmere, Eyes:Java
I tried to wear the top backwards, so that more of the pretty print could be seen peeking out through the sweater. Unfortunately, the back of the neck rose so high that it started strangling me... perhaps as punishment for cutting out the label?
I wanted to get a full-body shot during the evening, but I had a long last-minute dinner with friends. Not only was it too late to deal with photos when I got home... but the front of my sweater was accessorized with BBQ sauce!
I wore the exact pants, socks, and shoes shown in this older photo: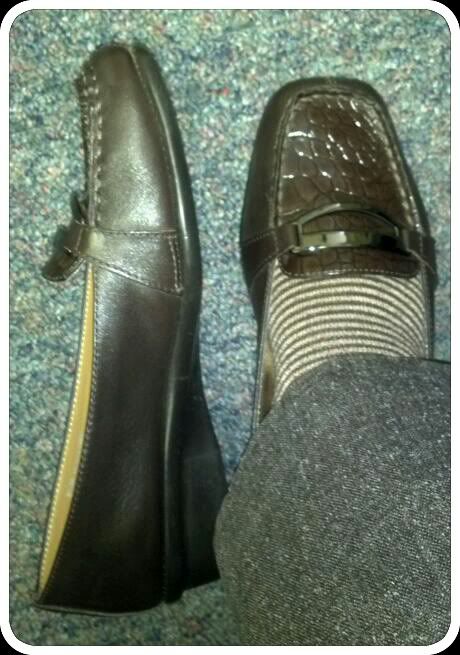 And this wood inlay barrette:
My friend, who is an amazzzing cook and generally awesome person, got hired at my hangout pub after a long talk with the owner following our dinner. YIPPEEEEE!!!!!!
Top: Croft & Barrow via Goodwill
Sweater: Old Navy
Pants: Lane Bryant
Earrings: Lia Sophia
Necklace: Fashion Bug
Barrette: gift from Mom