I always wanted to be one of those women who looks coordinated and neat even when exercising or doing outdoor activities. It's been a long time since I've purchased clothing and gear close enough in time to get that look.... *sigh* Hubby thinks I'm weird for even thinking that way about gym gear... he doesn't care what his looks like. Oh well, you will see what I CAN pull off below:
Saturday evening, I packed several nice-looking bags with whatever I could come up with for the gym classes/activities I plan on doing this fall at the local YMCA. I calendared the classes I want to take, and figured out what I had and needed to be properly equipped for these classes that started last week.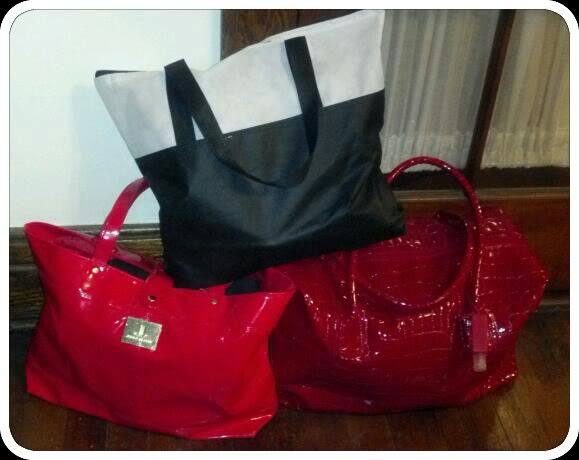 Hubby chuckles at my "bags". I pack a separate bag for every activity, and I keep them packed all the time. So I can just "grab-and-go". I also have a "skating pads and helmet" bag, a "disc golf stuff" bag, a "going to the lake" bag... you get the idea.
Good thing I actually cleaned the basement! I
found
my old (good) sports bra AND my bicycling gloves. YAY!!! As I said before, I HATE to repurchase items....
Monday Yoga/Tuesday Tai Ji [big red bag]
Shirt: via Wal-Mart. It's new, and it's pretty obvious why I bought it. That's right... HUGE "Star Wars" fan. I grabbed it on impulse when buying the stuff for my basement project. Five bucks... how could I say "no"? The original plan was to chop it up like my "Captain America" shirts, but the neck and sleeves aren't too tight on this one. The upside to keeping the neckline close is that I don't risk flashing the instructor while in "downward dog".
The shirt is snug around the hips, but I can tuck it into the defined (and shockingly well-fitting) waistband on the Just My Size knit pants (also via Wally World). Solving my frequent problem of "flashing the gut" during "downward dog". That pose is a wardrobe malfunction waiting to happen!
The thing I don't like, fashion-wise, is that the legs are tapered. That unflattering feature does turn out to be practical for yoga class, though. Sometimes I grab the fabric to pull my uncooperative legs into place (or as close as the barriers of chub will allow). That, and the fact that I often don't have time to shave as often as I should, are the only factors that stopped me from cutting the pants into long shorts this summer!
I bring my own mat to class, because I hate having my nose in "other people's feet" scent. *shudder*. I bought the folding foam Nike mat many years ago at a Ross in Long Beach, CA. It's an absolute lifesaver, because I have bad knees and can do much, much, more in class using that extra padding than without it.... Apparently, the "padding" on my knees doesn't suffice!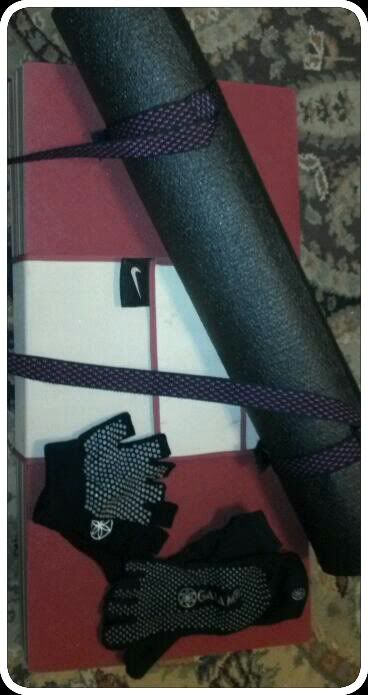 And yes, I bought the Gaiam yoga fingerless gloves and toe-socks because it got cold in that room last year! The rubber(?) traction dots work nicely. We've been moved to a new room, so if it doesn't get cold, I'll take these out of the bag. I love the wide gathered headband/scarf (either Goody or Scuncii via CVS) to keep all of my hair out of my way.
The shoes in the outfit pic are Champion slipper-type shoes I got from Payless forever ago. Just so I don't have to wear my work shoes to and from the "barefoot" classes- they're not really good for much else. I feel better now that I have found a use for them!
I figure the yoga outfit will also work for Tai Ji. But during my first class, standing for a long time on the hard floor killed my poor heels. Standing on a mat is too limiting, and my Crocs are awfully awkward to wear, although the squishiness is exactly what I need! Hmmmm....
Wednesday Ballet/Thursday Zumba [big red bag]
I love Zumba.
I discovered my first time that wearing cross-trainers or running shoes to Zumba is a HUGE mistake. The wide, stabilizing sole is too inhibiting. Fortunately for me, I'm a borderline hoarder. I actually kept these Nikes that I bought for clubbing back in the stone ages. I went to Lady Foot Locker looking for the Pumas that everyone else at the club was wearing and raving about. But the Nikes fit my feet better, so I bought them instead. Note the narrow, rounded heels-- PERFECT for Zumba:
I've decided to switch to my cut-up "Captain America" shirt (another cheapo from Wally World) because the tank I used to wear kept riding up, and I'm sick of pulling it down several times per song. I just bought a new pair of JMS pants from Wal-Mart with somewhat wider legs, so they will stop catching and limiting my movement. The new ones have the same waistband, so I can tuck the shirt in if it is still a problem. But I hate that fabric inside my pants during Zumba! My other wide headband-thingy keeps my hair from driving me insane.

The Y is introducing a new class that I'm super-excited about: Adult Ballet. Eek! I took ballet as a kid, and liked it. I never got any good at it, but I love it just the same. I figure my Zumba outfit will be fine. With one modification....
On an impulse, years ago, I bought Leo's jazz dance shoes from a specialty store. Haven't used them yet. The plan was to practice dancing in the gym classroom when it wasn't being used. But I first got injured, then developed heel spurs, so that didn't happen. But I kept them (are you seeing the theme?) They are essentially ballet slippers with a small heel-- they should be good for the ballet class.
And now you see why I almost never wear dresses: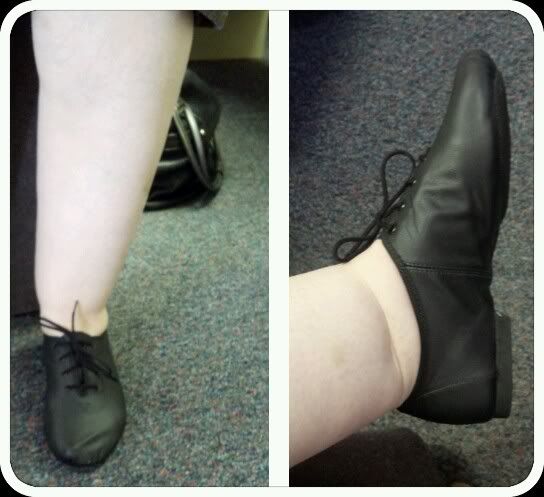 Isn't it funny how teeney my feet are next to my cankles?
But the jazz shoes go back into the closet for the time being... OW!!!! OWIE!!!! My poor heels! I will be calling my foot doctor to discuss this, since I've been done with my surgeries for well over a year!
Following my inaugural ballet class shoe failure, I went to CVS and picked up something called "Doggers". They are squishy like Crocs, but bit closer to the foot with secure fastenings. I'm hoping these, with some (zebra-striped!) duct tape on a couple of spots I need to be smooth, will do the trick: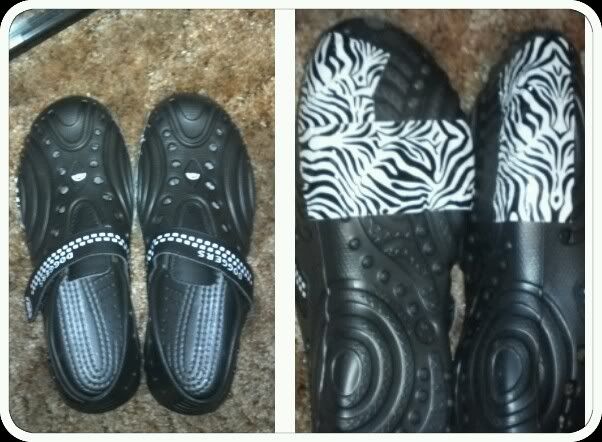 The best part? They were on clearance, and less than $4! If the Doggers don't work, then I will just wear my black Nikes to everything. My heels hurt some after Zumba class, but not as bad.
Sunday Spinning [black-and-white bag]
I bought all the special equipment years ago. After my first time or two in class with regular gym shoes, I broke down and bought the Nikes with the clips. It really helps me by a. making me use my muscles all the way around rather than rest on the way up, b. helping keep my foot on the pedal, and c. reducing (but not stopping) pain and numbness to the balls of my feet and to my toes.
I think the stains are the glue... does anyone know how to clean this?
I have the padded bicycling gloves to lessen the pressure on my hands, because I wind up kind on leaning on my hands on the handlebar a lot. I bought a gel set pad, because the seats on spinning bikes are AWFUL. The pad only helps a little, but I will take what I can get.
I will be using a "squasher" sports bra in this class because I just want my boobs out of my way. And I'm using the two better sports bras for the other classes. Since I haven't actually attended the class before this post will go up, here's one of me in the outfit packed into my spinning bag. From when I went parasailing with Freeda. Whom I could have killed for
posting
this horrifying pic! Said pic is the one that spurred the gym kick I'm embarking on... was that Freeda's nefarious plan all along?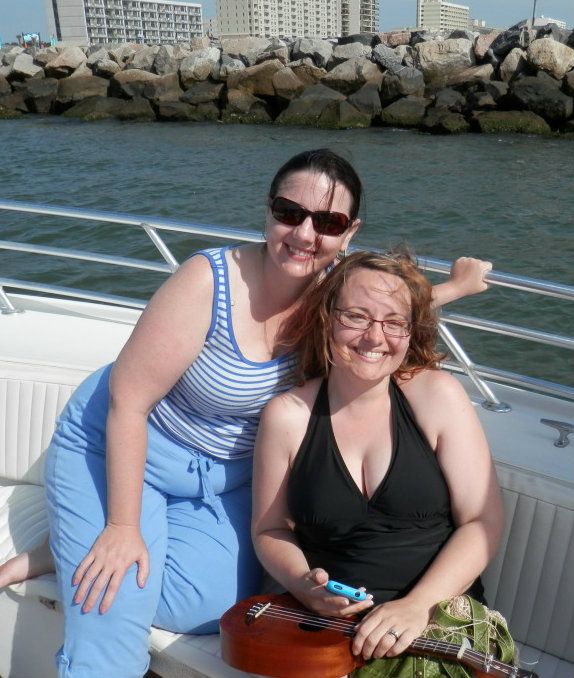 That's not a fanny pack under my pedal-pushers.... *shudder*
I chose long shorts from Fashion Bug for spinning because, even though my legs are heinous, and I risk appearing with a five-o'clock cankle-shadow: longer pants are too inhibiting for the pedaling motions. And I already know that I will look like something the cat sicked up by the time I've finished for the day. So what's one more detail? Cheapo tank from... you guessed it... Wal-Mart again.
Let's see... for swimming, I only have one swimsuit, and it's seen better days. I take Stinky (younger in this pic) to the Y pool on some weekends. But here it is: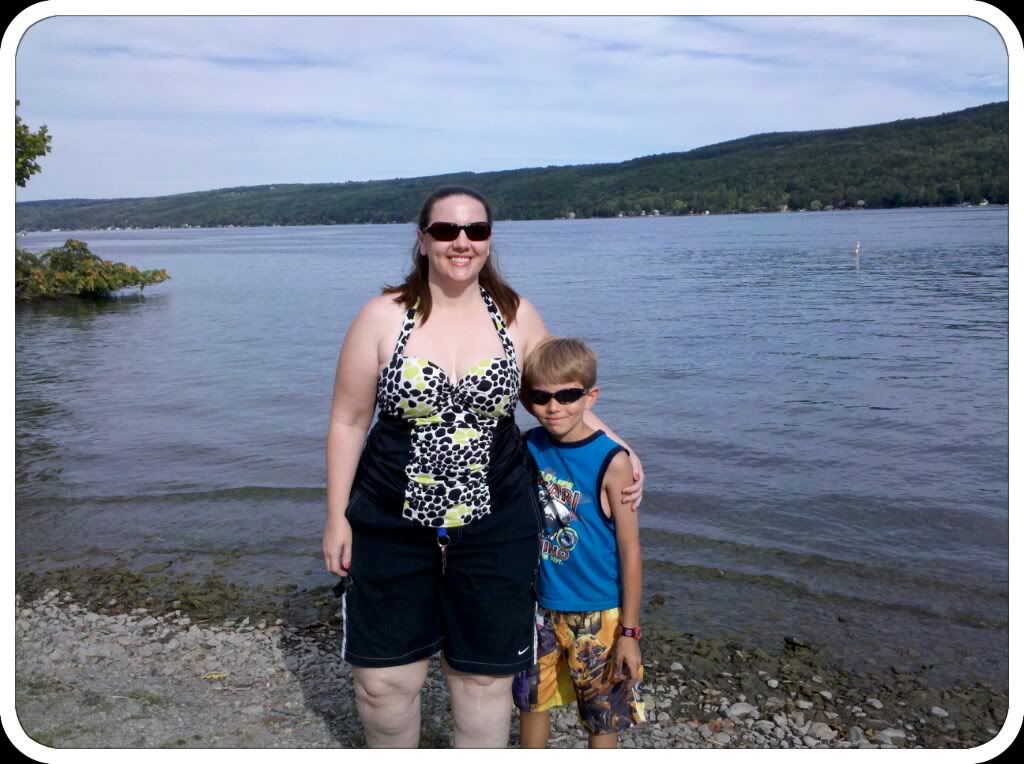 So, now y'all see what I mean about my knees and legs... I'm not "down on myself". I would probably be thinner if I were- I chub up when I'm basically happy. For example: I was tiny during my final year of law school with no effort whatsoever- because I was miserable. But I don't believe that being slimmer and still happy are mutually exclusive, so I'm putting in some effort. And trying to do my best with what I have and who I am.
The first step, of course, is to be brutally honest with myself. And because I'm blogging my efforts at self-improvement, the blogosphere sees it, too. Putting my photos and my own reactions to them are a valuable tool in that process. So thank you for your indulgence!
I also started lifting weights again. Hubby qualified as a personal trainer while he was in college, so he designed my routine. When I was single, I actually hired a trainer! I just wear "scraps" for lifting. (smaller red bag) Nothing to blog about, really.
What I really want is to get into such shape and size as I can justify buying new, coordinating workout/activity clothing and gear. The high-tech fabrics in gorgeous bright colors instead of whatever cheapo cotton-poly blend scraps I can pull together. I'm loving the bright almost-neon colors out lately!
And that I can just wear a (well-covering) sports bra alone as a workout top without embarrassing myself.
It looks like my job is to shrink out of and wear out what I already own! Then I get the pretty, new, non-Wally-World-special workout clothes, right? Right...?
But really, I want to stop hurting. I want to shop at "normal" stores. I want to be fit and strong, and able to do most activities without "problems". I want to dance all night... like I used to do....