"If you haven't worn it in a year… purge!" Who gives this advice? Who follows it? Not my frugal self, that's for dang sure! I am a pack rat by instinct, and LOATHE paying for an item more than once in its useful lifetime. People on the blog have commented on my largeish jewelry and scarf collection- which is as large as it is because I KEEP stuff!
My Labor Day weekend was spent in my basement. My nasty, moldy, dusty, dirty, cluttered, smelly, disgusting basement. Which is now my vaccumed, organized basement. I had to toss some beautiful garments and accessories that were beyond saving. *sob* And I lost a scarf to the Shop Vac gods!
The salvagable things that can't go into the washer, I've hung (still dirty) in these cheapo Walmart "closets". I will have them cleaned when they fit again. Too expensive to clean them if they won't be worn anytime soon! Anything that could be washed has been through the laundry, and is being stored in sealed bins for further sorting and evaluation at a later date. A montage of my handiwork: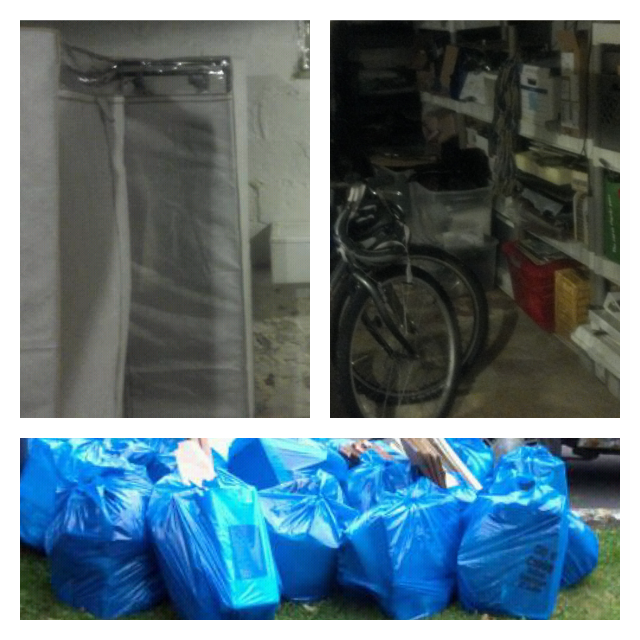 Because I'm that much of a dork…
So the question arises: "if you DO lose weight, wouldn't you rather just get NEW clothes to celebrate? Rather than wear 'old' stuff'?" This question is retarded on several levels:
A. This assumes I will be able to AFFORD new clothes when the time comes. Um… "lawyer" clothes ain't cheap! And my gummint salary is OK, but I'm not exactly rollin' in the Benjamins.
B. It also assumes that my "old" clothes will be out of style. Bah! I tend to choose pretty "classic" cuts, so that isn't as much of a problem for me.
C. It also assumes that new clothing that fits will be easy to acquire. I am VERY curvy. Not "code-word-for-'fat' curvy". The "even when I'm tiny I can't find clothes that fit because my butt is big and my waist is small" curvy. I've probably sent my tailor's grandchildren to college!
D. It's "greener" for me to use what I already own whenever possible. And I HATE buying things more than once unnecessarily. Partly environmentalism... but mostly cheapskateism.
Besides, I will still get some new things to fill in the "gaps". But I'm looking forward to fitting back into my much-loved "oldies"