Freeda's been bugging me to come back onto Blogger, so why not? No sharpened pencils or back-to-school wardrobe for fall… just me, and an outfit I'm sure I've posted before!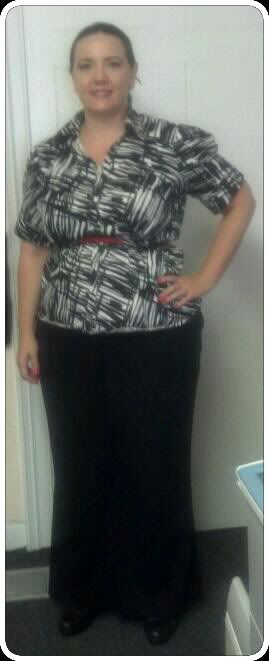 Does anybody know how to keep this hem from rolling up? Ironing alone isn't working:
I forgot jewelry this morning, and had to use the "backup" cosmetic kit I keep in my desk:
:
I've been pretty wrapped up in stuff the last 6 months or so. We've had administrative changes at work (including the opposing side) so there have been "adjustments". Plus, I was pretty uninspired fashion-wise. Going straight from winter to muggy summer, with no "spring" to speak of, certainly didn't help.
I have an AAUW dinner tonight (I just joined this year), so I will try to pick up some earrings on my way after work. Because I feel naked without earrings… but only IF I have time from picking my car up from the shop after $1k of maintainance. Ouch.
Anyway… nice to be back, and I will stop by your pages soon, luvvies!
Top: via Stein Mart
Belt: Banana Republic
Hair flower: Maurice's
Pants: Lane Bryant
Shoes: Ariat via Sole Solutions in Spokane, WA