What a weird year... just as I was emerging from near-hibernation, my kayak was stolen. I discussed that in the last post, of course. I was asked to show the replacement kayaks, so they are a bit further down.
First, the two left behind by the scumbag thieves (modeled by Stinky and his little sister):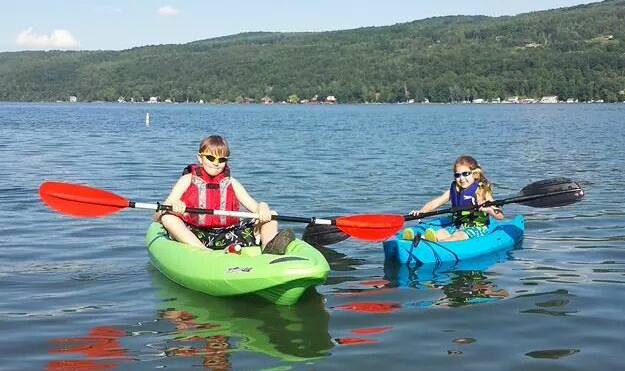 My mom's health never fully recovered from last summer, and without going into too much detail... she was in and out of the hospital and a physical rehabilitation facility for much of the summer. I went to the Mitten in June to be there for her hip replacement surgery, but not the subsequent hospitalization for post-op infections, etc.
While I was there, the local paddle shop graciously arranged a demo of several models after a lengthy discussion about the water conditions and how my old kayak handled where I live now. And with a generous gift from my Mother-In-Law, my Precious came home with me:
And I put her to very good use throughout July and August, and I paddled almost as often as possible.
I later picked up an inexpensive sit-on-top model to replace "Bud"-- the cheapie we won in a drawing:
Stinky's buddy really enjoyed the new model!
Shortly thereafter, I picked up a second one of that model because Stinky's middle-sized kid kayak handles horribly, and it's very slow. He's also been shooting up like a weed, and he is getting a bit big for it. My boat-phobic Bestie is giving Stinky's new kayak a try... another convert!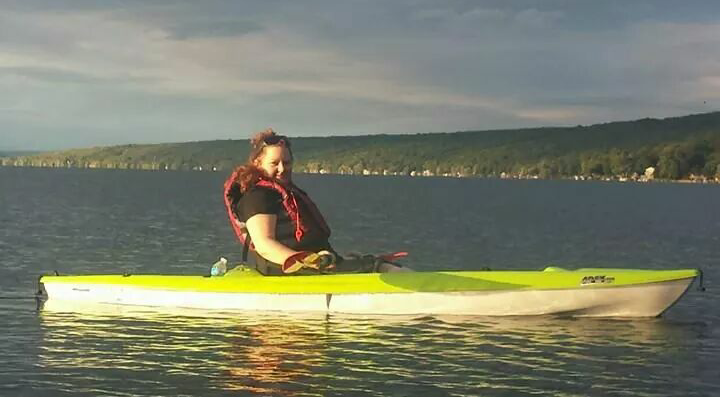 At the end of August, I had to put them all away for the winter. I got a call from Freeda that my mom was very ill, and my sisters had called an ambulance. I spent all of September in Michigan, as my mother was in-and-out of the hospital and rehab again. And we were moving my parents from their giant white elephant house to a cosy senior apartment... lots of work!
But Mom is much, much better and more "herself" than I have seen in over a year... so I came back to hearth and home-- rather to my poor neglected husband and household. And promptly got the mother of all sinus infections! I guess my body finally broke down after a month of living like a nomad and snatching naps in hospital rooms.
By the time I recovered, kayak season was over. As is my "sabbatical"... time to get back in the game!