Back to try this blogging thing again... I've really missed the support of my blog-buddies. Hope you all remember me!
I'm still jobless, but picking up a little work here and there. I feel myself preparing for "something"-- I'm not entirely sure "what" yet-- by editing and revamping my wardrobe. So a lot of changes will be forthcoming!
Let's be frank... my "career wardrobe" has been pretty "catch-as-catch-can" for years, with pieces thrown together hoping they would be alright. For this I really have two factors to blame: 1. I do not possess the advanced sewing skills (or the will) necessary to sew my own suits; and 2. The utter neglect of the plus-size fashion industry to make affordable separates, in cuts that work for my body type, and that are polished enough for a traditional professional.... The "traditional professions" including
law
. (I know that medicine and accounting are on the list, but I can't recall- is engineering in that category as well?)
I recall being utterly dismayed when finding lovely jackets in Lane Bryant during attempts at shopping over the years, only to find that the accompanying pieces were capris. Seriously?! I can't litigate in capris! *curling up into the fetal position* My allergy to all animal-fiber fabrics is another hugely limiting factor.
But like almost every other woman in the Western hemisphere, I am an electronic hoarder on Pinterest. Recently, two items I pinned separately appeared on my home page together: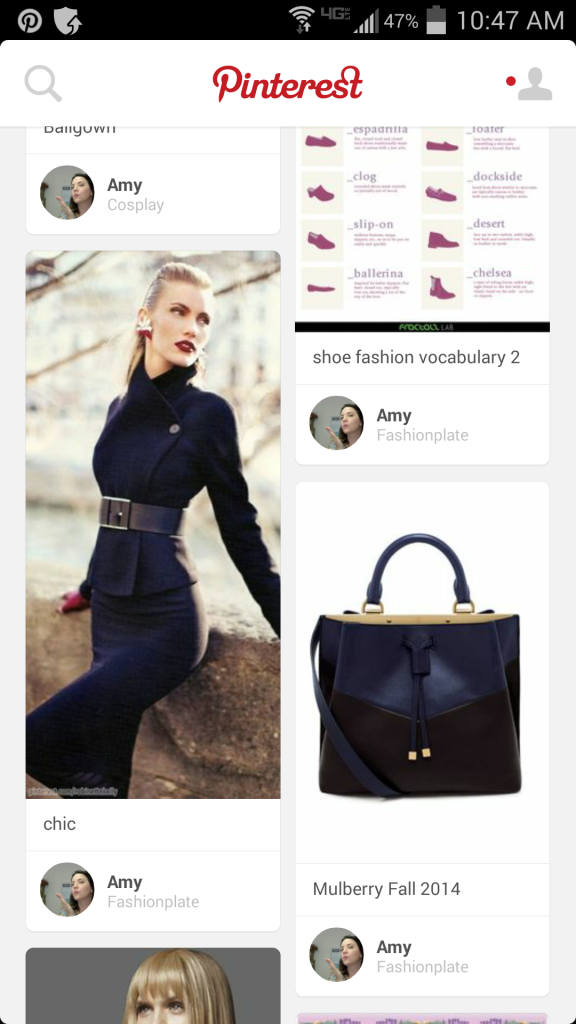 And I can't get them out of my head! Everything matches, and looks deliberate. And so, so, soooo
chic
! THAT is what I want to look like... at least as well as I can do for my body size and type. And my pocketbook....
This concept rattled around in my head at the most opportune time for me: Lane Bryant actually has GREAT suit separates and coordinates out this year. *ecstatic dance* And while I'm a bit skint on cash, I do have their charge account. And I absolutely must buy separates rather than actual suits because my top and bottom are NEVER the same size.
"Doesn't it seem somewhat counter-intuitive to buy clothes and shoes when you are broke?", many may ask. Yes... BUT. But much of my previous "career wear" pieces have become shabby and ill-fitting. And it is
crucial
to polish my professional image to help my chances at improving my situation.
Besides, I'm keeping tags and receipts until they are actually worn. And I've already made some returns/repurchases to get a better price, such as when the item goes on sale. Or a better fit, as I've exchanged a couple of the jackets for a size smaller than initially purchased.
So I present some of my purchases, with the photos taken directly from the Lane Bryant website (with my edits, of course). And I did not buy the shirts shown-- I have a metric ton of shirts, thanks to Freeda's purge pile and my own thrifting and hoarding instincts!
The back hem of the jacket hits me in the perfect spot- before it could strain across the hips! No wonder some the of ladies reviewing this on the website complained that it was too short; it's perfect for short-waisted, big-bootied
moi
!
I am not posting a photo of the trousers because it doesn't come across well, but the pinstripes match the pink and white in the jacket. I wish there were a matching pinstripe jacket, but alas... no.
But I found the same jacket, in suit separates! No ponte knit panels, and the exact same fit as the tweed jacket... I'm in chubby/curvy lawyer clothing heaven: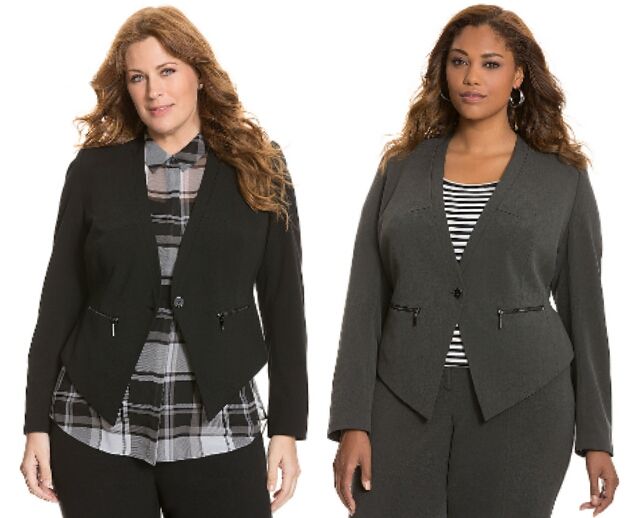 They also had these jackets and trousers in a lovely burgundy color... but the trousers are the wrong cut for my shape. They didn't make them in the cut that works for me.
C'est la vie
.
Another jacket that I could not resist:
I love the contrast of the "rebellious" motorcycle jacket design with the traditional houndstooth pattern. And the fabric is so easy to move in! It's perfect for a long day working in the office.
I'm still debating a few clothing purchases/orders... as to whether they will be returned. That discussion (with photos, of course) will be in a future post.
I've also purchased some shoes (TG for my Bon Ton charge account), and done a major review and editing of the contents of my closet. Although there will be further refinements as I figure out how to get the best use out of what I have.