I thought it would be fun to review some of the items that didn't survive "The Purge of November 2014":
DONATED/GIVEN AWAY:
Bye-bye, buttflaps! I hate the way they stick out on my already ginormous bottom, and these pants are just are too short-- even in flats. I actually wore them to court recently, then started kicking myself when I got home. But I hadn't had my new court clothes tailored yet. No excuse- I had other things I could have worn!
I've never been crazy about brown, though as much as I've worn it-- one could reasonably infer otherwise. I have a ton of brown shoes purchased for brown pants over the years... I wonder how long I can avoid brown pants? As of this purge, I have no brown or mostly-brown pants or jackets in my closet. But there might be some in the storage bins. Time (and weight loss) will tell.
While I won't miss the brown butt-flap pants, I'm going to miss my wardrobe staple-- it was just too shabby to keep around any more. Although it was tough to part with. At least my red version of this is still OK.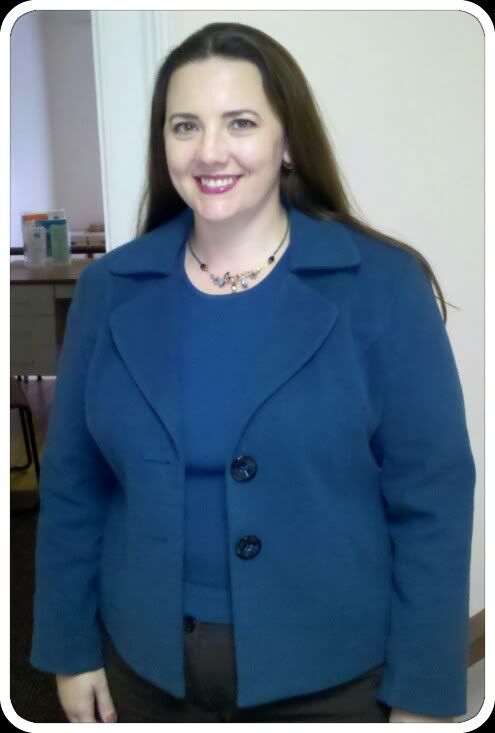 While I love the concept of a big, cozy sweater... the execution leaves much to be desired. At least on me, because I need more bulk added to my cartoonishly round hips! Given to my Bestie:
I liked this sweater, and it was a freebie hand-me-down from Freeda. But it was just getting too faded to deal with... it's Old Navy, so not a top-quality fabric. Although I was impressed that the design actually matched up at the button placket:
This tank was always a bit too sheer for my comfort: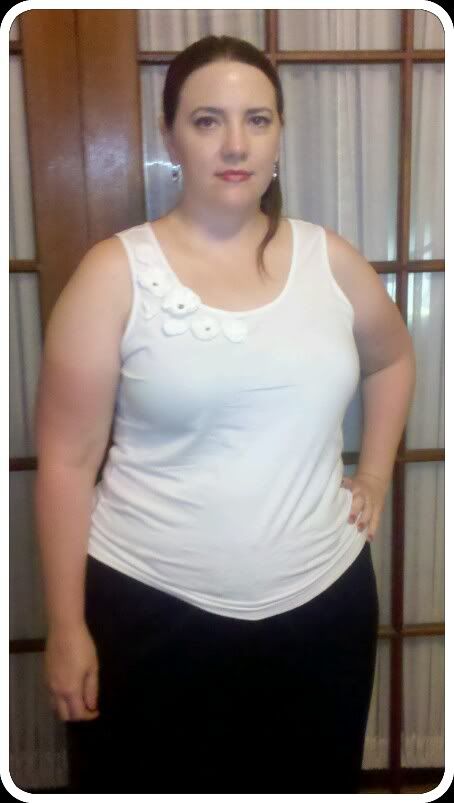 I'm keeping the button-down, just got rid of the top underneath. The boat neck never lies flat, and it's just annoying: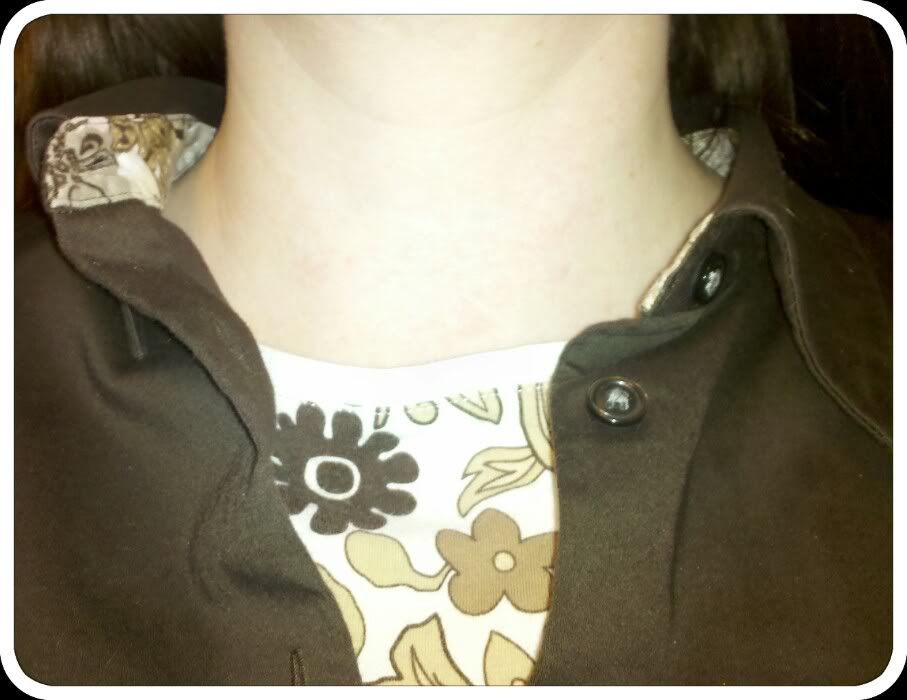 I really loved this combination, but the sweater just kept coming up short. Short-waisted and short-sleeved. But it is such a great color/accessory combination! I will be merciless in this purge, and keep an eye out for a better-fitting hot pink sweater to try the idea in the future: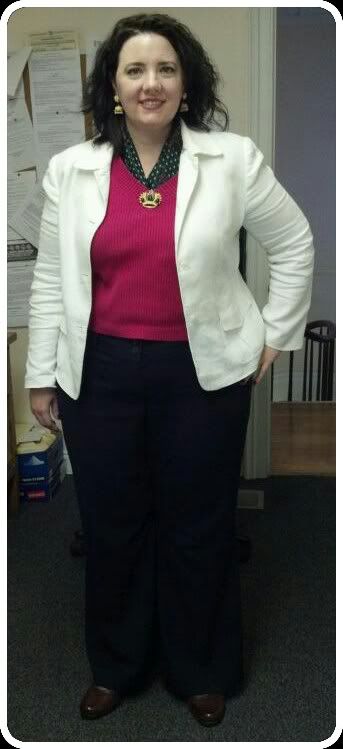 Delightfully warm, but just too big and not worth altering: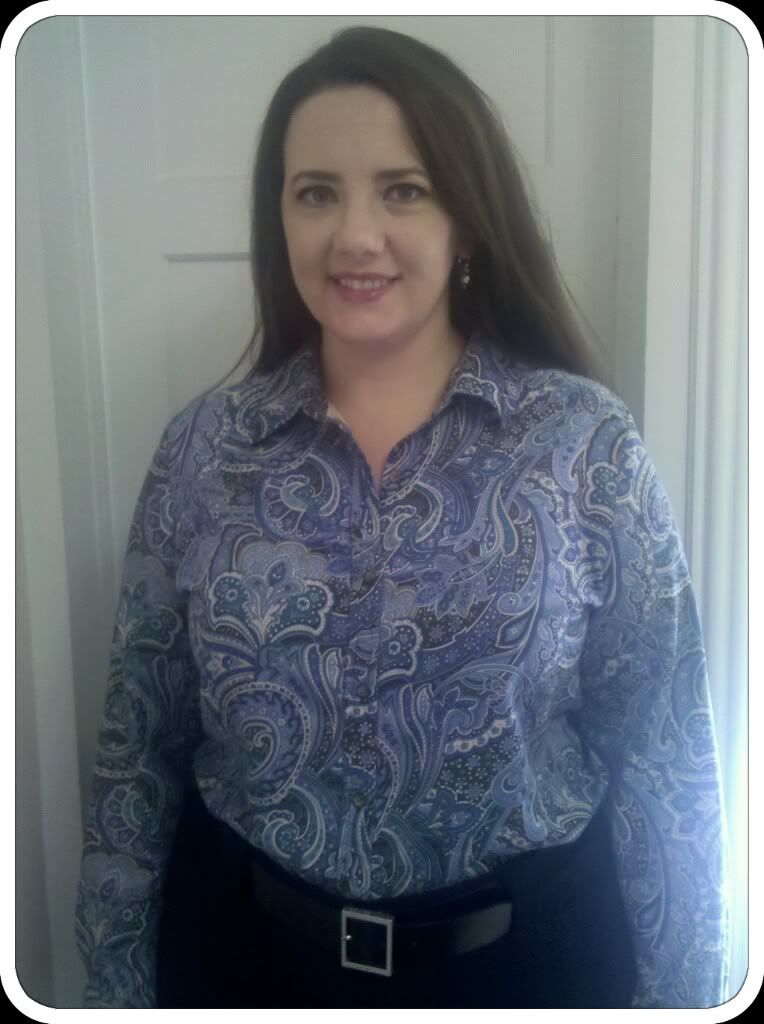 I tried having this altered, but it was still a hot mess:
THIS HOARDER ACTUALLY THREW SOMETHING OUT:
This Chico's sweater, along with it's black counterpart, started to unravel around the neck. They weren't special enough to try to mend, and the sleeves were a touch too short anyway: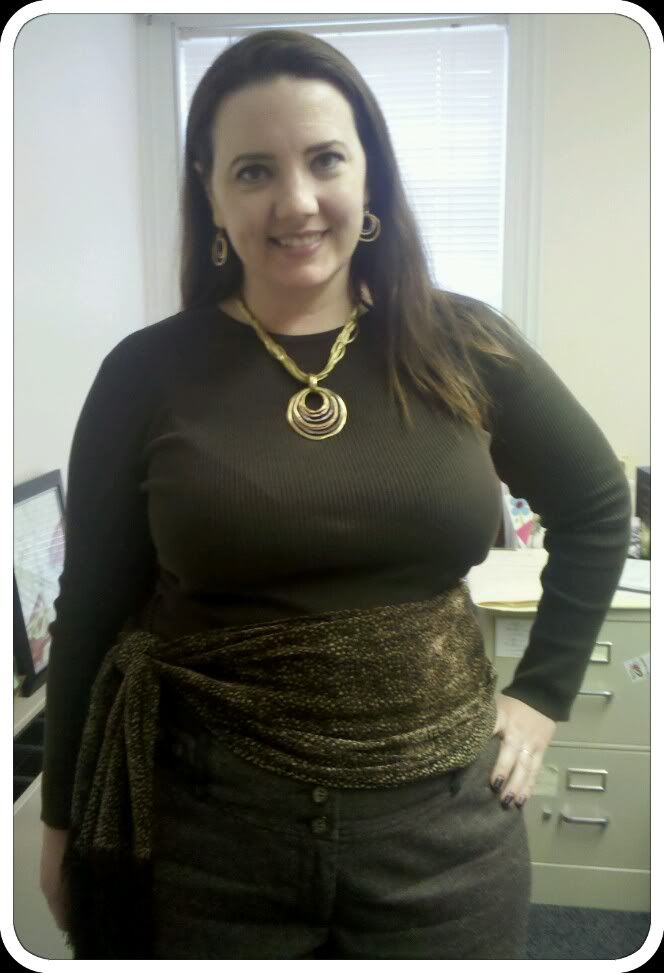 See how I'm trying to hide that the waist was too short as well? It would be hilarious, if I hadn't worn that to work!
I know I should go through another round of purges at some point... although I'm hoping I was thorough this time. Oh well... I will probably have to do it when I go down a size or two.
I will have to post about the things I'm having a hard time purging. I could use your input!