I went to a traditional Catholic wedding this weekend, so I thought it would be fun to show how I almost never dress.
To start, I hate, hate, hate wearing dresses. I loathe exposing my legs. I hate worrying about accidental exposure... a stiff breeze almost flashed the wedding party post-rehearsal (thank goodness that I wore cheap leggings underneath- to prevent thigh-chafing!)
The dress I wore to the rehearsal is a thrift shop find. (blue and off-white swirlys) My sister loved it, but it looked better on me!
I know women with fat ankles shouldn't wear ankle straps, but I was out of time to find something to go. Because I've never worn that dress. My feet were killing me in them, and I'll probably donate them.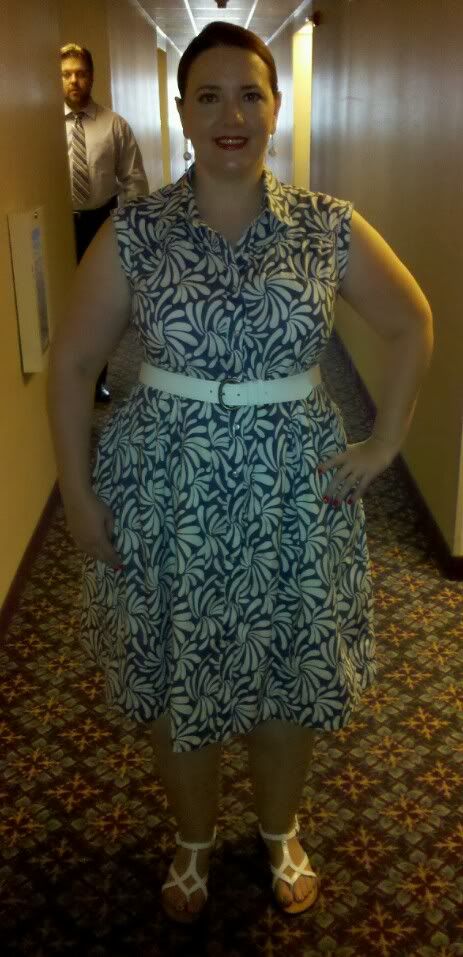 Dress: Target via Goodwill
Belt: Target
Sandals: BonTon
Earrings: Corning Museum of Glass. They're lunar globes.
Yes, I'm wearing nude hose. As much as I hate wearing open-toed shoes with hose, I was desparate here. I'm hoping I can call it a "vintage" look and get away with it. My legs are fishbelly white, with those lovely blue spider viens run amok. I'm in my thirties, my face could pass for late twenties.... but my legs look sixty-five.
The hair flowers are from Maurice's. Looking at the photos, the white one was too bright for the dress. But my darling hubby with excellent taste says I should do my hair this way more often. I must agree.
I think I put on a couple pounds since I purchased this dress. And Spanx is NOT as good as advertised. But I love the black-and-white teardrop design, and the kimono neckline.
Dress: VanHeusen outlet store
Shoes: Aerosoles patent flats on their last gasp
The neckline was lower than turned out to be appropriate for the church, even after I emergency-basted (that pucker in the photo). I tucked the end of my BonTon shawl-as-veil into my brastrap to cover up during the ceremony.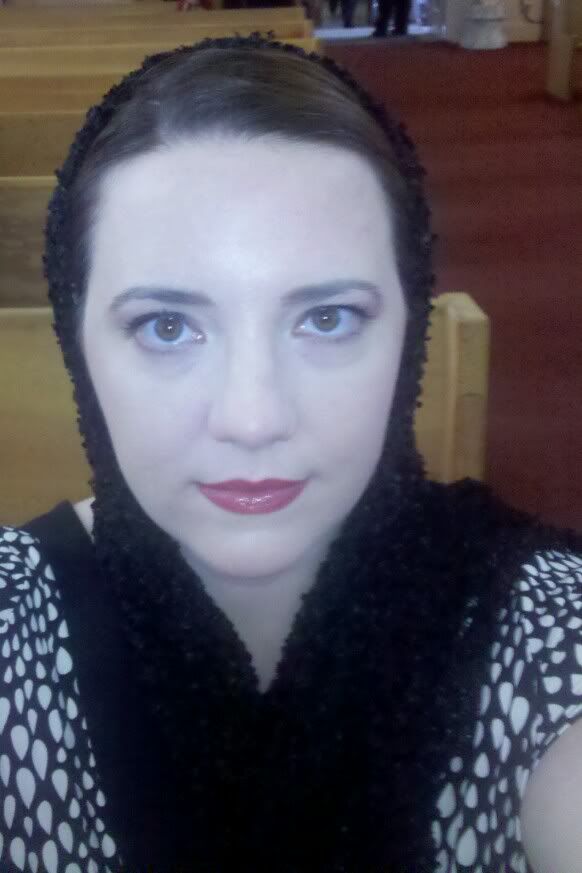 Looking back, I should have switched the order I wore them in. The rehearsal was at 5 pm, and the wedding 10 am, so I think the swirly dress would have been more appropriate for the morning. Live and learn...
I don't normally wear red lipstick, but was feeling vintagey... probably due to the traditional setting. One of the guests had these killer vintage-looking lace-up granny shoes I envied.... They would have looked like an ACTUAL granny's feet on me, though *sigh*