A lovely boot provided my my podiatrist, with my own folded-over athletic sock: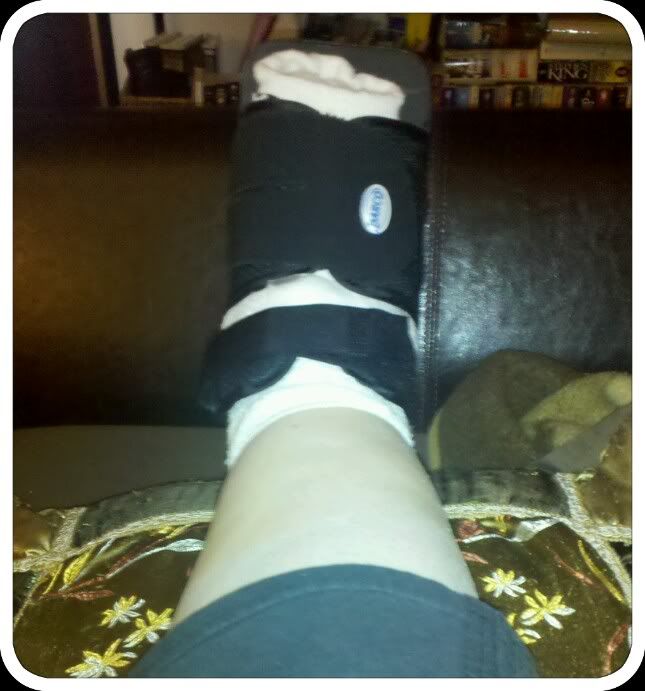 I actually flipped the pillow over so you would see the pretty satin, but I'm really resting on the cotton side so the velcro doesn't wreak havoc.
Squeaky has been staying with me during the day, while Hubby is working. Which is hugely helpful! She's studying for the Bar, which is next week. Oh, the misery! So I'm timing her and here to explain something when she gets stuck. Win-win!
So on her breaks, we've been watching "Clean House", and while she studies I've started reading "The Red Queen" by Philippa Gregory. It's a fictionalized account of the life of Margaret Beaufort, mother of Henry Tudor.
After Hubby got home for work, I insisted he step in for "outfit of the day" duty:
I love the plaid on this tie, but it's seen better days:
Hubby is kind of hard on things....
Jacket: Jos. A. Bank
Shirt: VanHusen outlet
Tie: VanHusen outlet
Belt: Bass
Pants: Ralph Lauren
Then I got Hubby to help me with a shower... and change into fresh new jammies (don't want to draft Squeaky unless there is no choice... that's a bit much to ask):