Saturday night, Hubby and I went to see Squeaky's husband in a community theater play. I broke out my new top I scooped up for $2 out-of-pocket after applying a $10 coupon:
I stitched the fold over the bust into place so that it doesn't gape, and basted the darts in the bust into place as well. Then I added the elastic belt from an old pair of pants that are too small for me at the moment.
I also just picked up the "ponte knit" pants at Lane Bryant on clearance for $10. They are so comfortable, and drape well rather than nip in at the knee like most of my pants do... I hate that!
I wondered whether I shoould try to accessorize with color, but Hubby liked these earrings best: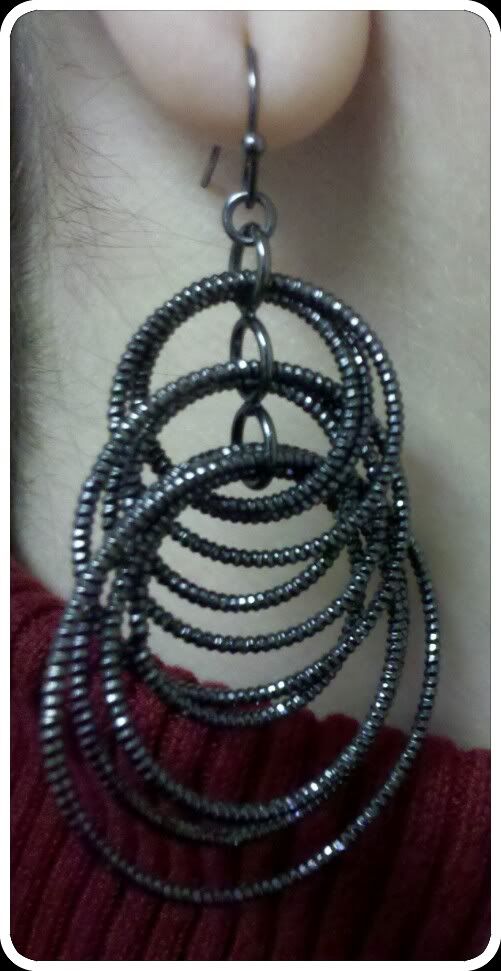 Add the vintage evening bag, white hair flower, and red lips for the only spot of color, and I'm all set for date night!
After the play, we went (late, but I called ahead) to a girlfriend's birthday party at the pub. All in all, a really nice evening.
Top: via JC Penney
Pants: Lane Bryant
Earrings: Lia Sophia
Evening bag: via consignment shop
Edited to add: Drat! I didn't realize until I saw Bella's comment that I didn't paste in the pic of the bag: