For me, it's when the first gifts are exchanged. Yep, I'm very "Secular American" as far as the winter holidays are concerned! Lemme see, yesterday was the first full day of Haunakkah, and was the winter solstice. Which I forgot to acknowledge because my energy was shot!
But I'm a bit more chipper today (although the bad lighting today makes me look jaundiced, and makes my blue pants look black)- I suppose that today was our office gift exchange didn't hurt:
One of my lovely prezzies worked well with today's outfit:
I'm going to have one bead removed, because the bracelet is a bit big on me (hence the claw-hand in the pic). The beads are really soft, which is an interesting texture.
And I am finally posting the earrings Freeda gave me last time I went to the Mitten, to cushion the blow when I finally surrender Squeaky's beauties back to her.
Mine, aaall mine: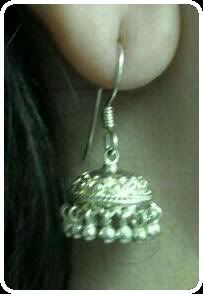 Squeaky's (because I'm too honest to steal them):
Of course, I will be posting my other prezzies as I work them into the wardrobe!
Don't forget, tomorrow is Festivus! Hubby and I are celebrating at Squeaky's, but will probably leave out the "Airing of Grievances" and "Feats of Strength". She's still getting used to the Christmas hoopla- no need to confuse the girl!
Top: via Stein Mart
Jacket: VanHeusen outlet
Pants: Lane Bryant
Shoes (not shown): Ariat
Necklace: gift from my old roommate
Bracelet: gift from my secretary
Earrings: gift from Freeda