I've been so busy the last few days, I've hardly had time to catch my breath! Friday, I went to work, ran errands, then met up with a girlfriend for drinks. A decent blues band was playing at the hangout pub. Never did bother to change out of my work clothes:
Me after too little sleep, a very long day, and two hard ciders! I really like these earrings I snagged from my Mother-in-Law's purge last year... I wear them quite a bit: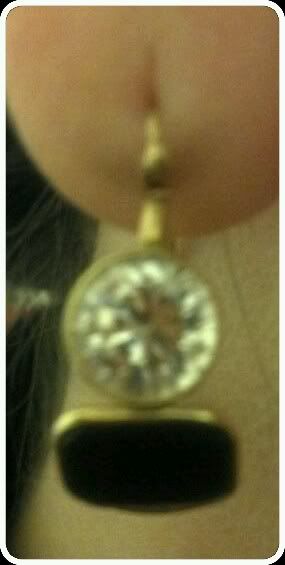 Saturday, I took Stinky to the roller rink. I wore my usual skating outfit for that. The pic is not from today, but I really love my "Captain America" shirt, so I'm posting it again... because I'm a big child:
Of course, my go-to clearance earrings match Cap and my skate wheels perfectly: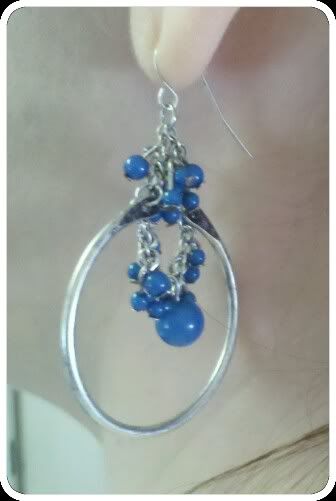 Stinky and I absolutely agreed an the necessity of watching "Dr. Who" on Netflix before I left for my friends' Improv performance. My hair looks comical from the ponytail I sported while skating: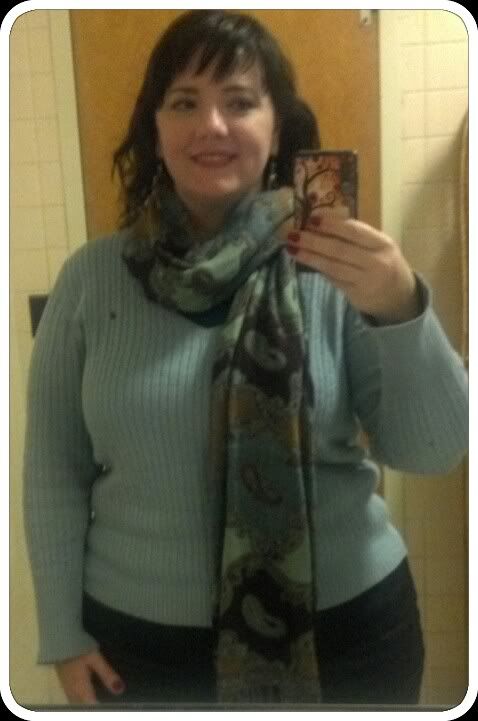 Since the (intimate) audience got to call out scenarios, I managed to get a decent Sci-fi influence going for a couple of the skits. Yep... I had them looking for the TARDIS in the woods, and debating the virtues of Star Wars vs. Star Trek. I almost wet myself when my "middle-aged craft-crazy mom" friend was rapping about a paper cut!
I went rather "matchy-matchy", as you see:
I will sob when these socks finally unravel, the tops have seen better days:
And I still love this:
Sunday was GTL day. Since this isn't "Jersey Shore"... it stands for Gym, The Doctor (Who, that is...), and Laundry. Didn't get around to the laundry, though....
I just re-wore my skating outfit to go lift weights, then took Stinky to the Pool at the Y. Wore my version of a swimsuit for that, though! At one point we, and several other kids, had three balls all going in different directions, just flying around in some sort of mutated water volleyball.
I'm worn out... I need to get back to work so I can rest!
Friday:
Sweater: Talbot's
Jacket: VanHeusen outlet
Pants: Puh-leeze... do I even need to SAY Lane Bryant?
Shoes (not shown): Ariats. Made my pants look "flooded". *sigh*
Earrings: via M-I-L
Saturday day:
Tee: Wal-Mart
Gym pants: Old Navy. NOT Lane Bryant. Shocker, I know....
Earrings: via Fashion Bug
Skates: Riedell via eBay
Saturday night:
Shell: Laura Ashley via Goodwill
Sweater: Old Navy
Jeans: Lane Bryant. Again.
Shoes: Bass outlet
Earrings: via World Market
Scarf: via random stare in Paris, France