I survived toddlers, cocktails, and karaoke... and the stupidly long drive back... so I'm back at work. Feeling pretty useless today, really. But at least I look good:
Trying Sheila's "Wonder Woman" pose. I am definitely NOT Lynda Carter. *sigh*
But at least I get to post my cool necklace:
Which is what I had in mind when I bought these: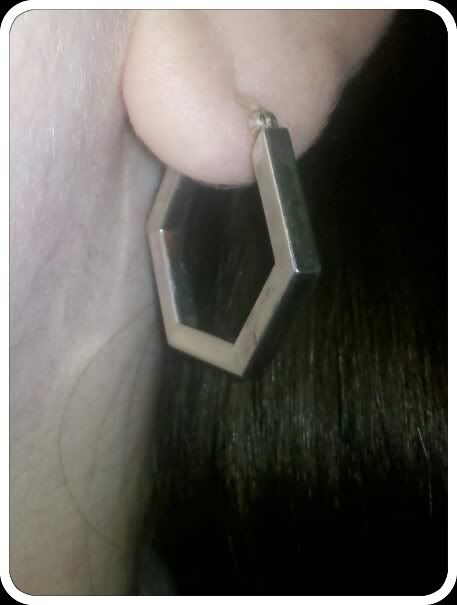 Is getting the same shape in pendant and earrings too cutsey?
The collar actually came with a different pendant, but it's easily changed. The only loose silver-colored pendant it doesn't fit is my favorite pendant... I really need something to put this on:
I got this from an artist at the Kalamazoo Art Hop years ago... she does all these great silver casts of budding branches. I have a great pin she made that I need to have repaired. I'll save posting that for later though....
As you can probably tell, Mom goes to a lot of craft shows... and I benefit!
And yes, I've posted these clothes before, but I'm not a celebrity, so I'm just trying to mix up what I have!
Jacket: VanHusen outlet
Top: Pip's in Corning, NY
Pants: Lane Bryant
Shoes: Ariat
Silver collar: gift, I think from Mom
Reversible pendant (red): gift from Mom
Earrings: Gold Mine in Bath, NY