I'm not kidding! For practical reasons, we needed to be legally married BEFORE the "Big Day", so the first time around I got married in this cream sweater and (different) gray pants. It was February, and we were on an enclosed porch, so I needed to be warm.
Something old (Lane Bryant pants), something new (to me, anyway- consignment shop sweater), something borrowed (Freeda's necklace) and something blue (my underpants- not shown)...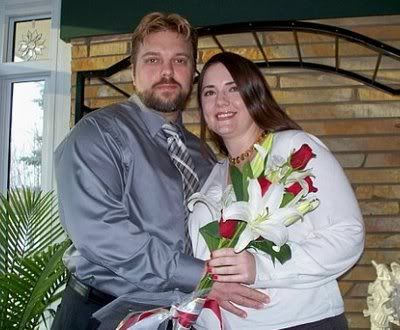 That's my handsome Hubby. Back off, he's MINE!!
How I wore it today:
The closeups:
My mom made the scarf, and I always had a tough time figuring out what to pair it with. This works? I just love it... the colors are subtle, the texture is incredible.
And it picks up the color of these earrings... leading me to pair them with this jacket. It never would have occurred to me to put these items together! The blog's mission is being fulfilled again!
Still in love with these shoes, and I don't get to wear them often enough because some of my pants are too bloody short... I bought them for wearing flats! And I would always sucker myself that the length would be OK, usually because the waist was big when I bought them. Once I get the waist taken in- then they are too short!
Particularly these disappointing pants. I don't know why I keep trying to wear them, except that I just bought them. AND paid for tailoring! Rrrrr.
I've posted everything but the sweater and scarf before, should I really do the rundown? OK....
Earrings: farmer's market
Scarf: made by Mom
Pants: I neally need to chew Lane Bryant out for these
Shoes: Ariat
Sweater: consignment shop- It is one of the Liz Claiborne brands (I don't recall which)-- the label was bugging me so I cut it out
Belt (not shown): Nine West. Strictly to keep these pants from drooping as badly as last time. *fuming*