**Please post this on your blog, so your readers have a chance at this giveaway too!**
As I think I've mentioned before, I'm a member of the local Junior League. Our big fundraiser is the consignment/charity shop, and each member is required to donate $150.00 worth of clothing to the shop per year. Which gives me the push I need to clear out the stuff I would never wear again, even if I do get back into that size.
I think I also mentioned I already gave a lot of "work-appropriate but not right for me anymore" clothing to our old intern... who really needed it. Believe me. The bulk of the things that didn't go with her are being donated to the consignment/charity shop.
JL is also working with "Dress For Success", an organization that helps needy women get work-appropriate clothing so they can get (and keep) a job. Almost everything I'm donating is good for that purpose.
I've held a few of the more casual goodies back... and I'm giving them away because I want to see you ladies rock them!
THE RULES:
1. Freeda and her Kiddo get first pick. I'm already not posting one top I've promised to them. "Family First".
2. Just post a comment that you would like a certain item. If there is more than one person who wants a certain something, I'll choose randomly (coin toss, dice roll... something like that).
3. You pay the postage. I can try to check what it will be for you once I know where you are. I'm in upstate NY.
4. To make payment arrangements, send me your email address, either in the comment, or I'll figure something out if you don't want to post your email.
5. After you get it, please send me a guest blog on how you style it (with photos, of course) for me to post!
I'm not going to insist anyone follow my blog to win. But if you look through my posts, and decide you like what I'm doing here, I'd love more followers!
And no complaints about the small sizes... I'm wearing or saving the bigger sizes for myself! "Charity begins at home".
Anisette print and embroidered tee:
I love this top, but it's just not going to make the transition from "medium-city-single" to "small-town-married" attorney. I would love to see it go to a good home.
New York and Co. turtleneck sweater (size M):
It's a gorgeous purple with turquoise sparkles shot through the whole thing. This closeup doesn't show the color very well:
I think this is so pretty, but the sleeves were always a little short on me.
LBD (the label print has worn off, I'm guessing size 8-10):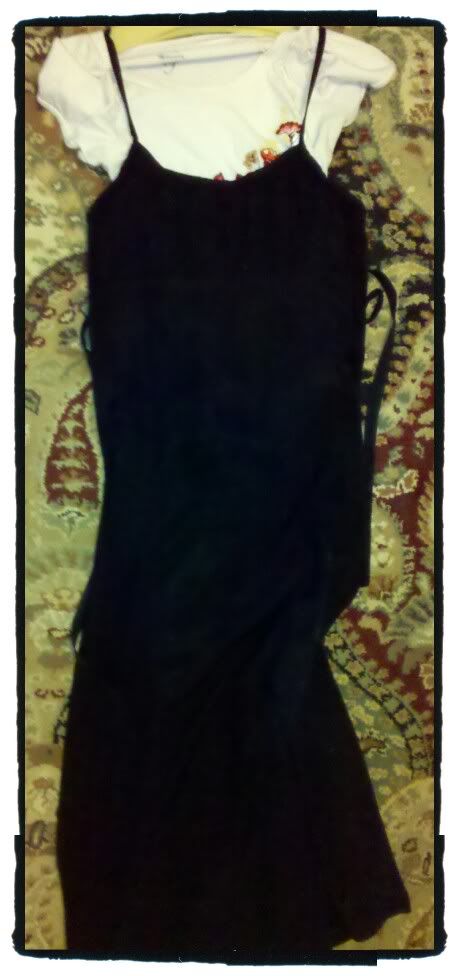 I just put the top underneath to show the strap detail- that's a separate giveaway item. Acetate but machine washable. Shirred bust (great for a smaller chest) which doesn't show very well in the next photo, empire waist with a below-knee length gored skirt and tie in the back.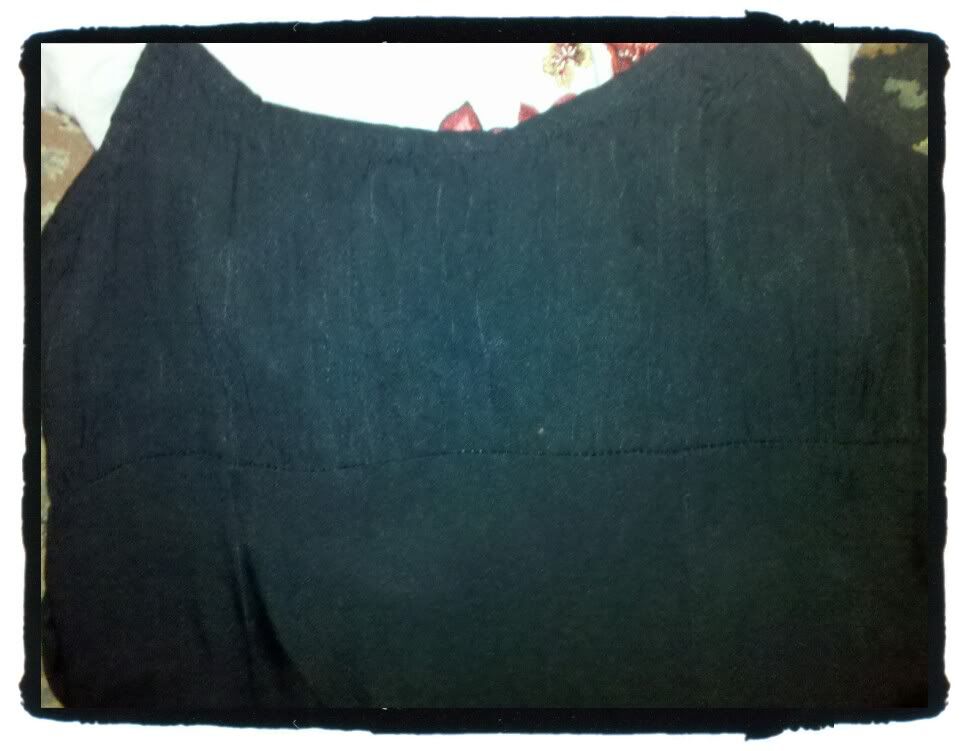 Spaghetti straps that cross over in the back: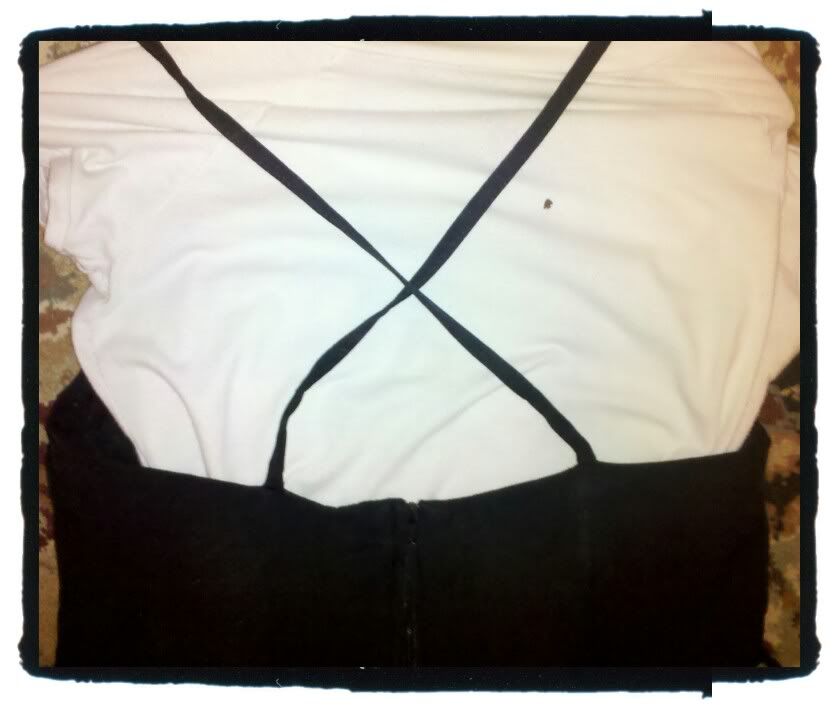 Why am I giving this up? Because even when I do lose enough weight to fit back into this, my chest won't be able to be braless in it. And I hate, hate, hate strapless bras!
Brocade nightie/top (no label- I'm guessing size 8-10):
Can't really do the negligee-as-top thing anymore. But I'm sure someone else could.
Besides, it's a gift from an Ex.
Cloud club top (size M):
This is actually one of Freeda's castoffs, that I used to wear clubbing. There are no clubs where I am now, and it won't work for daywear (for my conservative job) because the sleeves are sheer.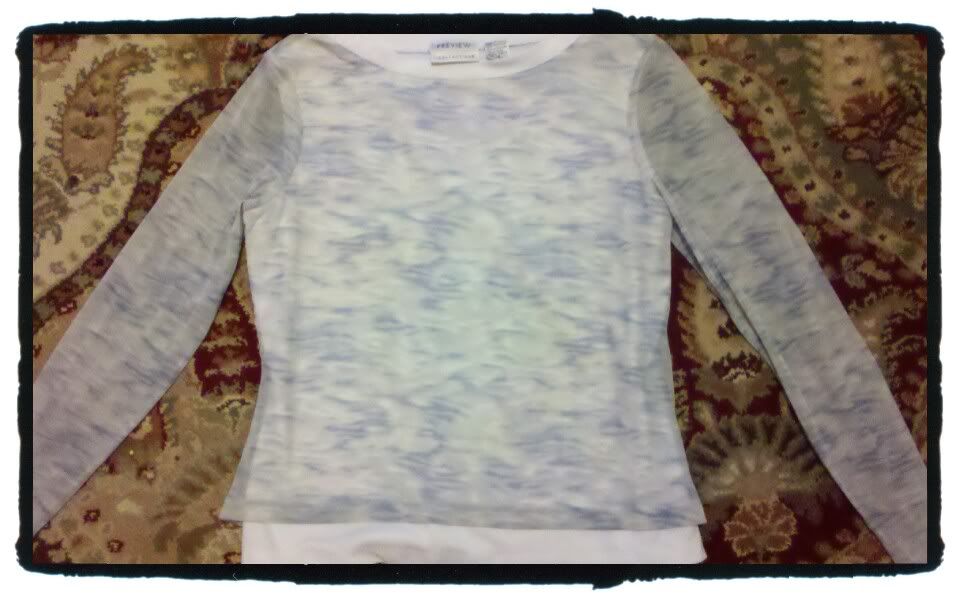 The bodice is sheer with a white underlayer. It's nylon.
Macy's INC Project Runway (Jeffrey) denim jacket (size M):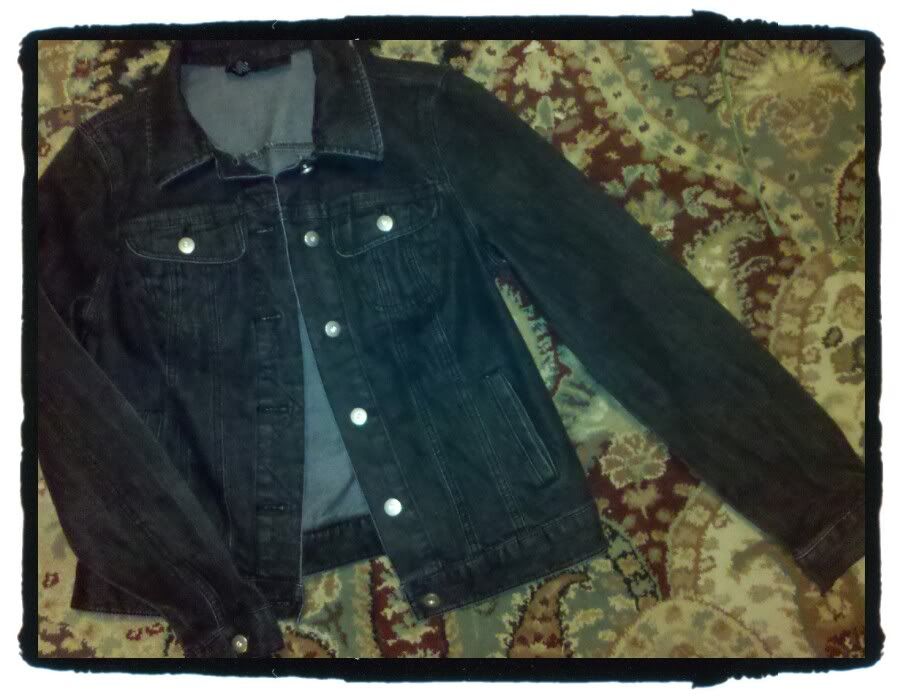 I can't get a good photo of the buttons, but they are a brushed silver/pewter color, with a crystal in the center. Very cute. I have had it taken in at the waist a bit, FYI.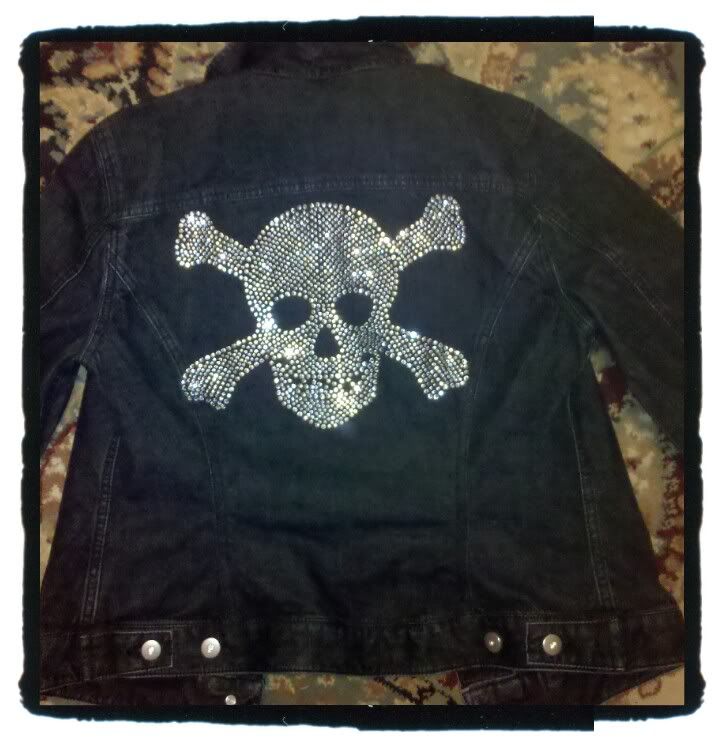 That is the reason I'm giving it up. *sigh* Very cool, but again- can't make the lifestyle transition.
So please enter by December 15, 2010! Because I'm donating anything that doesn't get grabbed up here... and I want my closet back!