I've been absolutely fascinated by Egyptology since I was a child. I would hang out for hours in the Egyptian exhibit at my local museum, looking at the heiroglyphics, the stone pots for internal organs, the jewelry, and the art.
I've also always been fascinated with linguistics. When I was a child, I would look up words in language dictionaries (Encylopedia Britannica had a multi-language one in my family's set) and attempt to put together (ungrammatical) sentences. I studied Spanish in high school and university, and Russian in university. My skills have fallen away due to lack of use, so don't ask....
The
Rosetta Stone
was what enabled Egyptologists to decipher heiroglyphs. I even wrote a paper about it at university. So when I found myself knocking around London for a couple days, I made a beeline to the British Museum to visit my near-holy relic.
And I bought a scarf. Because I'm a wannabe linguistics nerd.
And I paired it with my checked jacket, because I felt adventurous. But I've learned from history, and did NOT repeat the weird gray "tweed" pants!
Now if only someone could decipher what protocol created the mangled mess at my neck today? At least it looked good with the jacket on....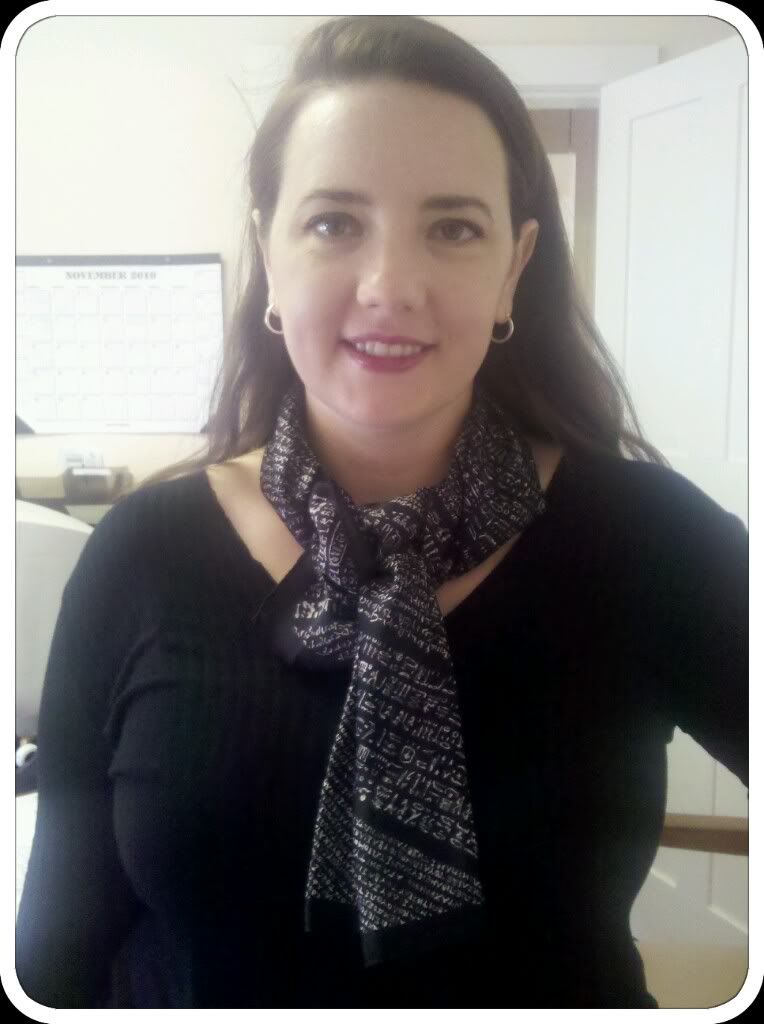 I have got to break down and watch
Une Femme's
scarf-tying tutorial video.
Top: Pip's in Corning, NY. I cut out the label because it scratched me. Meanie label!
Jacket: Talbot's (heavily altered)
Pants: Lane Bryant
Earrings: Gold Mine, Bath, NY
Scarf: The British Museum