No daily shot today-- but I have a substitute further in, so keep reading!
One of the perks of a government job is that I get election day off work. I went to the polls and did my duty, but they didn't give me one of those groovy stickers! I also ran errands and worked out. All in my gym clothes. Yep, I'm a slob today.
I have finally rehabbed enough from my injuries, and am finally well enough to work out again. Yay! Hubby is helping me with training and my diet (he was certified as a personal trainer in college). I think I've knocked off about ten pounds so far, but I won't get into it much because this isn't a weight-loss blog.
But my goal is to get back into this outfit: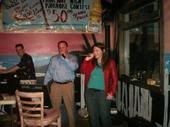 Sorry the photo is so tiny, I have no idea why.
I haven't fit into this jacket in a couple years. It's a gorgeous leather, and I bought it in NYC while visiting friends ages ago. I loved wearing it with that turquoise top. The top has been reborn as rags, but I'm sure I can find something similar. And I always felt like a million bucks in those jeans, and can't wait to get them out of storage.
I have no idea who the guy singing with me is. Some random person who wanted to sing a duet.... The image just degraded too much when I tried to crop him out.
Jacket: Filene's Basement (I think...)
Top: Chico's
Jeans: Banana Republic