The bad part about having Tuesday off for election day is that Wednesday feels like a second Monday. Or is that just me? Not a great day at work; but at least I'm home now, in jammies, eating leftover Indian spicy eggplant and watching "Clean House". Ah... that's better.
Here's me at the end of the day:
That man I married cut off my feet again... what part of "head-to-toe" is so difficult?
At least I got to blow-dry my hair. One of the baliffs asked if I had it cut. She hadn't noticed the layers, probably because I've been pulling it back or wearing it air-dried and down.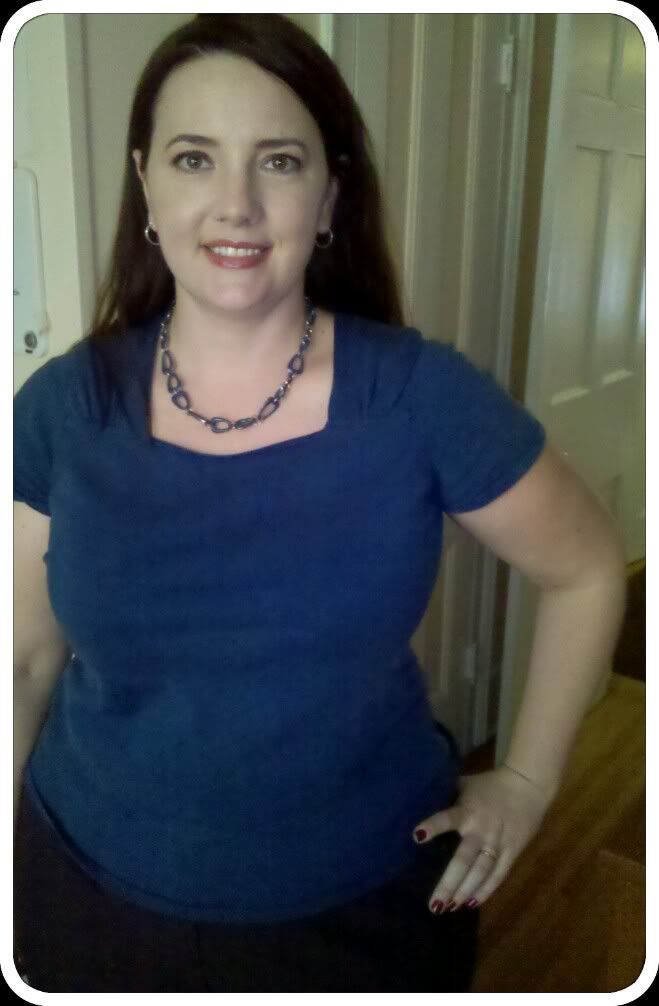 It's funny that I got a comment about "brown and blue" right when I was about to pull this set out. I tried this top with navy pants in an earlier post. Blah. Best to stick with this combination, which I've been wearing for quite awhile.
I think I would like to find earrings to complement the shape of this necklace. I ordered some goodies at a jewelry party on Monday, and I have another one to go to next month, so I limited my order at this one. Maybe I'll get something to go with this necklace at the next one. In the meantime, I'm making do with these:
Top; Ann Taylor outlet
Necklace: Ann Taylor outlet
Jacket: Talbot's Petites
Pants: Lane Bryant
Earrings: Gold Mine in Bath, NY