Another day that I got dressed *before* I looked at the calendar. Oopsie! I had court this afternoon, of course, so I tossed a jacket on top of my outfit.
What is going on with my pants in this shot? They are straight-legged, not bell-bottomed. Rrrr.... AND I'm never again buying "average" length pants- they're just a smidge short!
Did it otherwise turn out OK? I'm liking the red with this... of course, my sisters will tease me for the omnipresent "black-and-red" combination. I've worn a lot of black-and-red starting in high school. Red is my favorite color, and black goes with (almost) everything. What's not to love?
Of course, the claim is that I've historically worn it too often. For decades. I have photographic evidence to refute those exaggerated claims. I just have to buy another scanner, mine is kaput.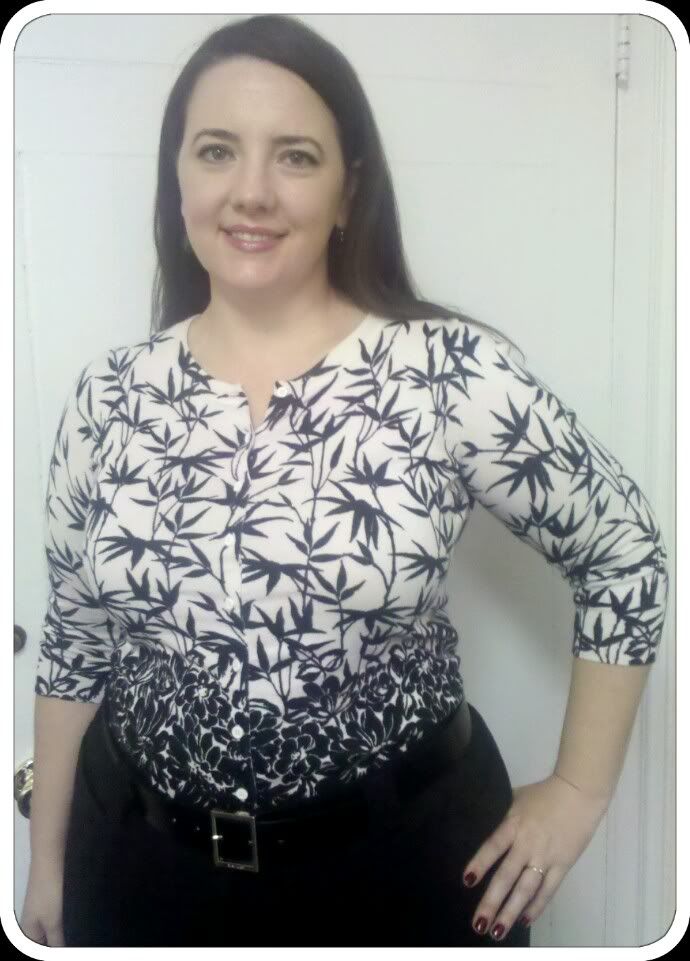 I love this cardigan, but since I found it on clearance, I have no shell to go with it. So I sewed up most of the button placket so I can wear it alone with no ugly gaping. Only the top two buttons come open now. Besides, the pretty pattern would be lost if I had it open, I believe.
Of course, my go-to glass earrings:
Dang! I JUST thought of a bracelet that would have been great with this outfit....
Top: Talbot's
Jacket: VanHusen outlet
Belt: Nine West
Pants: Lane Bryant
Earrings: Corning Museum of Glass
Shoes: Bass