I was just starting to post last night, but Hubby wanted a cuddle... and I dropped right off to (apparently badly-needed) sleep early.
I was exhausted Thursday also, so Friday morning, after abusing the snooze button
again
, I flew around for a quickie shower and makeup, grabbed pants I already wore this week and a sweater so I could skip ironing... the earrings I fell asleep in, so no problem there! No court= no jacket needed. So I just grabbed for that one thing to make the outfit "blog-worthy":
No time to mess with my hair, so I just pulled it back and sprayed that sucka down: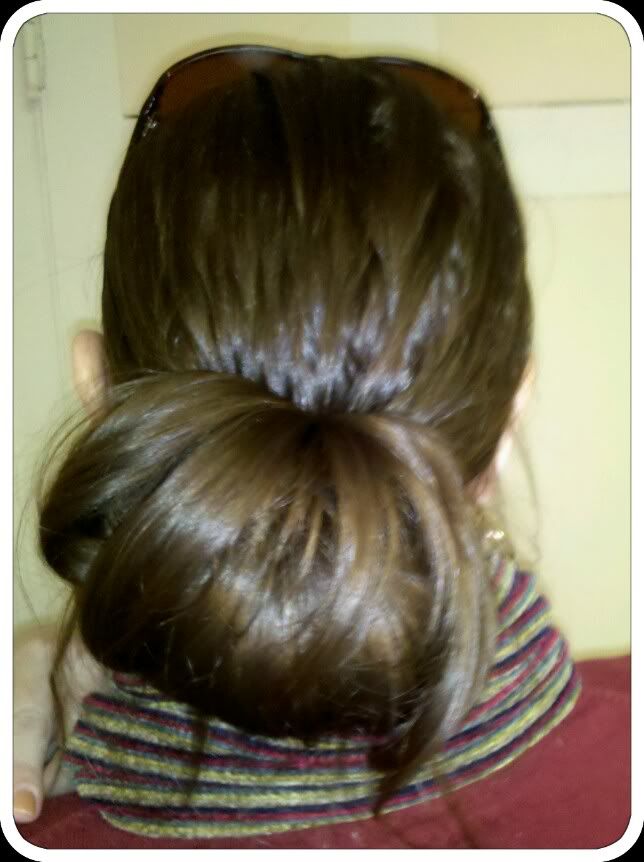 And out the door! Only a little late.... the photos are from the end of the day, so my hair is coming apart a little. Oh well....
Sweater: VanHusen outlet
Pants: Lane Bryant
Earrings: gift from a friend
Scarf: I've had it about a hundred years, and it's origins have been clouded by time.
Friend Friday
- all about color
1. What color dominates your closet?
For decades, it was black... but now, oddly enough, it seems to be brown. I also adore red, and always have a good supply on hand... it makes me feel better.

2. If money weren't an issue how would you change the color emphasis in your closet?
For me, it's not so much the money issue, as it is the fit issue. I now have a lot of brown in my wardrobe because the only pants I found for awhile that fit my bodacious curves happened to be brown. So I bought more brown stuff to go with them.

I would definitely go with more greys and navys in pants/suits. If only I could find suits that fit, and that I'm not allergic to. I have a better chance of seeing a unicorn!

My "upper-body" wardrobe already has a wide variety of color. My coloring tends to look best in rather "odd" colors, so I just grab whatever fits and complements my skintone. Then figure out how to work it into the rotation.

3. What is your mantra about mixing colors?
I'm not fearless, but reading all these fashion blogs is helping me get braver. So as long as I think colors make sense together, and don't look to "chopped-up"... I'm going for it!

4. For you, how do you incorporate color into your outfits?
Needing to wear jackets near-daily really forces me to incorporate more color. Because I'm so tough to fit, if a jacket can be made to fit by careful tailoring (nothing EVER fit off-the-rack) I buy it. And make it work, because I bought it, so I'm wearing it- dangit!

5. Which blogger(s) do you think do a good job of incorporating color into their wardrobe?
All hail Queen Sheila! She is probably my biggest inspiration, and I'm getting bolder thanks to her influence. Of course, I'm still in the "making comical mistakes" phase... but I'll cope.

And Iman- who I've already decided to do a feature on, look for it later this month!