There are photos in this post... just bear with my self-indulgent ruminations for a moment, please!
Awhile back, I saw Chris Rock's documentary
"Good Hair"
, about various aspects of the "Black hair" industry. It was fascinating for many reasons, but the segment about the use of hair shaven from Hindu pilgrims at temples in India is then transported to the U.S. and sold for use as extensions... largely in salons catering to African-American clientele... really captured my attention. Particularly when rapper/actress Eve was expressing her happiness that the hair in her weave had been "prayed over".
I knew about the
tonsure
of Christian monks on the crown of the head, the traditional cropping of Christian nuns' hair, the shaved heads of Buddhist monks and nuns, and even that some men shave their heads for the Hadj... but not about this Hindu rite that has become so profitable for so many.
The common thread (as I read the Wikipedia entry linked) is sacrifice or transition to another stage. As I've pointed out in this blog before, my hair made a rather sudden transition from bone-straight to curly a little over a year ago. I haven't had a haircut in almost a year, because I was having the two foot surgeries, and figured I would wait until I was past those challenges. Much easier to just put it up.
So I'm post-surgeries, my hair texture changed dramatically, and I recently turned 40. A 3-for-1 special on transitions, I suppose. So for my "Fashionista's Tonsure"... a
sacrifice
! I'd heard of hair donation, of course, but the idea began to really grow on me (ugh- totally unintentional pun!) as I realized how long
my hair
had grown to, and how I hated the weird ripples on the back of my head when I'm supposed to have long straight layers.
I'd also been feeling that I really wanted to donate my hair once, and I love the thought of someone else getting some use out of it. The donation seemed a great way to mark the start of my '40s (slightly belated), along with my other transitions lately. So I've given up on that concept of long layers for the time being, and I've gone in a radically different direction. First, the cut the day after the blowout:
Note the layers in back: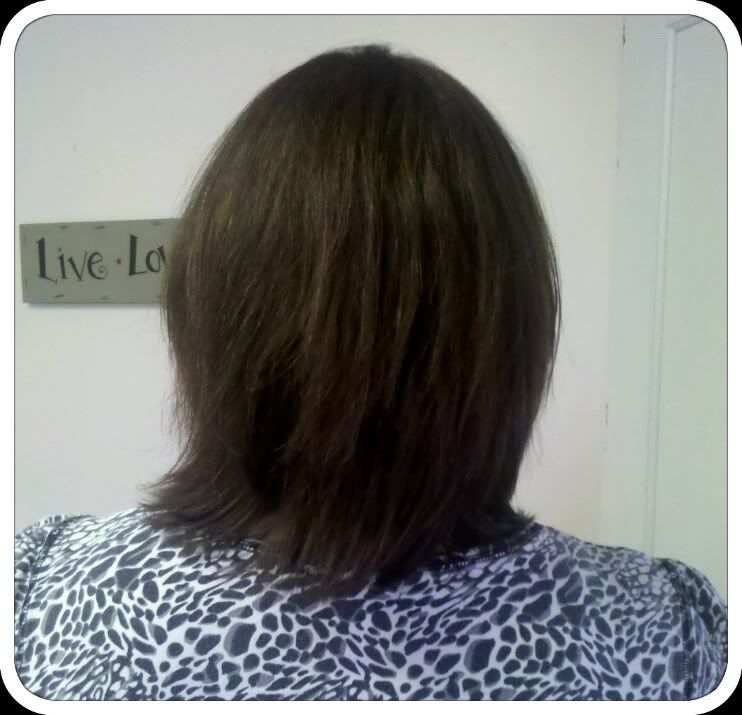 Then see what it did when I let it go all curly:
Hubby and Stinky are a bit weirded out by the curls.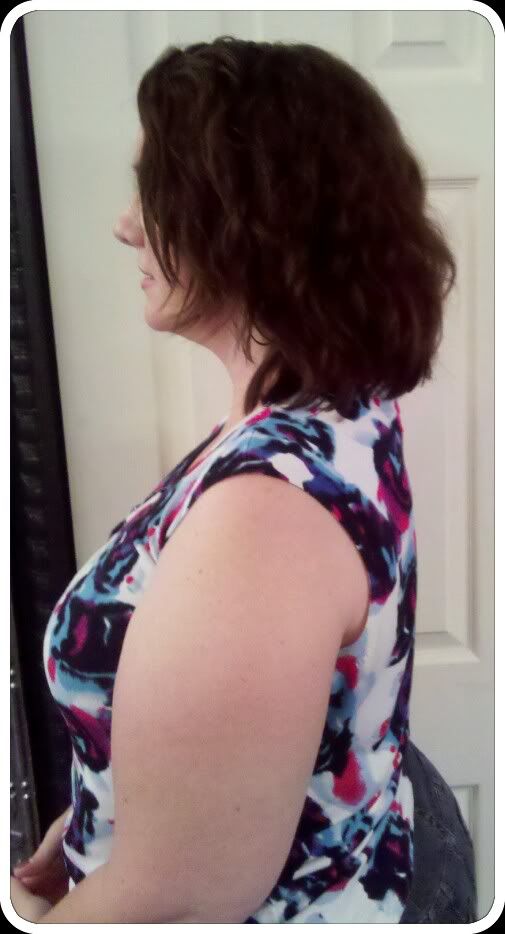 I went back to the salon for a few "adjustments" to the haircut, because the curls turned the "layered cut" into a "bob". I'll post the adjusted 'do tomorrow....
Note: There is some controversy over "Locks of Love" because some of the shorter hair is sold to offset costs, and the wigs aren't necessarily "free" to the recipient. They are sold at a deep discount, I believe on a sliding scale. And my hair best fit the needs of this organization rather than some of the others (they accept colored but not bleached hair). Since I gave a 12" tail, I'm pretty certain at least some of it will benefit the intended type of recipient.