Crud! I lost a bunch of text, and had to redo!
Anyway, I bought this gorgeous top when on my last trip to the Mitten:
I love that it's great with jeans or capris… but still looks good with work clothes: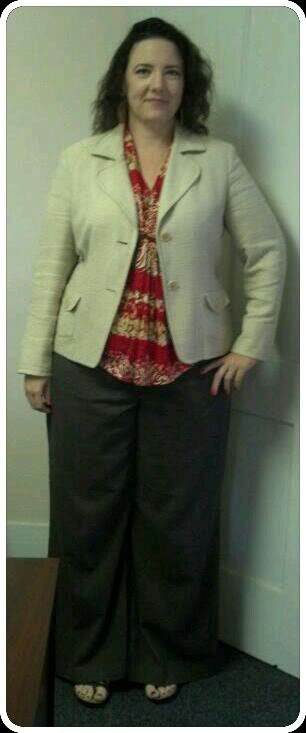 The issue I have with the top is that long bit in the front. It covers the pooch nicely, but looks weird under the jacket. So I've been thinking of shortening it. What do you think?
I just love the patterns, colors, and textures:
And here's the earrings:
I'm going to Yoga class after work, I'll blog the outfit in another post.
Top: Rafaella Studio Petite via Stein Mart
Jacket: Talbot's
Pants: Lane Bryant
Earrings: via Bon Ton (clearance $1!)
Shoes: Clark's of England