No, I'm not canvassing votes for anything, I just need some "reminding" about what I need to do: MOVE! Not relocate... I mean move my body. I've heard the kids calling it "exercise". Am I getting the term correct?
[The outfit is further down, please indulge me first....]
Anyhoo, I've spent the last year recovering from those two foot
surgeries
, and the enforced inactivity compelled by those circumstances. I've gone from "living like veal" to living more like a snail. Sloooow progress, but my fitness level is still subpar, IMO. So I need to step it up, bigtime!
I got a tip from Pinterest recommending a "workout jar". So I made one out of an Almond Roca tin I had hanging around (how apropo...):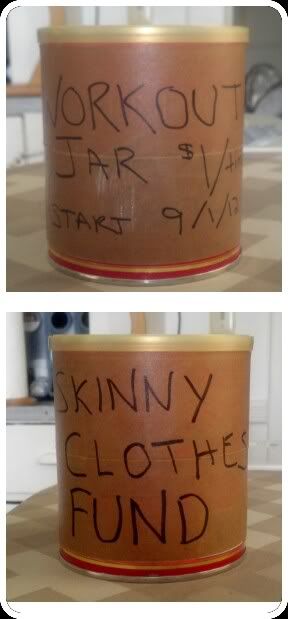 As of this evening, I have $2.00. Goodwill, here I come!
When I stopped blogging last February, I was a year out from my first surgery. And, to celebrate, I purchased proper quad roller skates on eBay. From a girl who had to stop skating for medical reasons. The irony....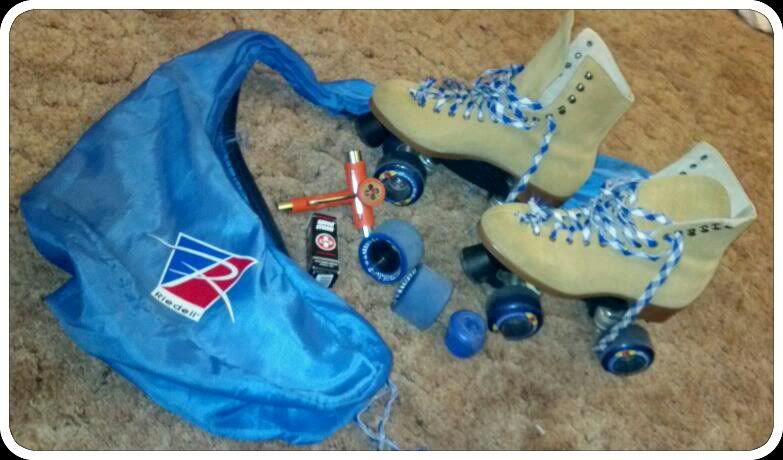 But her loss is my gain- I made out like a bandit! Less than $175 got me indoor and outdoor wheels and brakes, tool, grease, (I forgot to put the key in the pic), and a handy-dandy shoulder "saddlebag". And, according to much pre-purchase research, all high-quality brands! Everything I need except the helmet and pads, which I ordered separately. I had to get them from a specialty derby shop online b/c I'm so fat. The pads in the "normal" stores are way too small. *sigh*
See? My cankles are so huge I can't even tie them without exposed sock. They will never be slim, but this is absurd!
The outdoor wheels and brakes are on now, because I haven't decided to switch them back yet, in case I do want to skate outside before it gets too crappy out. I put a sampling of the indoor ones in front to show the difference. Outdoor wheels are softer and slower, indoor ones harder. And these one are wider for speed. They took some getting used to, but I love them!
I was skating a lot during the spring, but the rink is closed over the summer. And this summer was too horribly hot to tolerate strenuous outdoor exercise. Just awful- and I LOVE summer! So that's why I haven't posted the safety gear. I'm not really using it yet.
I took Stinky to the rink with me today, since it's finally reopened for the season. And forgot my phone, so I had hubby take this pic at home. This is my skating outfit. Jeans are too hot and binding, so I use these Old Navy knit pants I've had for years. The pocket is just big enough to keep some money for admission, snacks, and Centipede. My cut-up Captain America Wal-Mart tee is modest but not binding- perfect for a "family" place like a roller rink in the afternoon. And it's sufficiently child-like, because when I'm skating, I'm instantly eleven years old again!
About the support I'm asking for? Reminders/nagging/encouragement to do something physical each day. Except for valid reasons, like night court, illness, meetings (ex: Red Cross, professional, book club, AAUW, Junior League) and travel.
This is still a fashion blog, so I will mostly only briefly mention my fitness stuff. But I do have an an upcoming post on more "activity outfits" that's written, I just don't have the pics yet.
Thanks!