Ugh! I hated that stupid Donny and Marie song. How about "living in the country, but I'm a whole lot rock & roll"? A better fit for moi, at least! So I went to the salon last night, after ditching Tai Ji in favor of an at-home mani-pedi. My knees were *killing* me, and my polish looked ratty… anyway, here's the hair with last night's blowout today: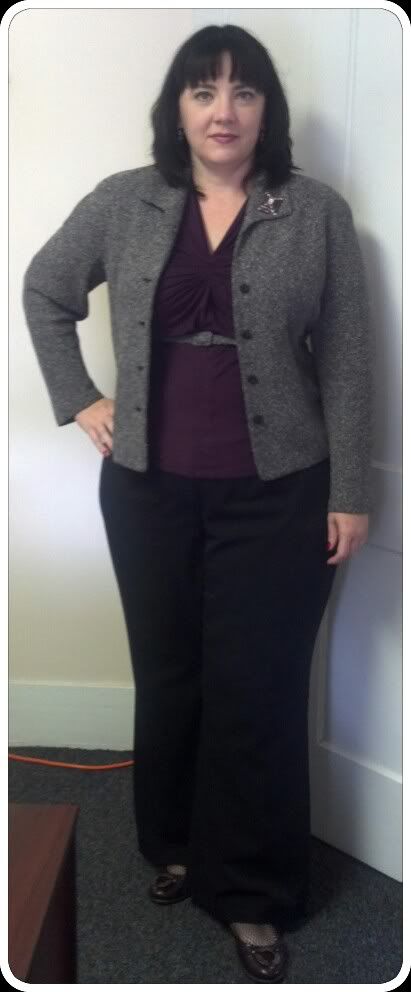 Wow, this is a bad pic of my face! But I actually felt cute, and got several compliments!
I really like my hairdresser- she's a rock chick with a whole "Joan-Jett" thing going on. She's great at pushing me to get a little edgier with my hair, so I don't start looking too much like the "dowdy country lawyer".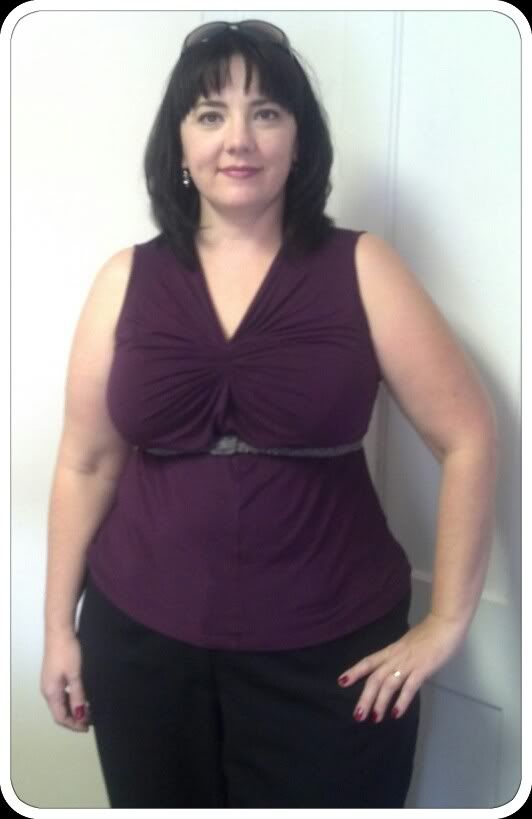 I'm feeling pretty city rock-chick today! I really love this brooch, and I should put some effort into wearing more of them. I tend to fear veering into "tackiness" by wearing too many accessories. I need to loosen up!
My new haircut exposes my ears more, so I shouldn't forget my earrings:
I have been having lots of problems with knee-high stockings falling down because they don't actually go up to me knees. Even Queen size ones! *sigh* I decided to try regular-size thigh-highs, and see if that solved the problem. They are a bit expensive for everyday, but I picked up a couple to try out. This pair, with the top folded a few times, I count as a success:
Top: Grace via Bon Ton
Jacket & belt: Gianni Petite via consignment shop
Pants: Lane Bryant
Shoes: Aerosoles
Brooch: via M-I-L's purge
Earrings: Premier Designs gift from Hubby