Today was mostly spent waiting to see what is happening with Hurricane Sandy. My friends closer to the coast seem to be getting hit pretty hard, but I live within the 500-mile radius of the eye, and we are having some effects out here. Some transformers in a nearby town have gone out, but my town still seems in decent shape so far.
Sandy just needs to go away. Really... she's trashing everywhere she goes!
Just in case out power went out overnight, I showered last night. Not so great for my hair now that it's short and curly... so I wet-brushed my bangs into place then pulled the rest back so it wouldn't look soooo awful:
I picked the top because it's actually pretty warm, fits under jackets... and is a good backdrop to showcase another of my latest acquisitions:


I snagged this beauty from the chain-mail maker last week... love it! It looks like something I would have loved to have when I was in college, as well as now. Speaking of stuff from college... I have had these shoes for about 15 years or so... but haven't worn in at least ten years. Until today:

It kind of cracks me up that I polished the shoes with the instant stuff I keep in my desk after I took the photo...

Here's an old pic of the barrette I wore today. It still amazes me a bit... how long my hair actually was: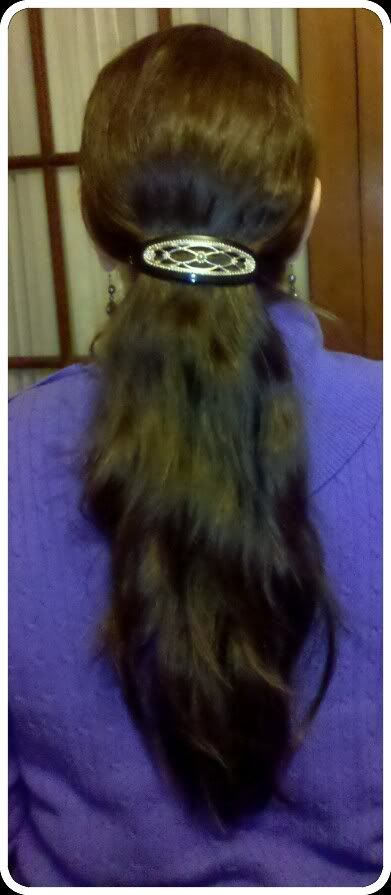 The little bar across the middle is missing, so it kept sliding down my shorter, more layered hair. Annoying!
I think I've mentioned before that I'm on the Red Cross Disaster Action Team (DAT). Of course, I got a call asking if I would be willing to staff a shelter. So I've been waiting all day to see when and where I need to show up. I finally got word that it looks like we aren't opening a shelter tonight, after all.
And I had already cancelled my office appointments, completely clearing my calendar for tomorrow. Oh well, guess I will have to show up at the office anyway.
All my east coast peeps... stay safe!
Top: I forgot the brand because I cut the itchy label out, via Pip's in Corning, NY
Jacket: VanHeusen outlet
Pants: Lane Bryant
Necklace: farmer's market in Bath, NY
Earrings: Gold Mine in Bath, NY
Shoes:Nine West
Barrette: either Goody or Scuncii via CVS, I suspect