Lawdy, my Saturday went awry! I was 20 minutes late getting to the consignment shop, that my Junior League chapter owns and operates, for the annual spruce-up project. Within 30 minutes, I was sucking on my inhaler and calling it quits... we were cleaning up the basement, and I'm terribly allergic to dust!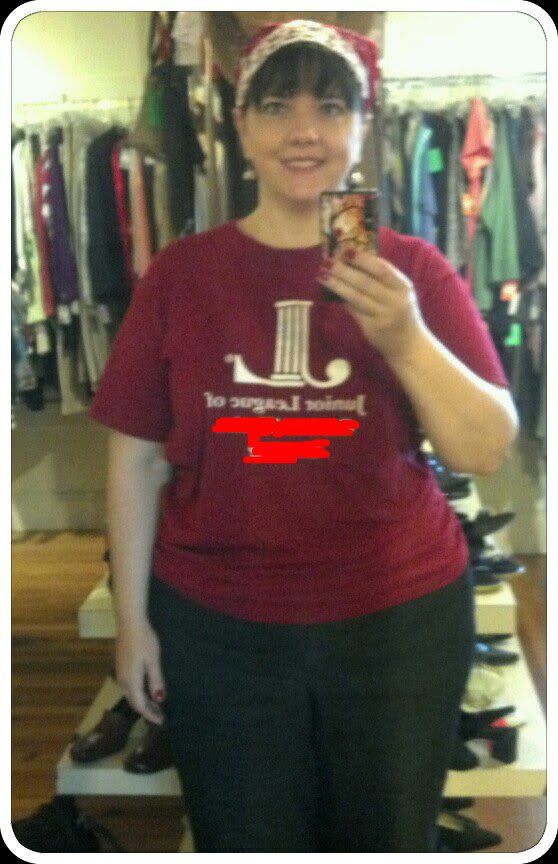 I did buy a couple jackets while I was waiting to feel better so I could drive away, though. You will see them after I take them to the tailor!
Stopped by Squeaky's afterwards to let her feed me (she's a much better cook than I!) and to get my "baby fix". Baby still has a bit of anxiety, so I had to give her back a couple times. :( Squeaky and I then went to a craft fair to support a friend... and I bought a necklace. Which will be posted when I actually wear it.
I'm just Mrs. Spendy today!
I then went to Wally World (as my aunt calls Wal-Mart) to pick up a few finishing touches for Halloween, since Hubby and I were planning to go to the annual costume party at out hangout pub...
...which we didn't go to, after all. Hubby has an injury that has been bothering him worse than usual lately. He just wasn't up to it. And I don't feel like going alone in my half of our "couple costume". So we stayed home.
Silver lining: we are all set for next year's party!
Same jeans and earrings as Friday, the bandanna is one handed to me while doing something with the Red Cross some time back, and I wore Crocs. Yes... fashion-crime Crocs! Hey, I was supposed to be working....