My pants look so strange in this pic:
Grrrrreeat... they must be caught on my thighs. In my next life, I would like normal legs. I do have feet, but Hubby cut them off again. Only in the photo....
I haven't switched out my closet for the season change, so my winter tops and sweaters are still in a giant bag in my bedroom. I'm amazed my poor husband hasn't broken his neck tripping over it. The clean laundry is still in a giant pile on the living room floor. So what's actually on the closet racks is pretty "picked-over". I decided to challenge myself!
I knew it was going to be warm today... so what could I wear without getting a top from the bag or the pile? The sleeveless top I wore today (old pic- really busy today):
I've had a love-hate relationship with the pattern-mix, but the colors are perfect together... and the other jacket that would work is too warm to deal with today. A closeup (I forgot the bracelet today):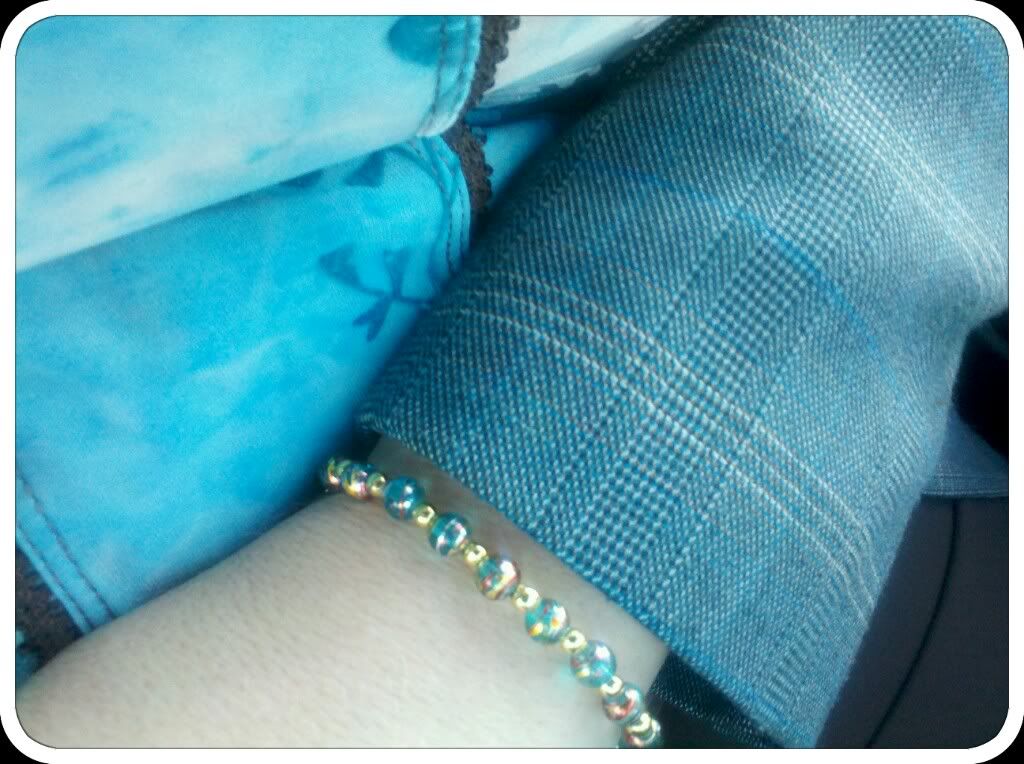 Was starting to run late, so I grabbed these again:
And my old reliable wood bead necklace, which is actually two slightly different-colored ones screwed together. Now one of the ends is stuck that way. I guess that they're sealed for eternity....
I wonder... how long does someone call something "new"? You? I've had my three pair of new shoes almost 2 weeks now. Wore my new brown shoes again: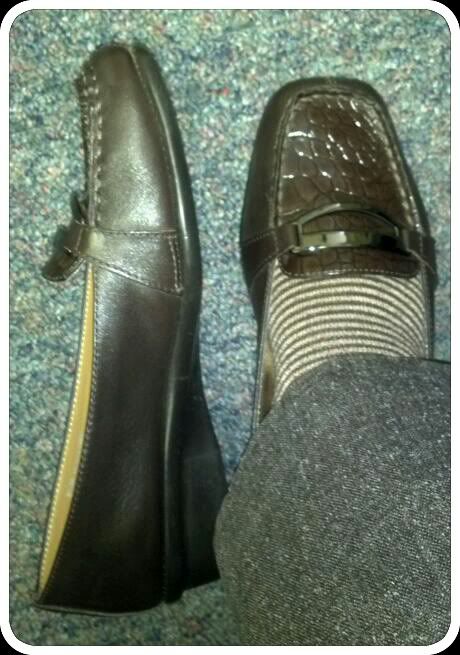 As for that whole "exercise" thing I've been talking about? I did weights on Friday. traveled on Saturday. Sunday, the only exercise I got was hauling laundry up and down my basement stairs as I did a zillion loads.... does that count? I missed Monday and Tuesday classes because I had another injection in my foot. Kinda difficult to do yoga or tai ji without the use of one foot!
But I made it to ballet today! I looked like an elephant having a seizure, but I did it. Except for the jumping parts-- I sit those out. My knees and ankles complain vociferously when I attempt to jump. The good news is that the
"fix"
shoes I bought for my heel soreness were pretty effective. I just needed more tape on the bottoms, which I applied as soon as I got home. So they are now ready for next time!
Whoops... need to put money in my jar for today and Friday....
Top: via TJ Maxx
Jacket: Amanda Smith via charity consignment shop
Pants: Lane Bryant
Necklace: gift from a friend
Earrings: via JC Penney
Shoes: Aerosoles