In the U.S., anyway.... Hubby and I are very fortunate, because we work for a local government that essentially shuts down for Election Day. So I spent the bulk of the day on the couch, rewatching old "Tudors" episodes on Netflix while Hubby caught up on his beauty sleep.
Hubby thinks I'm obsessed with royalty... and I am interested in the topic, but not for the reasons many people are. As one born and bred in the U.S., I find the concept of rule by right of birth intriguing... particularly the machinations that are done to preserve power, or at least title. Who had a sense of responsibility to the People, the classical "Philosopher King". Who just wanted to figure out how much he could get away with before the People revolted, a "Machievellian"? Who was the power behind the throne?
Hey, I have a B.A. in Political Science and History... it's my field. Would you like fries with that?
Eventually, we roused ourselves and got ourselves presentable to go do our civic duty. I decided to go with a subtle version of the patriotic "Red, White and Blue" look I have seen others do so horribly:
pulled from Google Images. I will be good and link the
source
.
Be forewarned: Hubby took my photo. Yeah, we all know that it's not going to be particularly flattering... but here's my outfit:
WTH was up with my hair in this pic??? *sigh* I knew I should have taken the extra few minutes and blow-dried it.
My necklace is actually two twisted together, to add a little change in texture and color. Does that make it a "melting pot"?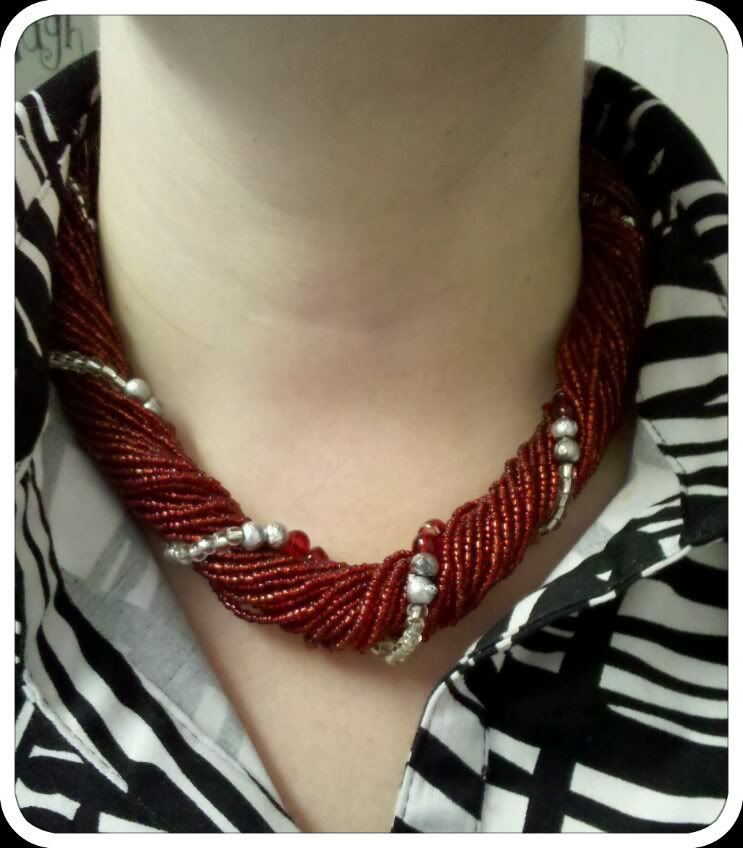 At the last moment, I decided to wear "star" earrings to subtly pay tribute to the Flag. The earrings that I bought in Austria... tee-hee!
I really don't wear these enough, and they are so pretty! I'm losing my love for French wires, and I am seriously considering overhauling most of my earring collection.
We dropped our cable awhile back, and just watch stuff on Netflix, Hulu, etc. on Xbox. So, rather than listen to the talking heads blather on all night, I have an election map up on the computer. It automatically updates every 30 seconds, and I'm trying hard to only check it occasionally!
The Presidential race is a real nail-biter, with one candidate ahead, then the other, over and over again. I will be so glad when the whole thing is over!
Sweater: Liz and Co. via consignment shop
Jacket: VanHeusen outlet
Jeans: Lane Bryant
Shoes (not shown): Ariats. I needed comfy shoes for standing in line.
Big necklace: via JC Penney
Small necklace: gift
Earrings: via gift shop at the Stat Opera Haus, Vienna, Austria