Overall, I like my job. But some days....
Wow, am I physically and emotionally exhausted today.
My normal routine is that when I'm getting dressed in the morning, I look at my calendar on my phone, which is synced with my work calendar, to see what's on for the day. If there is no County (higher-level) court appearances... jackets are optional, IMHO.
Today's calendar showed no court appearances, just office appointments. And one meeting to review evidence in the D.A.'s office as my first entry for the day. My mood, and my outfit, went
black
.
Why the dark mood when I'm normally such a colorful sort? As I said, I had to review evidence... to make sure that it is what the police are claiming it is. Let's just say that there are things that nobody should see... that should not exist. Yeah. In the course of my duty, I occasionally have to
see
this stuff. And those are bad, bad, bad days for me.
I got lucky because one of my girlfriends, along with her husband and their college-student daughter, just happened to be hanging outside one of the courtrooms because they had been subpoenaed in another case. So I hung out with them in the hallway until they were excused... just in time to go out for a looong lunch together. I'm so glad they were there, they really cheered me up!
Once I was feeling like a person again, I went back to work then stopped into the library for what was supposed to be a few minutes. Bumped into more friends who were there for a Chamber of Commerce thingy. So I stuck around and had a lovely time. One of the guys there had been an alternate juror in one of Hubby's trials, and was very complimentary of Hubby's trial technique. Hubby is really very good....
Oddly enough this morning, I did remember the
FABruary
challenge. Wednesday's theme was "Boots". I don't have any that will zip over my calves anymore, so I decided to go with Sunday's theme, "Multiple Necklaces", instead. I tried three hematite ones at first, then as I was driving to work, I decided the collar looked stupid. So I actually wore only two for the day: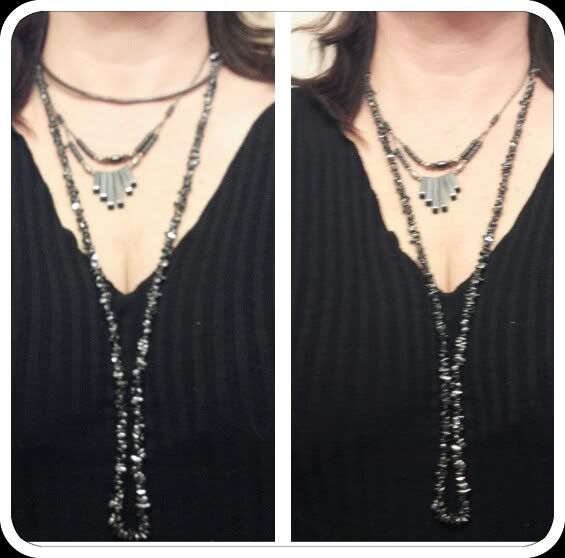 (The cleavage is only due to my positioning to take this selfie, I swear!)
I forgot my earrings. *sigh* But I remembered my shoes: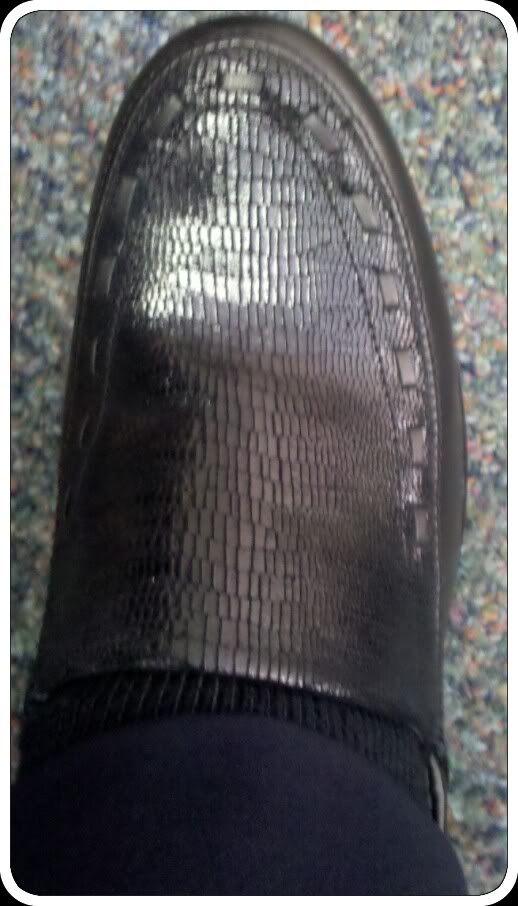 Tomorrow I should be on a more even keel....
Top: via Pip's in Corning, NY
Pants: Lane Bryant
Shorter necklace: random roadside stand somewhere in Arizona
Longer necklace: pilfered from Mom's jewelry box long ago. Looks better on me anyway ;-p
Shoes: Ariat