Which is why my posts are behind again *sigh*. My next computer is going to be a Mac....
Anyway, I was finishing up the
FABruary Style Challenge
... but Wednesday's theme of "Sheer" in New York, in court, in the middle of bitter winter ain't happening. I guess you can tell that an Aussie came up with this challenge! I decided to use Sunday's theme, since I didn't do it then: "Stripes + Pattern".
Not seeing it yet?
How about now?
I actually used my Rosetta Stone print scarf
over
the belt I normally wear with this top. It was a look definitely designed to be worn with something over it... the back looks pretty silly!
For a bit of extra pattern, I threw these on:
I don't normally like to wear tall-soled shoes with shorter pants, but the weather was so nasty that the thick soles kept my hemline and feet dry!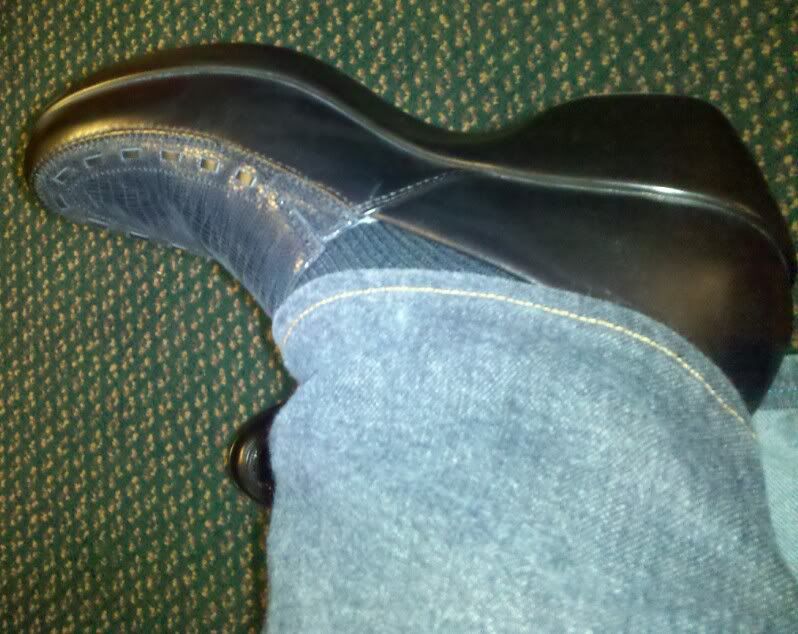 Wow, this is an old pic... from before I learned to edit and add decorative borders!
Top: via JC Penney
Sweater: Limited via consignment shop
Pants: Lane Bryant
Shoes: Ariat via Sole Solutions in Spokane, WA
Earrings: via consignment shop
Scarf: from British Museum gift shop