When I get new clothes, I tend to wear them to death... neglecting old favorites. I'm such a child sometimes!
I suppose it's natural, but I've been reading some posts on various blogs about "shopping your wardrobe". Since Hubby needed me to fill in for his night court appearance on Tuesday (he has a disgusting eye infection), I challenged myself to only wear items that I owned before my recent shopping glut: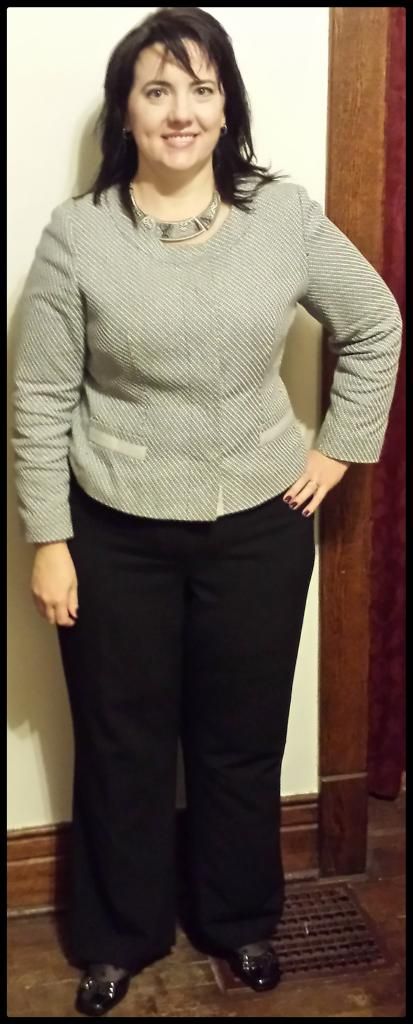 And not a single item from Lane Bryant! Unusual for me, eh? I'm so happy that these pants and the jacket fit again... even though I've fallen off the diet wagon. I don't usually buy jackets that are meant to be fastened all the way up, because I like to show my shirts. But the few I do have, I bought because I was attracted to some element of color, design, or texture. I really love this:
Hmmm... what to go with this awkward round high neckline? After trying and rejecting a couple of necklaces, I opted for:
I don't seem to remember this top showing so much cleavage... must be the better bra. So I'm thinking that this top is going to be strictly a layering piece, at least for anything work-related.
These shoes are perfect for the Christmas season... they jingle when I walk:
It's really annoying, and I'm trying to figure out a way to stop this. Perhaps judicious use of the hot glue gun?
At least my earrings had a "Silent Night":
I do get annoyed that the hinge is visible... it's very difficult to find hoops with a hidden hinge. I will be keeping my eye out, though!
Top: Mossimo via Goodwill
Jacket: VanHeusen
Pants: CJ Banks
Necklace: via Freeda's purge pile
Earrings: Lia Sophia
Shoes: Anne Klein Flex