We have a riot: not of color, but of pattern and texture. You tell me, is this harmonious or heinous?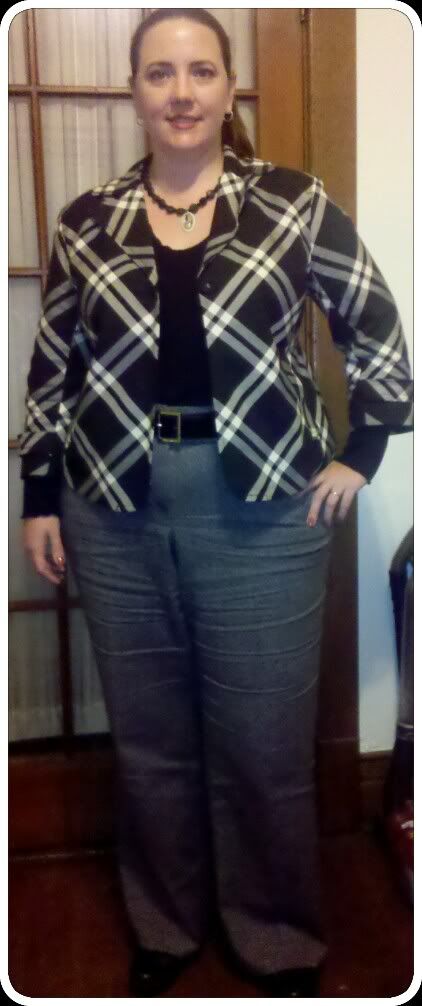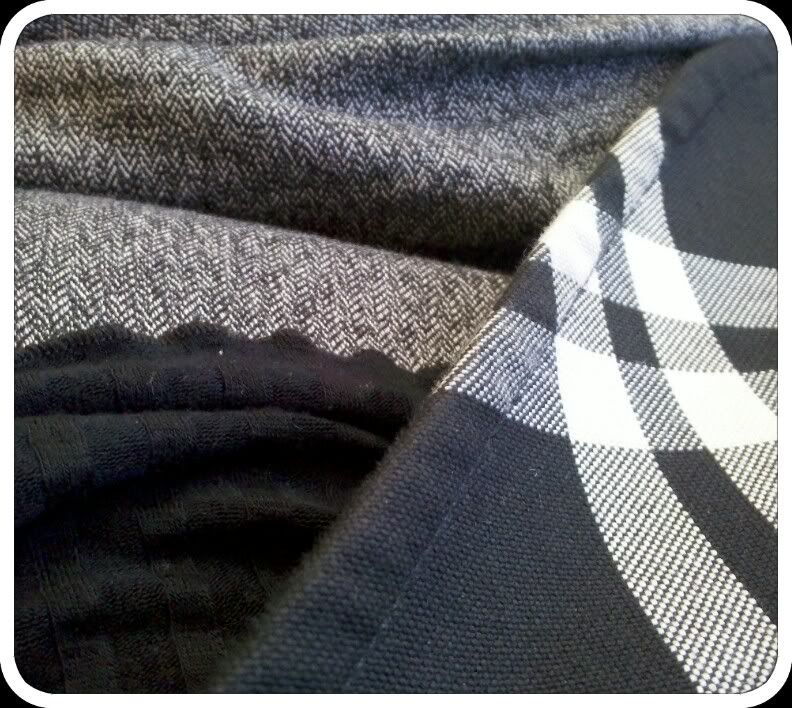 I've adjusted the engineering on another artsy pendant on a cord for my own safety. Is my mother trying to tell me I should just give up and hang myself? The woman keeps giving me ropes for my neck! With a few lava rocks:
I really love the rough-looking stones next the the smooth clay. The beads flipping around irritates the heck out of me, though.
I just love these shoes so much, I had to show them twice! After months in the fugly Bass shoes, anything remotely cute would have me turning cartwheels... if I knew how....
In case you didn't catch my whinging in an earlier post, I seem to have lost my white gold go-to earrings. I left the house yet again with naked lobes because I had nothing to go with this necklace. Changing that was not an option. Because I wanted it on the blog today.
So I bought a pair of silver earrings on my way back from court. Actually, I bought two pair-- I'll post the others another time.
I was waiting for what seemed like ages to get my grasping claws onto the new non-animal fiber tweed pants from Lane Bryant. I had to order them, because the store only carried the "Red Triangle" fit, not my trusty "Blue Dot" fit pants. That always fit me perfectly.
There was a bit of hype over the pant line for the fall... a total re-do. I was excited... until I received my order. The waist was HUGE on me! I took them to my wizard-lady to take in. They still are a bit big in the waist, after altering! Hence the tucked-in top with a belt:
Silver lining: this style has the same butt flaps my brown ones do. Taking in the waist actually helped with the placement of those sins against the booty!
Hubby really likes this jacket. He pushed me outside my usual bounds (of good taste?) by talking me into buying it. It has been heavily altered: the waist has been brought in a little, and fabric from the back was taken out to accommodate the satellite behind me. The back seam is not original to the design.
Bear in mind that:
1. This pic is at the end of the day, and
2. I bought this jacket a few pounds ago.
Jacket: Talbot's
Top: Pip's in Corning, NY. I can't tell the brand because the tag drove me nuts so I cut it out!
Pants: really...?
Belt: Nine West
Shoes: Ariat
Silver Earrings: Gold Mine in Bath, NY
Necklace: made by me with a pendant gift from Mom