SERIOUSNESS ALERT!!! BEEP BEEP BEEP
This will be a slight departure from my usual goofing around, so be warned...
I've been thinking about how dull and repetitive I've felt for quite some time. The wardrobe is only part of the issue, since I'm also a newlywed getting used to married life, a new stepmother getting used to putting my desires second, and a transplant trying to find my groove in a completely new place.
To top things off, I'm also dealing with a lot of weight gain, due to several injuries in a row over the last few years.
So the blog was conceived to get me out of my rut.
I've been sorting through my messy jewelry box and closet. While I'm not even close to finished with this project, I thought a preview of the goodies that I will try to break out of hiding would be fun.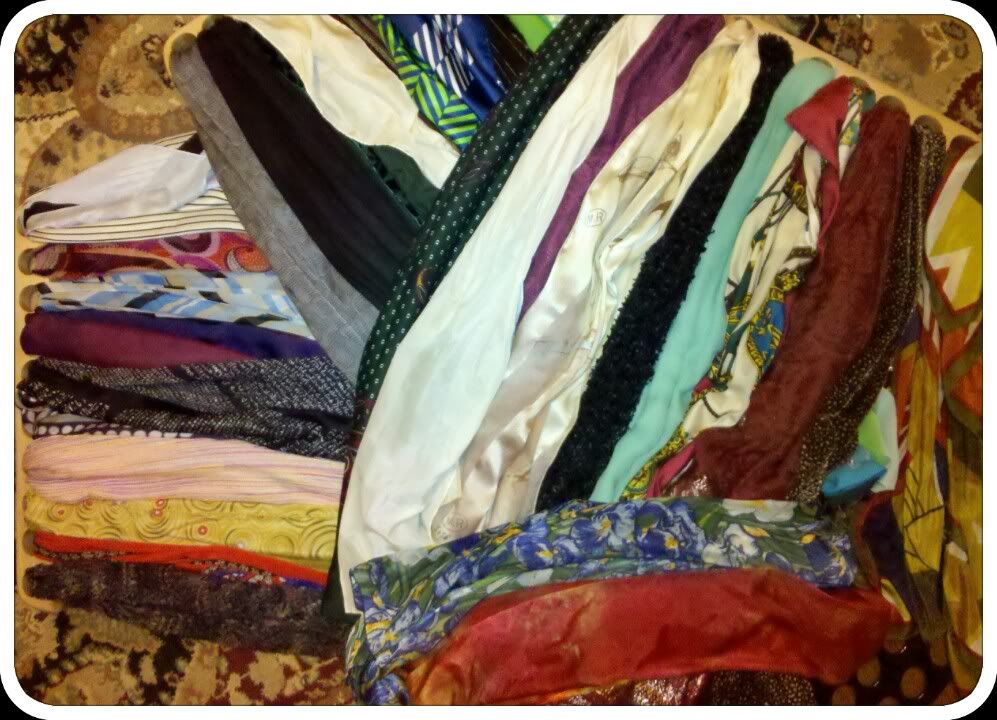 As you see, I have a LOT of scarves. It's a little insane, really. Early into practicing law, I decided that, since ties are mandatory for the guys, I should make sure to wear necklaces or scarves to project a feminine yet professional image.
And because I was single, I had plenty of money to spend.
These gorgeous scarves were buried in the back of my closet under dry-cleaner plastic. No wonder I haven't been wearing them. What a waste....
Um.... yeah... I have a lot of necklaces too. Good thing I have these belt-hangers to store them! A lot of them had been stored in more inconvenient ways, so they haven't seen a neck in ages.
And a lot of the earrings I haven't been wearing, because they were tangled up in my jewelry box. I picked up these containers in the Walmart craft section. They are meant for storing beads for crafts-- and are the perfect size for most of my earrings.
I don't even think this is all my accessories, but this is the bulk of them, anyway.
Oops! The purses... I have quite a few, but most of them are a bit small for my life today. Hubby and Stinky always want to put something in my purse. Yep, I'm the family pack-mule.
I wonder if I will find more accessories once I'm finally done with the basement sort? I started a month or so ago, and gave a bunch of my too-small clothing to one of our interns, who had a terrible wardrobe and no money. I gave her the things that are office-appropriate, but too "young" for me now. Things I wouldn't wear to work if they fit me tomorrow, but were still a little tough to let go.
I've had a lot of beautiful clothing, and I have a ton of gorgeous things that don't fit now. I'm donating a lot of them to charity, but hanging onto the clothes I would wear to work or other events today if they fit. But I'm not ready to give up on them, so I'm investing in Space Bags. So if this diet I'm on, which makes me cranky as hell, works-- I'll be shopping in my basement first!
I'm not even getting into the shoes, so many of them I can't wear at the moment due to foot, knee and ankle issues. But I haven't given up yet, so I'm not ready to clear them out, as I'm sure the "Clean House" people would make me do. I love watching that show- it's like a train wreck. I just can't look away!
It's a bit crazy to think of how much money as been spent on clothing that does not fit anymore. I bought some things at thrift shops and yard sales, but still...$$$$. But I am way too cheap to throw stuff out, so I am really pushing myself to get rid of some of the stuff anyway. I'm making decent progress, sticking to my self-imposed "rules".