I have already posted the top half and shoes from today's outfit in my second post. So no real pint (it is Friday, isn't it!) in reposting the full and top-half shots. The only change is navy trousers rather than jeans.
What I wanted to show is the textures, which don't come through well in the previous post:
My easy lap-shot. I just love the woven pattern on this jacket, and still want to find matching buttons. I'm not crazy about the gray ones it came with. I have one scarf that goes, but I hate the fabric so I only use it as a headband. I was running late this morning, or I would have worn it and posted a pic.
I wanted to show the texture of the stones, they are not flat, but are polished. I have a necklace (not matching) I bought awhile ago at the farmer's market, but it broke so the lady is restringing it. Maybe I'll wear it next week.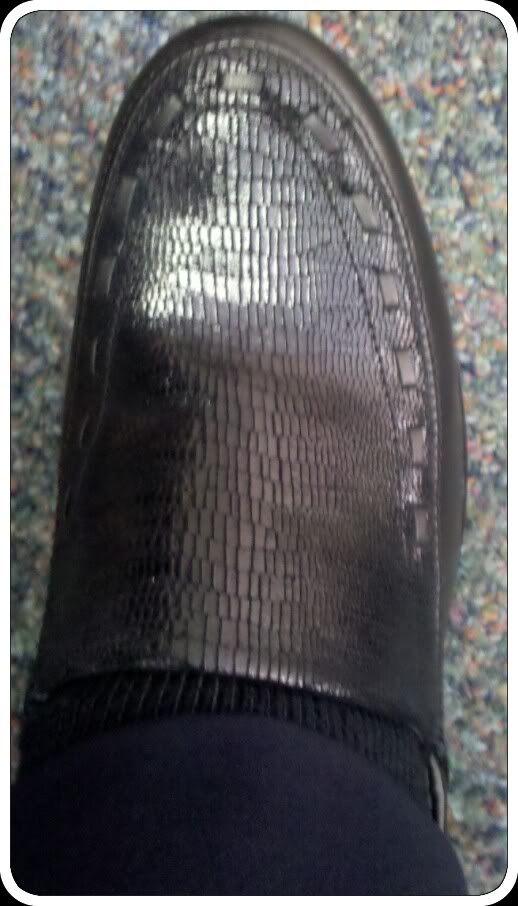 I just wanted to show off the mock-lizard on these Ariat shoes. I've had several mock-croc accessories, but no lizard. Love!
Now for Friend Friday questions from modlychic:
1. What do you think are some of the top fashion don'ts?
Exposed brastraps or thong underwear, clothing that clings to lumps and bumps (I'm talking to you, Ms. Muffintop!)
2. What previous fashion don't do you now wear with pride?
Granny panties! Most other panties leave unsightly lines right across the tummy.
3. Do you think there is a universal fashion do?
Dress in clothing that flatters your shape. Wear the colors that compliment your skin tone.
4. What items lately, either recently in style or coming in now, do you think should never make it off the retail shelves?
Jumpsuits. Look good on no one.
5. In your opinion, is there any blogger, fashion icon, celebrity who some how manages to pull off some fashion don'ts and still look good?
So far in my blog travels, ephemera at blogspot pulls off some crazy combinations I wouldn't have the nerve to even try!