Why, for the love of all that is holy, do they put butt flaps on big-girl pants? Especially when they appear to be placed continents apart! Worse yet: they're attached so firmly that the big-bootied consumer cannot remove them without ruining her trousers.
This is just cruel. And what's up with the back buckle detail? At least this is my only pair like this!
The pic also serves to better illustrate my waist-hip fit conundrum. While I have a bit of belly for the first time ever, my waist itself is teeny compared to my hips.
When I asked Hubby to take a pic from behind today, his response was: "This is a
PUBLIC
blog?" Love you too!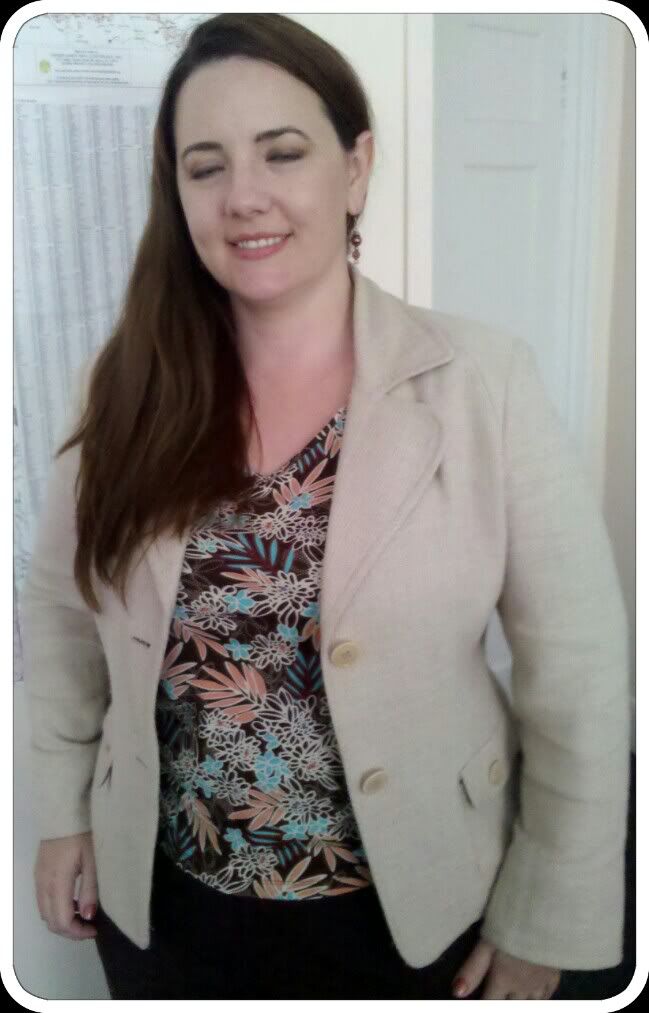 Not bothering with a full shot today... you've seen the pants and shoes (and jacket) before. I love this top, but it's sleeveless and will probably be packed away soon.
I've had these earrings my girl Snookums (NOT the troll from MTV!) made for me ages ago, but they're an odd color so I hadn't worn them yet. Now I feel kinda dumb, because the peachy tones in the stones go perfectly with the peachy flowers in this top. I could have been wearing these the last two summers!
Jacket: Talbot's Petite
Top: Croft and Barrow via Goodwill
Pants: Lane Bryant. Why bother saying this any more? They are all from LB
Earrings: made by a friend
A wardrobe change:
I'm joining a new meetup.com group: "New in Town", aimed at transplants like me. It got pretty chilly toward the end of the day, so I actually bothered to change before going out: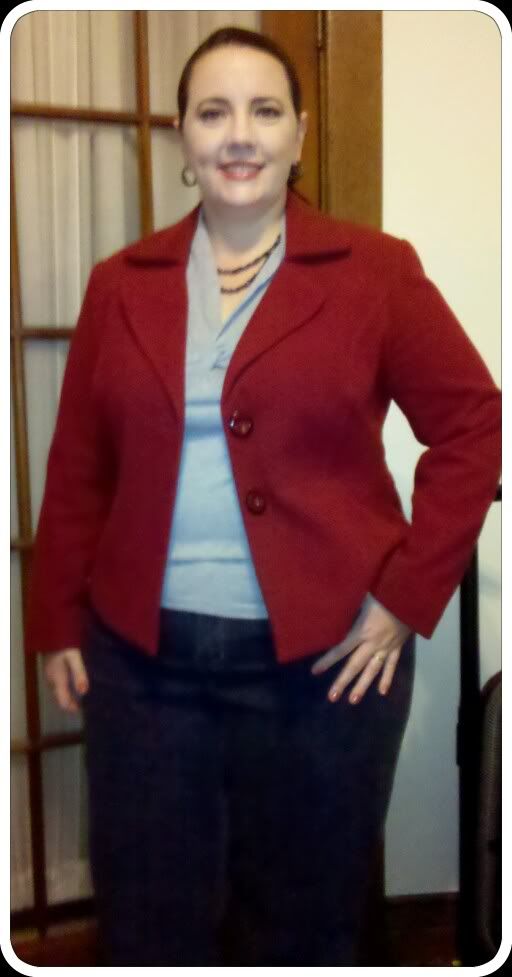 I'm hoping since these jeans are fresh and clean, the backside won't be a total disaster: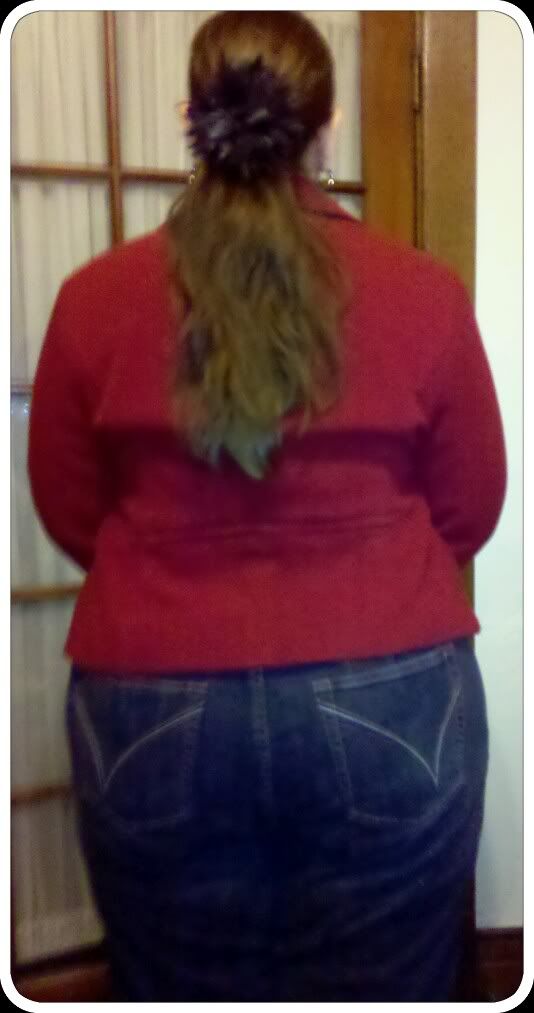 Guess I was sadly mistaken. Maybe it will discourage the boys from staring at the boo-tay?
The jacket is heavily altered. There were decorative strips of fabric at the sleeves and back. Darts were put into the bust. That seam along the back waist was put in by my tailor because my waist is shorter in back than front. She had to take out fabric. She also took in the waist.
Should I put the back cloth strip back on? I still have it. Although Stinky has been using it to practice sewing on...
Note to self: do not button this jacket until I lose weight. It's doing that weird thing in the back because my only form of exercise apparently has been my hobby of swimming laps in vats of Ben and Jerry's for the last five months. Crap!
How does the hair flower look with a ponytail?
I love this top. I paid RETAIL because I fell in love. Hubby nixed my first jewelry pick for the evening. He has pretty good taste, so I tend to listen to him. He gave the "thumbs up" to my hematite necklace and earrings.
Jacket: VanHusen outlet store
Top: Pip's in Corning, NY
Jeans: where else?
Shoes: Ariat
Earrings: Lia Sophia party
Necklace: swiped from Mom's dusty, unused jewelry box decades ago.