Nothing good here today... I was too lazy to go to the basement to get the laundry, so I decided to wear Monday's brown pants that never made it to the laundry pile. "Clean enough"!
Rooting around my closet, I saw the blue top I had tailored to fit. And brown-and-blue is a popular combination with my fashionable commenters... so I ironed it:
Guess I should have tried it on when I picked it up from the tailor... derh!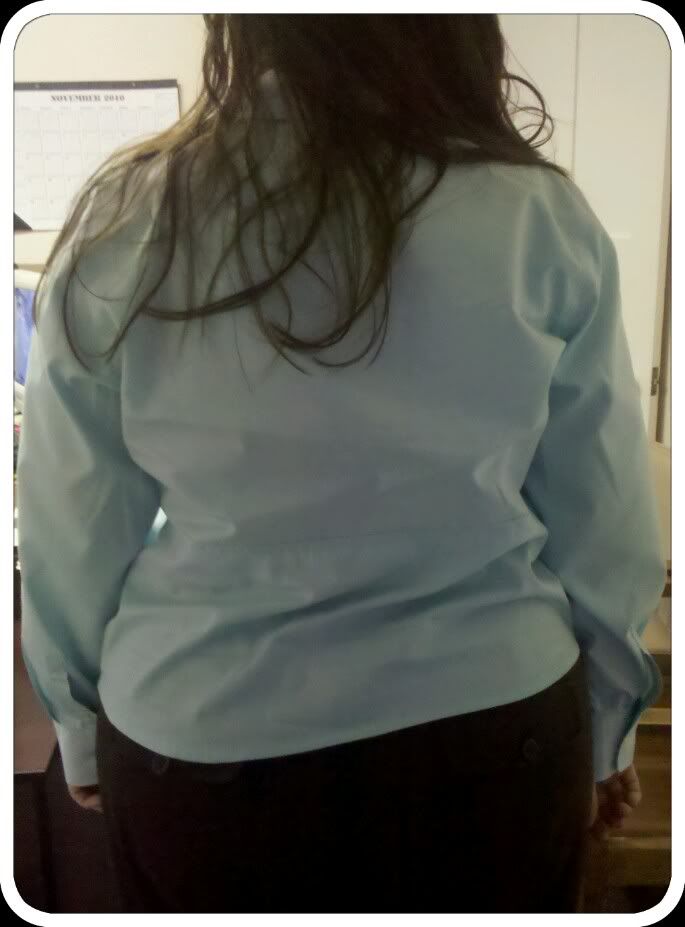 *sigh* Usually the seam across the back works wonders... guess not this time.... Weird, this baggy top seems to reduce the size of my butt, comparatively... but I'd rather look chubby than sloppy!
Because I'm a snooze abuser, I didn't have time to iron anything else... so my attempt at a fix:
So this is a big fat fail on my second attempt at this
concept
, but it was the best I could do today because I'm a lazy bum.
Oh yeah! I didn't leave time to blow-dry my hair today either, and it is particularly bad today! At least my makeup looks good....
Shirt: Freeda's castoff Eddie Bauer
Vest: Croft and Barrow via Goodwill
Earrings: gift from a friend
Jacket: Talbot's Petite
Pants: Lane Bryant
Shoes: Bass