I think this blouse so so interesting, but I have the worst time trying to style it, so it remains on the rack. Here's what I tried today: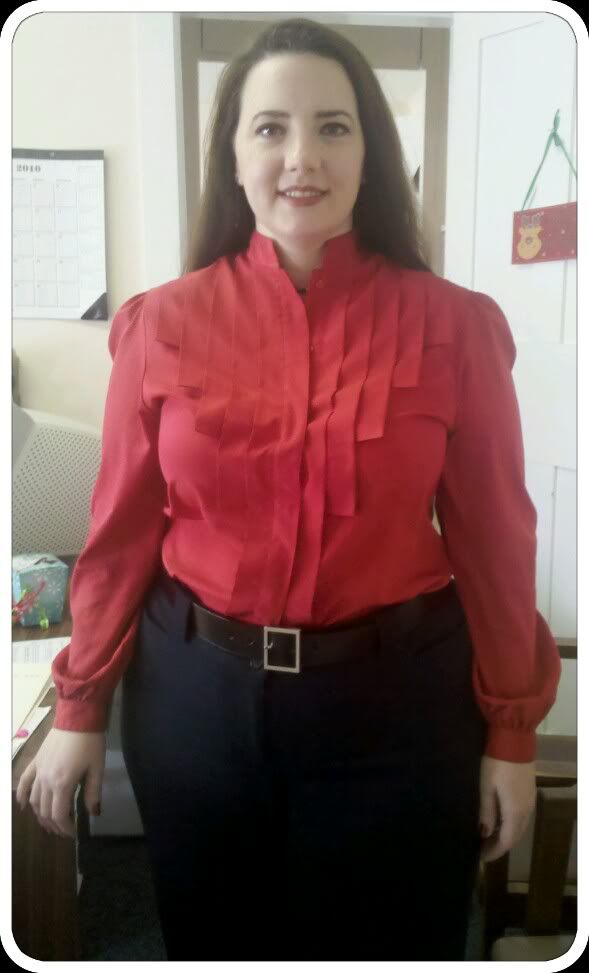 I leave the top couple buttons undone, so it's not too prim. But it's hard for most of my necklaces to show under the fabric at the neckline. So I tried my curled-wire one:
As I move around during the day, it goes from barely peeking to fully exposed:
I like the weird color, and the sheen on the fabric. And the detail. But this shirt has no insulative properties whatsoever. If I wear it again, I need a hidden underlayer.
Styling challenges: I can't wear it untucked. Drat! I also am having a terrible time figuring out a jacket to wear over it. Today's mandatory court jacket was an unmitigated disaster:
Ideas? Or is this going to be an "office-only" shirt?
I was particularly stumped for earrings to go with this necklace:
Shirt: Freeda's castoff Casual Corner
Sweater: Limited via consignment shop
Pants: Lane Bryant
Belt: Nine West
Necklace: Renaissance Faire in Holly, MI
Earrings: I forgot