Freeda dared me to wear something "funky" today... I think she forgot that I didn't have to go in to the office today! A perk of a government job.
But that doesn't mean I just sat home in PJs all day (that was yesterday). Instead, I went back to the food bank to help sort donations. So I didn't get too crazy because I needed to be practical, but I did wear my pretty new scarf in a new (to me) way in the attempt.
I could not get a decent photo of it. This one does not do the colors justice: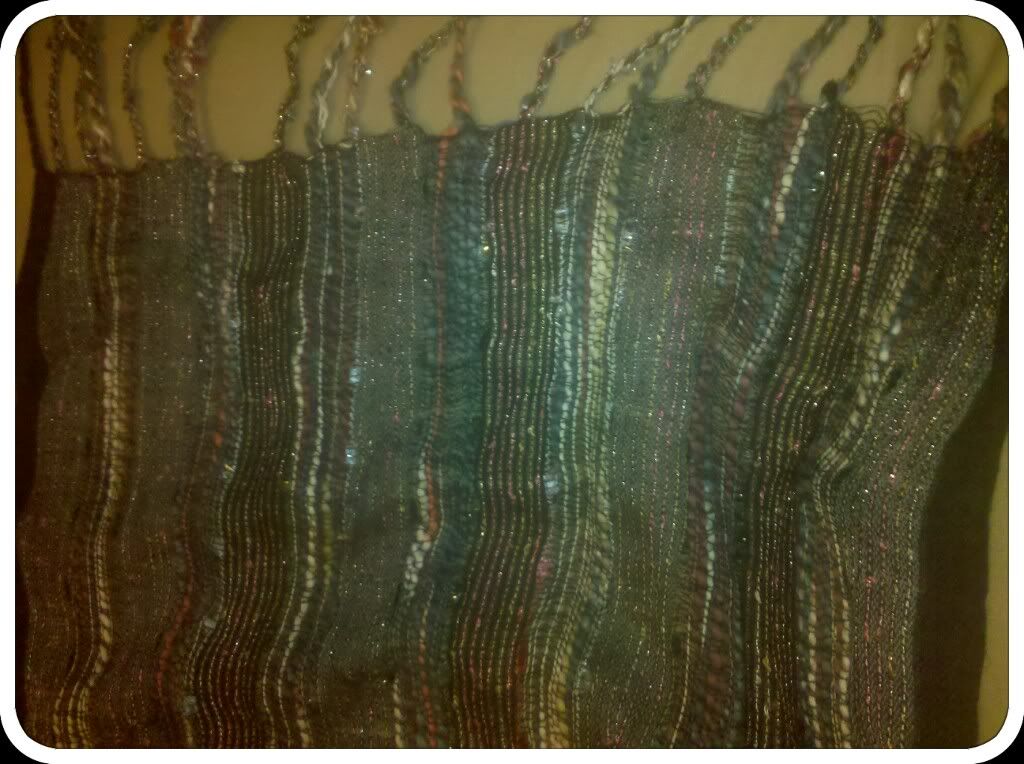 EDITED TO ADD: I remembered that I forgot to mention that there is absolutely NO RED in the scarf. Baby steps...
It is appalling how much must be thrown out because the seals are damaged. Particularly canned goods. How does that happen so much? It's apparently common to have to toss about half of canned goods received.
It's particularly upsetting to me because I think of how many more people could have been helped. Earlier in my own life, I received food bank donations to see me through a rough patch. More than once. So this is an issue very close to my heart. Waste makes me angry.
So Hubby and Stinky better watch out! They are pretty good about minimizing wasted food... but I may be stressing it even more.
Then I reminded myself afterward, while shopping at Walmart... these are grocery store donations. A lot of these donation came from from Walmart. So if the packaging was perfectly intact, these items would have been put out for customers like me instead of donated for the hungry. Like I have been.
So I look at today's work like gleaning... taking the usable out of what would ordinarily go to waste. I feel better now!
Oh, yeah... closeup of my blingy earring to bring up the funk factor:
OK... maybe not. My photobucket app is suddenly acting weird. They've been posted before, anyway.
I wore the same outfit out with a couple girlfriends Saturday night. But I hadn't located the scarf yet, so no funk then.
Sweater: VanHusen outlet
Jeans: Lane Bryant
Earrings: Premier Designs
Scarf: gift from a friend