Today's outfit is a frequent feature on this blog, but today it's with modifications: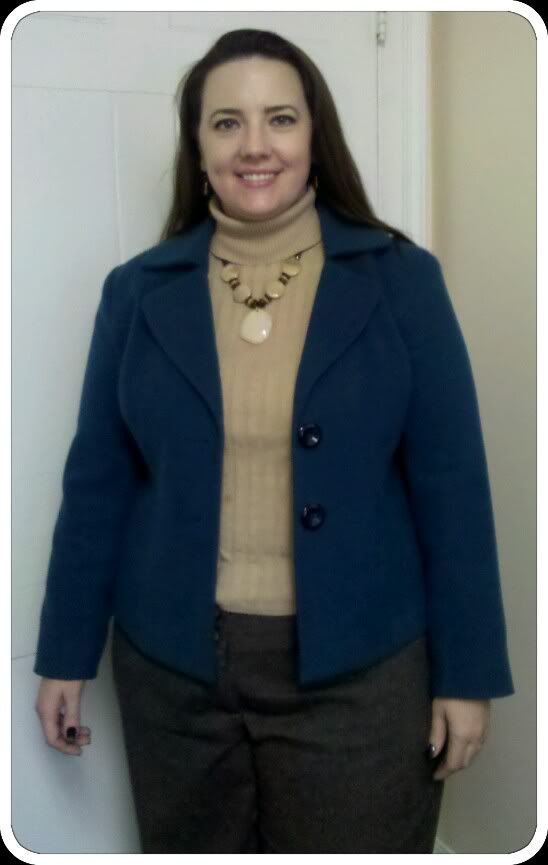 That's riiight! The teal-ish jacket rather than my usual
red
. Thoughts?
I also followed comment advice, and tucked the necklace under the turtle this time, see?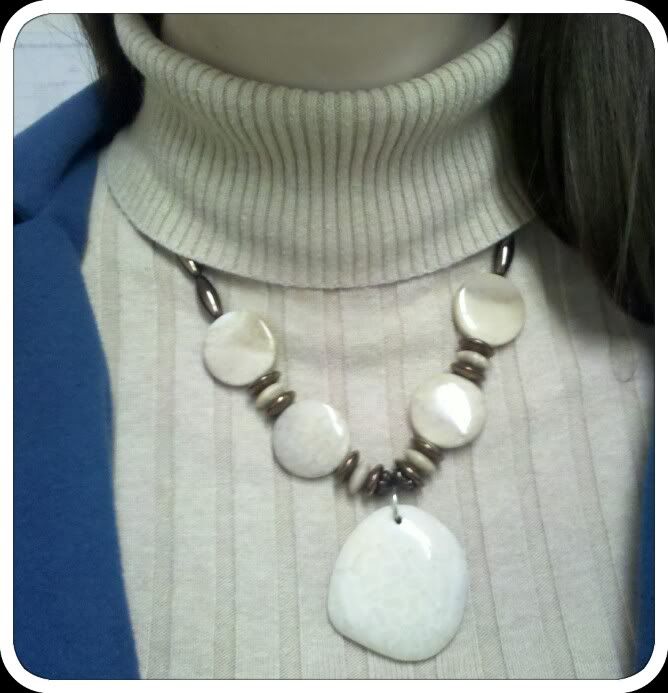 Jacket: VanHusen outlet
Sweater: VanHusen outlet
Pants: Lane Bryant
Jewelry: made by me with pendant gift from Mom
Shoes: my feet are trying to kill me, so let's pretend they don't exist. It's not like I get to wear cute shoes, anyway....
Friend Friday: Planning Outfits:
1. How do you determine what you will wear that day?
Pl...ann...ing? What is this "planning" you speak of? Oh, that thing my mom wanted me to do when I was a kid... almost forgot about that!

I *should* iron and set out all my clothes and accessories the night before, as Mom tried to instill. Instead, I abuse the snooze button, then fly around with my morning prep: full shower, full makeup, ironing, dressing and accessorizing... and only a blowdry if I have time, which, evidently... isn't very often.

2. Do you plan outfits out in advance for a whole week, month, weekend?
Hahahahahahahahahahaha! Only if I'm packing.

3. Do you have any specific way of tracking outfits and items already worn so you don't repeat?
The blog has really helped me keep better track, or at least be more mindful of repeats. I was wearing the same outfits over and over and over again... like variations of a uniform. Figure it out once, then repeat.

It was easier that way... but flipping boooring! I've been moving "already worn" tops to a different rack in my closet when I get them from the dryer (after wearing and washing, of course). Which is really helping me be more mindful to use more of what is already hanging in my closet.

4. How do you discover new combinations of items in your closet?
Mostly at the last second, like today. As much as I love red, I was getting bored with wearing the exact same outfit with the red jacket. Usually it takes "oh, no... not this again!" to spark inspiration.

Sometimes I will see something I haven't worn in ages, and want to make use of it since I own it... so I figure something out. With mixed results, I add.
5. To streamline the process for 2011 what is one new thing you can do to cut down your dressing time?
I've been working on organizing my closets for awhile, and making my jewelry more accessible. I documented some of the results in my blog, of course, and I think I've done a bang-up job, actually!