I had a fantastic evening having cocktails and wings yesterday with a few "ladies" I know through work... they are all an absolute riot! I just have to describe this grouping before I get to the outfit post, so you can form the mental picture:
S is a sweetheart burned-out lawyer in her forties, who is moving away with her fiancee who just got a job transfer and their cute little son, and she hopes to never practice law again.
B is a fifty-something half-Guinea (her words, not mine) half-Mohawk from South Philly with an attitude and a voice like she's gargled with pebbles. She describes her job with a local brilliant-but-eccentric attorney as his "monkey"... legal secretary, bill collector, general enforcer and dogsbody. When I met them, I thought they were married- they good-naturedly bicker like an old married couple.
K is a pushing-sixty former Bostonian local attorney with a fantasticly wry and dry sense of humor and a wife who makes the most incredible pistachio cakes. If I wasn't supposed to be on a damned diet, I would so hit her up for cake. She has two stepkids she refers to as "the boy" and "the girl", and refers to her own non-reproduction as "I haven't done THAT".
T is an amazing secretary who knows everything and everyone, is pushing fifty but doesn't look or act it, with one of the foulest, funniest mouths I've ever witnessed on a woman. She's a single mother by choice because she was running out of time. She used to follow the Dead.
They all have warm hearts, blazing intellects, and attitude to spare. Love it!
OK, I know it's a fashion blog, but I try to post the occasional mental snapshot of my life. Back to the real subject, today's outfit: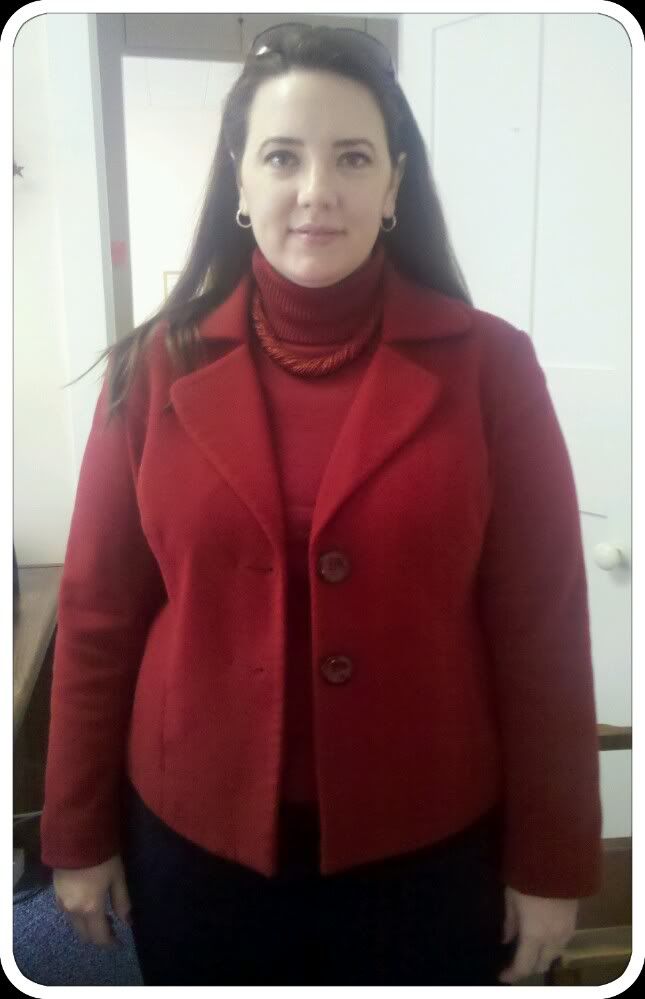 Yes, I featured red twice in a row. Freeda will think I've reverted to my "newspaper adolescence". Of course, I ran into an issue:
See it yet? The sleeves on my new sweater shrunk up:
Um... that's not where it's supposed to end up. Sounds familiar... I'm not where I planned to be, but, as evidenced above, I'm finding a place here. And my simple fix for the sleeve issue: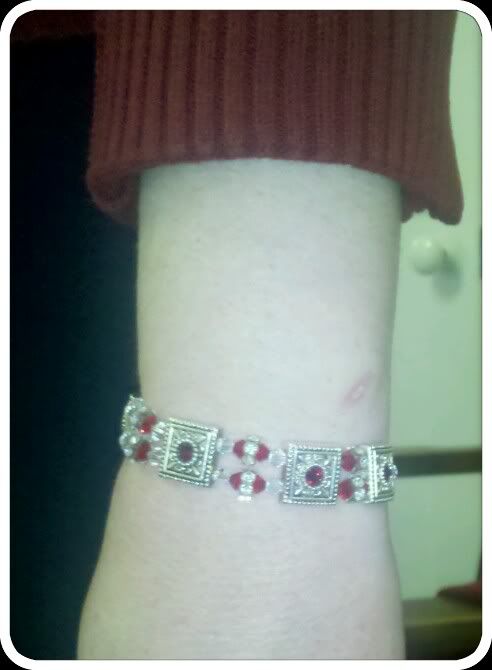 Ta-da! Instant 3/4 sleeves! I'll actually sew them that way when I'm really bored and recuperating from my upcoming surgery.
I rarely wear bracelets- they drive me nuts. But I love this one my friend Lovely made for me for Christmas a few years ago. With Swarovski crystals!
I really DO get the best presents!
Somewhere along the way, I read a fashion tip: "before you leave the house in the morning, take off one thing". I should have done that today. The necklace was too much.
I guess I thought the bracelet wouldn't show under the jacket, and I *might* appear under-accessorized. Hmmm... maybe a trip to the bead shop is in order to make complimentary earrings instead. Would be more fun than the plain silver hoops I wore today.
Sweater: VanHusen outlet
Jacket: VanHusen outlet
Pants: Lane Bryant
Shoes: Ariat
Necklace: JC Penney
Earrings: Gold Mine in Bath, NY
Bracelet: Swarovski gift made by Lovely