Today seems to be somewhat less than a screaming success:
While I was pajama-shopping for my medical leave, I scooped up a bunch of jewelry dirt-cheap on mega-clearance at Fashion Bug. Here's a sneak preview: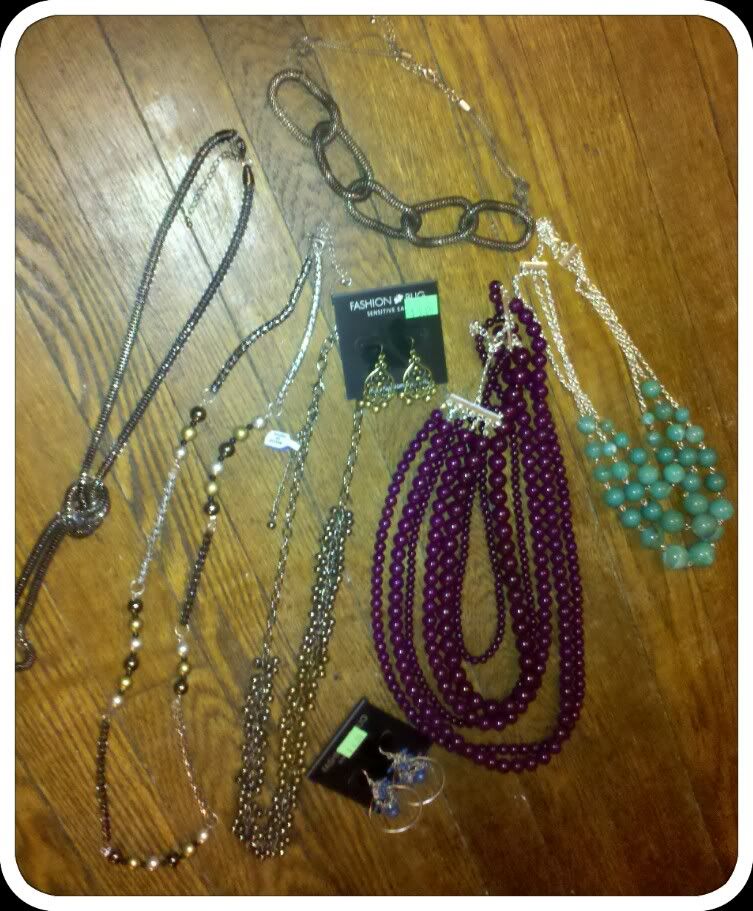 I'm looking forward to playing with my new toys. High-quality... no. But I'm relaxing my former snobbishness. For a long time, I only wore "real" jewelry. Lots of silver and semi-precious stones. But now my fellow bloggers must be rubbing off on me!
This necklace really fascinated me:
I don't think I styled it very well, though:
The neckline of this shirt doesn't show enough of the necklace. And I'm not sure if pairing it with that print was too much. Earrings... I was stumped. I tossed on my black glass teardrops, but I'm not sure they went with the rest of this mess all that well. I just couldn't think of anything else.
When I get an outfit really right, I get compliments at work. None today! :(
Ideas?
Oh... and the snow and cold came roaring right back. I was definitely underdressed, and freezing all day!
Top: Alfani from Macy's
Jacket: Great Cavalier via Tallman's in Painted Post, NY
Pants: Lane Bryant
Earrings: Corning Museum of Glass gift shop
Necklace: Fashion Bug