My outfit from Friday:
Look! No underlayer! And my new Fashion Bug earrings: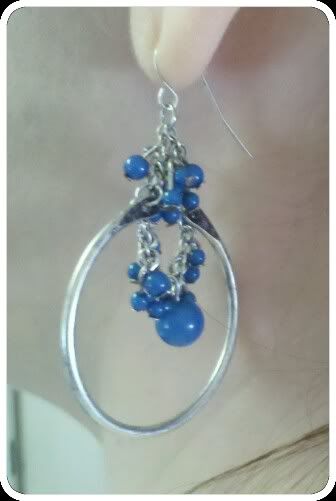 I forgot to take a pic with my jacket... but I'm sure I will do a better repost soon.
Friend Friday
: Outside Influence
1. What magazines do you subscribe to?
Nothing having to do with fashion... National Geographic, various Bar publications, Life in the Finger Lakes, and Taste of Home. I don't actually cook, but I like to collect recipes and cookbooks. I call it "food-porn".
2. Do you watch any fashion TV shows?
Oh, yes! I used to watch a ton of BBC and TLC versions of "What Not to Wear", but now I'm more into "How Do I Look?". Stinky likes to watch them with me... though some would think it odd for a nine-year-old boy. We also love "Project Runway"- Stinky is acquiring a discerning eye for detail!
3. Beyond blogs, what websites do you frequent for fashion inspiration?
I don't.
4. Advertisements play a huge role in forming public opinion about a product or brand… what ads do you like and why?
I don't really pay that much attention to them. Not because I'm a purist, but because I don't really see fashion magazines anymore, and I'm such a difficult fit that it's hard to get excited about clothes I know will look like crap on me.
5. Do you own any fashion books?
Oh yes! "Dress Smart- Women" by Kim Johnston Gross and Jeff Stone, "A Guide to Quality, Taste and Style" by Tim Gunn, "Big City Look" by Vincent Roppate and Sherry Suib Cohen, and "What Not to Wear" by Trinny Woodall and Susannah Constantine.

They are all about putting together classic, refined, but still interesting wardrobes that a professional can live and work in. Creating a better-looking reality rather than an editorial fantasy like the fashion magazines.