Another morning I just couldn't seem to get out of bed on time. *Yawn* It's soooo exhausting, being this glamorous. *Bwahahaha!* I couldn't even type that with a straight face.
Kinda cool, definitely raining... what top to wear with yesterday's pants? I wanted a lighter sweater because the turtleneck wouldn't fit under my beige jacket, and the only ones it would work with are too warm for today: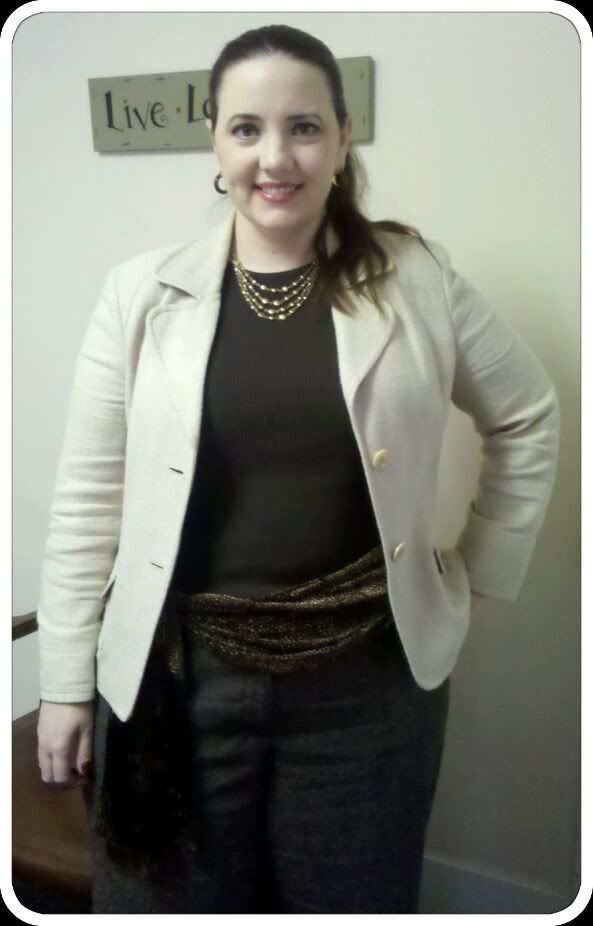 I bet you think I put the scarf on as a sash for a fashion statement? Ha! My navel-ring and some chub started peeking out as I was brushing my hair. This was the "oh no, I don't have time to change!" solution.
I didn't have time to wash my hair, and since I always put it up at night (I hate the feel on my neck), it was BUSHY for the first time in my life!
Note to self: do my ironing for tomorrow TONIGHT. I don't have anything else I can use tomorrow that doesn't need ironing and is clean!
Sweater: Chico's
Scarf: Chico's
Jacket: Talbot's Petite
Pants: Lane Bryant
Earrings: JC Penney
Necklace: Ann Taylor outlet