Last weekend, I took my Kohl's $10 off coupon in search of a new bra. I wanted to try the Playtex no-slip strap one I've seen on TV... I have a short torso, and slippage is a true annoyance.
Apparently, they don't stock my cup size (surprisingly ginormous), so I had to order it. And they don't take the coupon for the order... fine!
So I raided the clearance rack, and found this beauty for $7.80... meaning FREE for me:
Edited to add: a button came off in the wash before these photos were taken. I wore it the day I got it, but slopped clarified butter during my Red Lobster "Lobster Fest" chowdown.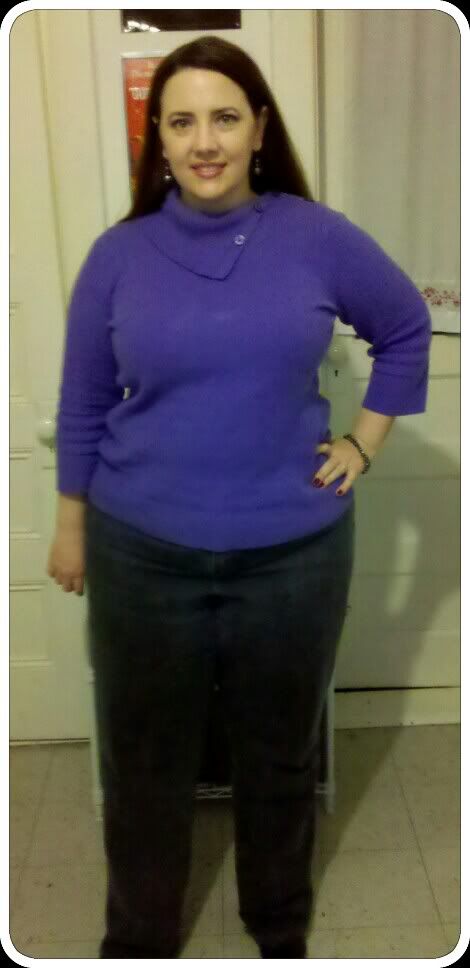 That was my look for my all-day Continuing Legal Ed about DNA evidence on Friday. The lectures were actually pretty interesting.... but I think the sweater looks better with slacks than with those jeans:
Less bulk around the tummy and hips.
So this was my outfit for a "semi-formal" Boy Scout awards dinner for Stinky on Sunday. Hubby and I were the best-dressed people there.... I guess "semi-formal" doesn't mean what we thought!
(I was going to post a handsome photo of Hubby and Stinky here, but it's not sending from Hubby's phone for some unknown reason)
Before I hear it from anyone else: I do not agree with the politics of the organization's national leadership. If Stinky were my own child, I never would have allowed him to join. But I am a stepparent, and do not get to make these decisions. I just need to clap, smile, and keep my views to myself.
Sweater: Croft and Barrow
Jeans/pants: Lane Bryant
Shoes: Ariat
Earrings: I forgot