Having new clothes to try out makes it easier to go back to work... like showing off the new clothes made back-to-school a bit less painful. I'm such a child sometimes!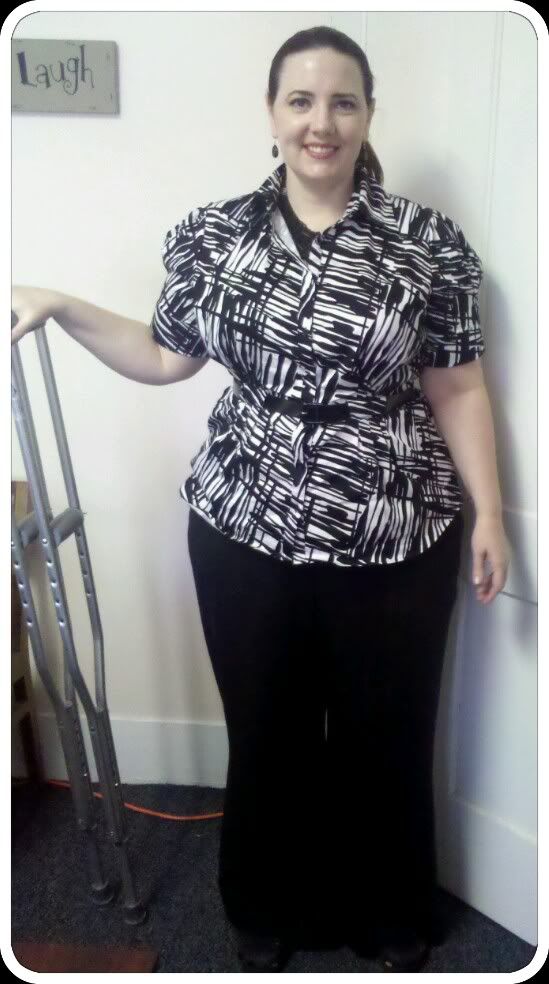 My brand-new top already fits looser than when I bought it, and the same for the newish pants... yay! The highlight of my day yesterday was when my doctor said I looked like I've lost weight!
This top is a real departure for me, I have to put it down to the influence of Lovely, who went shopping with me when I went to MI to visit. The belt under the bust is so cute! I really miss having people to shop with... I've mostly been doing it alone since I moved here.
Since I'm hoping to shrink soonish *knocking on wood, crossing fingers, casting spells... whatever it takes*... I'm probably going to be wearing my newer "fat clothes" a lot so I get some use out of them!
I figured my white hair flower would be more fun than the black one:
Especially since I decided on my trusty black glass earrings.
Yesterday was an office day, so no jacket. I went to see Squeaky yesterday evening... poor girl is still recovering from her auto/pedestrian accident in the winter. Her parents are visiting her from India, so her mom made up a batch of this spicy tamarind rice with peanuts and cashews-- I could eat this every day. I was told someone always brings this to picnics... I'm supposing its the equivilent of devilled eggs. Someone always brings it... and they need to bring more for me!!!
Top: via Stein Mart
Pants: Lane Bryant
Shoes: Crocs. I still hurt.
Earrings: Corning Museum of Glass
Hair Flower: Maurice's
Necklace: JC Penney. It's my bead collar.